$5,000 Invest In You Possibility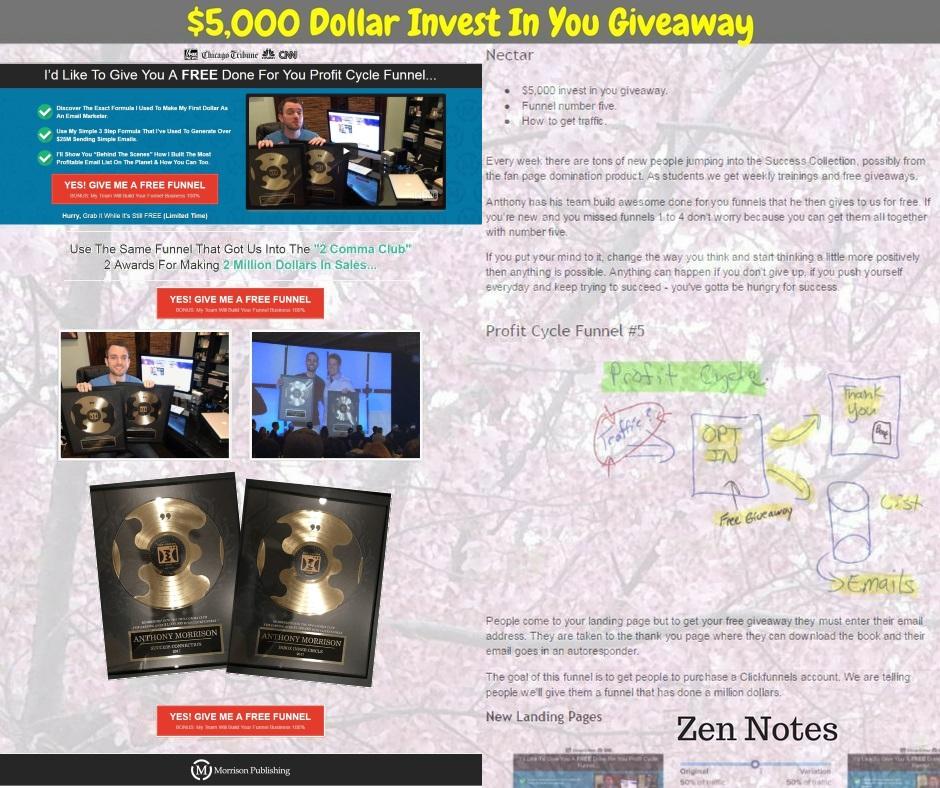 $5,000 Invest In You Possibility
Every week there are tons of new people jumping into the Success Collection, possibly from the fan page domination product. As students we get weekly trainings and free giveaways.
Anthony has his team build awesome done for you funnels that he then gives to us for free. If you're new and you missed funnels 1 to 4 don't worry because you can get them all together with number five.
If you put your mind to it, change the way you think and start thinking a little more positively then anything is possible. Anything can happen if you don't give up, if you push yourself everyday and keep trying to succeed – you've gotta be hungry for success.
Profit Cycle Funnel #5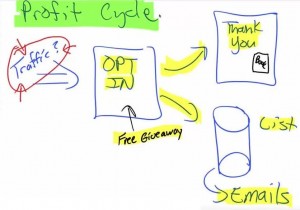 People come to your landing page but to get your free giveaway they must enter their email address. They are taken to the thank you page where they can download the book and their email goes in an autoresponder.
The goal of this funnel is to get people to purchase a Clickfunnels account. We are telling people we'll give them a funnel that has done a million dollars.
New Landing Pages

The idea of this new funnel is to try and get higher conversions by testing softer colors and only asking for an email address.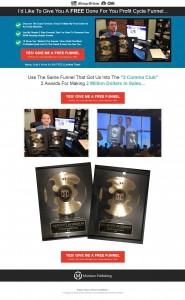 The previous landing page had a lot of red but this one has softer blues and greens. Color has a lot to do with whether people optin or not.
When people come to this landing page and play the video they hear Anthony talking about the million dollar awards he won. We get to leverage the proof that these funnels work and the credibility that comes from being seen on CNN and Fox News.
As people scroll down there's some more proof of Anthony holding the awards and receiving them on stage from Russell.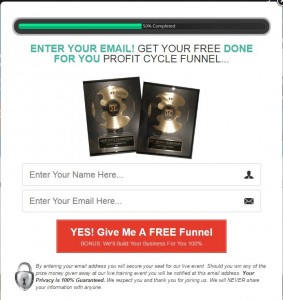 When people click the button on the landing page they are shown this opt in page that collects their email address.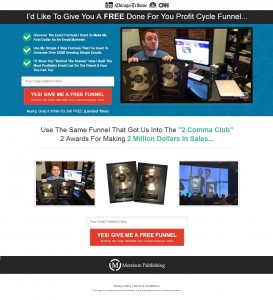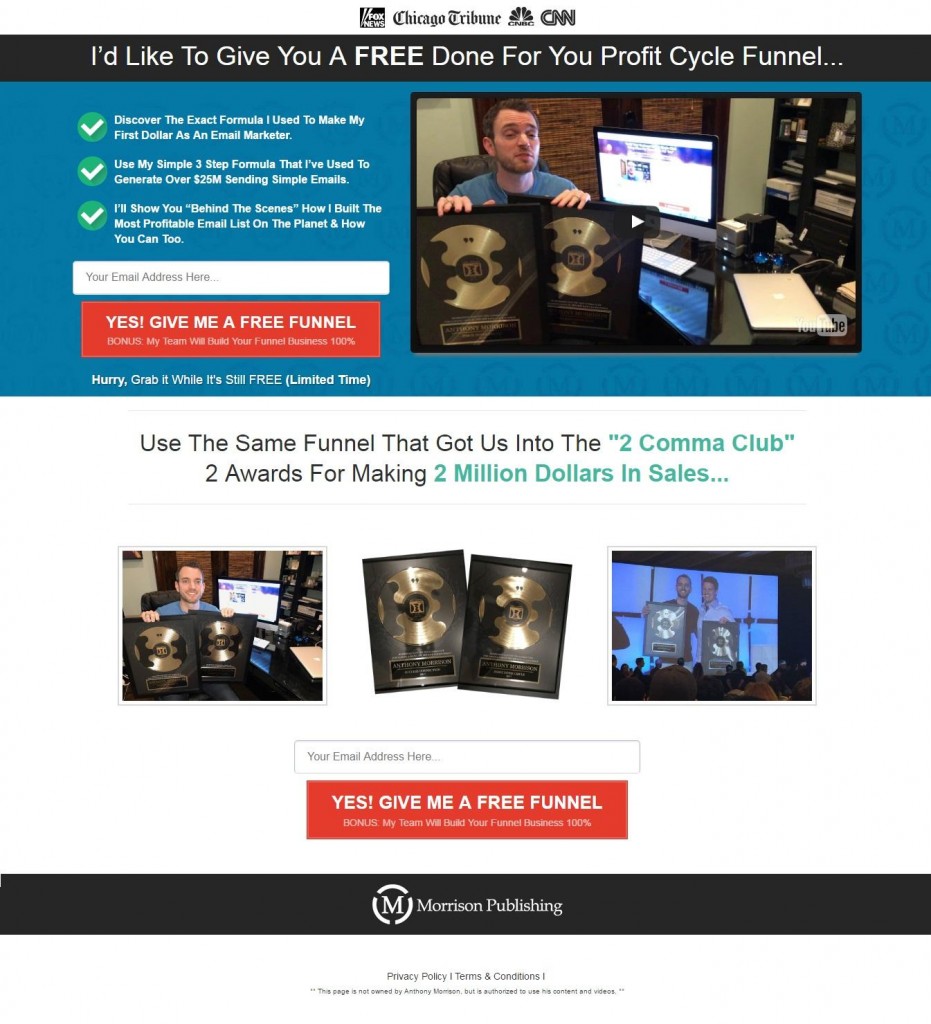 There is a second version of the landing/optin page doesn't require people to put in their name, the images at the bottom are smaller and there's a second optin at the bottom. The idea is to test if this gets a higher conversion.
Thank You Page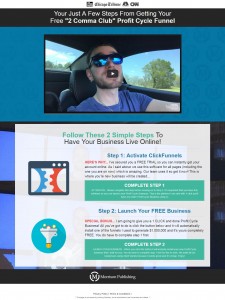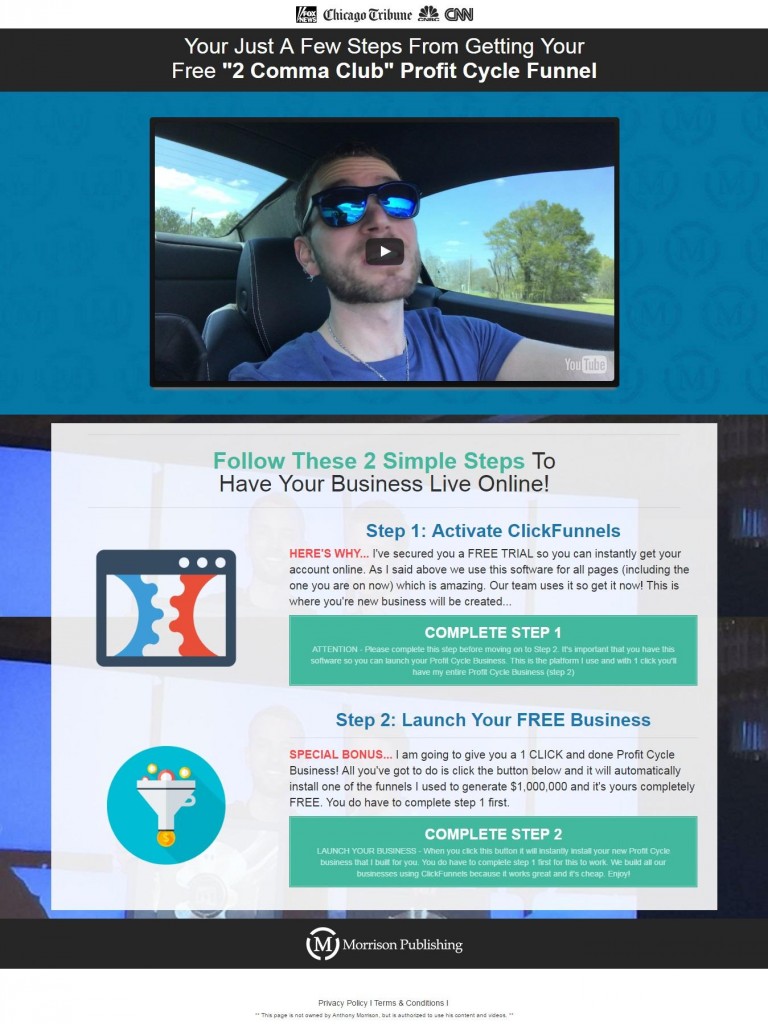 This is the thank you page where we tell people in order to get the free done for you funnel, step 2, they must have a Clickfunnels account which is step 1.
The free done for you funnel is a complete business where all they have to do is push a button to install it once they have their clickfunnels account which is also free for 14 days.
Autoresponder Email Series
We have been given a 24 day autoresponder email series. Day 16 and day 18 refer to the followup page while days 20 to 24 promote a high ticket item.
Followup Page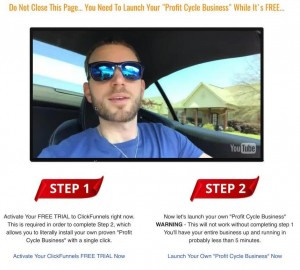 There is also a followup page with a video reminding people that if they haven't taken action yet that now is the time to do it. It has another 2 emails for day 16 and day 18.

The Biggest Question Is How To Get Traffic
Organic traffic can come from the fan page domination method and paid traffic can come from Facebook ads or solo ads.
A lot of people are getting signups from using solo ads. Solo ads are good because they're guaranteed clicks.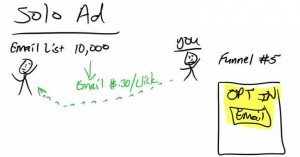 Let's say you have funnel number five but you don't have a list and there is someone that has a list of 10,000 subscribers. You can say to that person:
"Hey, will you send an email to your list and have people come to my optin page and I'll pay you for every person that clicks."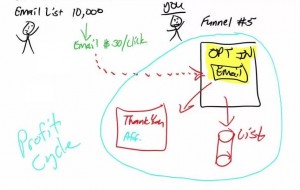 The clicks to your website are guaranteed but whether they subscribe or not will depend on how well your page is designed. Now you have traffic where people can subscribe and visit your thank you page where you make money.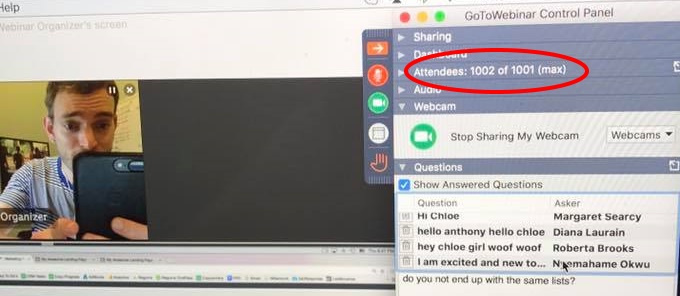 GoToWebinar maxed out again
With solo ads you have a few options to build your list and make additional money:
You can buy your solo ads to build your list;
You can swap your list with someone else so you cross promote each other.
You can also sell your list to make money;
Requirements To Profit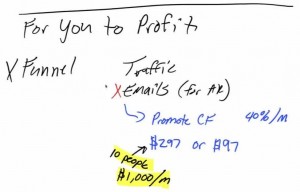 Do you think people would be interested in a free done for you funnel that has done a million dollars. If you got just 10 people to sign up to the $297 Clickfunnels option you would make $1,000 per month.
Who has made money from funnel #4?
John $666 in 1 week
Richard Coffey $118.80
Maik Bahko $18
Cathy $480
Hunter Willis $38
Ken Barnes $38
James Tracey $136
Steven Wright $315
Timothy $85
Carlos $300+
Those that are making money successfully posted it in the group as inspiration to others.
$5,000 Invest In You Giveaway
In the next 2 weeks Anthony will announce the winner of a $5,000 investment. The winner will get $2,500 worth of Facebook ads and another $2,500 worth of solo ads.
To qualify you must post screenshots of your sale as a reply on the pinned post in the success connection group.
Your success must come from funnel 4 or 5, trials also count.
All entries must be posted as a reply to the pinned post.
The format of your post must say "I made $X from funnel 4 or 5" followed by a screenshot.
The giveaway winner will be announced on May 4 live on the success connection.
You must attend the live webinars to get the secret words.
There is no financial gain to Anthony but it'll motivate the heck out of people that come to the group so they can be successful. It works because everything is done for us.
Links To The Treasure Chest
The link below requires a password which is given out during the live webinar. It is also has a cutoff time beyond which it will not work.

Get A Copy Of Our "your email profits" Book For Free!
The 3 Simple Steps To Building Your Profitable Email Marketing Business
Recent Posts
Categories