Funnel Success Weapon
Done For You Funnel
The analogy from last week showed if you get people to build a car before they learn to drive one you'll have fewer drivers and the internet is no different. It's easier to just focus on running a business and have all the components done for you instead of trying to build them all.
This is the done for you funnel landing page. When someone puts in their email address and opt in they become a lead aka prospect or subscriber.
When they enter their email address they go to the thank you page which can have multiple ways to create income using affiliate offers. Whenever people click on step 1 or step 2 it's an opportunity for you to make instant thank you money.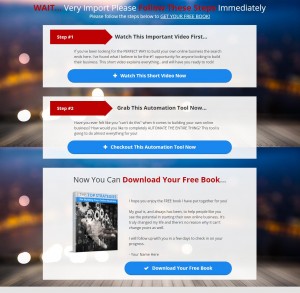 They can also click the download button to get the free ebook.
Secret Weapon For Funnel Success
The next step is getting traffic but before you dive in there's one question you should answer before you spend anything and that is:
How much can you afford to spend to get a lead?
You probably have no idea right.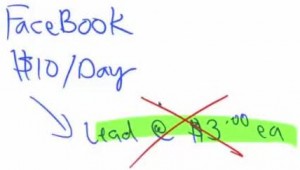 If you were spending $10 a day on Facebook ads and getting 3 leads is that good or bad? You have no clue because you don't know the value of a lead, you don't know how much you'll make back over time.

If you were spending $10 a day to acquire 20 leads but losing $4 per day would you terminate the campaign?
You just don't have enough information to make an informed decision because those leads will be making money when you send out emails.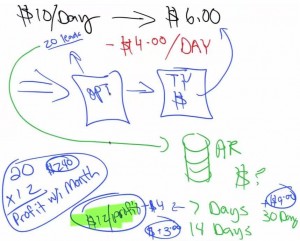 Perhaps after 7 days you make back the $4 that you were down then after two weeks you make another $3 and after a month you make another $9, that's 20 leads per day and $12 profit over a 30-day period of time.
Your ad may be losing four dollars a day on the front end but if you're making $244 a year then the campaign is successful.
The $12 comes over a month and not on the same day you were down $4. Do you think it's important to know these metrics before you decide to terminate a campaign?
You're not always going to make your profit on the front end by spending $5 and making $6, sometimes you'll spend $5 and make $3. If you let those emails go out over 45 days and you make $15 then you've made a profit and you'll never want to turn it off.
You cannot judge an ad campaign if you don't know the long-term value of a subscriber so it's important to start thinking like a successful marketer to avoid making mistakes.
Funnel Proforma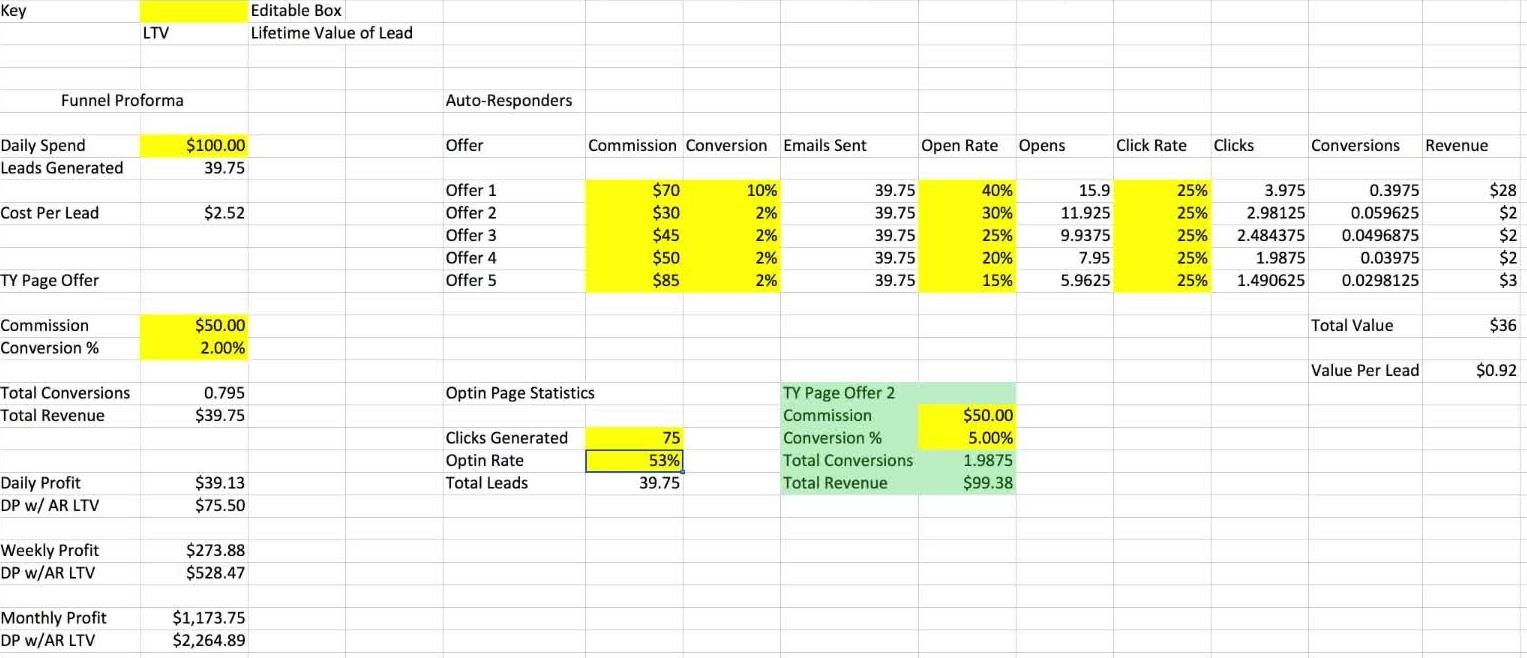 To answer the question of how much you should spend to get a lead we need a funnel proforma. This one tool will help you avoid making mistakes and achieve success. It's a combination of a business plan and a budget that tells you exactly how much you're spending and how effective your funnel is.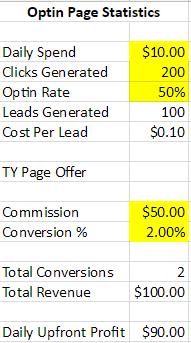 This example shows the following:
Daily Ad Spend – $10
Leads generated – 100
(200 clicks at 50% optin)
Cost per lead – $0.10
Thank You Page revenue – $100
(100 leads at a 2% conversion rate with $50 affiliate commission)
Daily Upfront Profit – $90
You need to know the conversion rate and a lot of times it comes down to predicting what it might be. You might think it's a 2% conversion but when you run the campaign it might actually be 1.5%.
The daily profit or loss number is how much money you make on the front-end thank you page every day instantly.

When you start running your autoresponder you'll have a number of offers that give you different commissions and convert at different rates. Over time you'll get a more accurate idea of how the offers actually convert.
The assumption here is that the optin rate will drop for each additional offer.
Out of 100 emails sent you should be getting a click through rate of 25%. If you're not then you're probably doing something wrong.
The way this page is set up shows from 100 leads you're going to make $76 from all the offers in the autoresponder. When you add that to the upfront profit you're making $166 daily.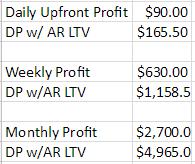 It also tells you the weekly, monthly and annual profit upfront and with the autoresponder. Even if you only got 7 leads per day you would still make $70 each month which isn't a lot but would you stop it?
You don't need to update these numbers daily, you just need to tweak the values when you get more data. The proforma shows you what numbers you need to achieve to remain profitable and if they differ then you can adjust them to more accurately reflect the outcome.
If something isn't performing as you expect then this model allows you to go in and see what happens if you make a change. Perhaps an offer is the weak point because it's not converting so you try a different one and see the overall impact bitcoin casino list.
You should create a proforma for each funnel so you have a snapshot of how your business is performing.
Update from Feb 23, 2017
The new Thank You page has two offers so the second offer has been added to the proforma.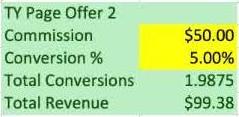 You can change anything in yellow so if your daily spend is $100 and you generate 75 clicks with a 53% optin then the proforma will tell you 40 leads were generated with a cost per lead of $2.50.
The Next Step Is Traffic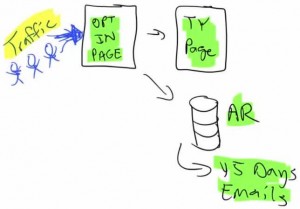 Once we have the funnel set up complete with a thank you page and 45 day email series loaded in the autoresponder what's the next step?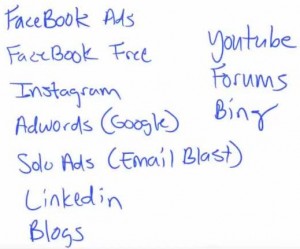 We need traffic to the landing page which can come from Facebook ads, Facebook free traffic, Instagram, Google AdWords, Solo Ads (Email Blast), LinkedIn, Blogs, YouTube, forums and Bing.
There's no shortage of traffic sources and some of it is free like Facebook, Instagram, YouTube, forums and blogs. If you've got all the components in place then all you need to make some money is to get some traffic.
Facebook Ads
As you look at Facebook pay attention to the ads that really grab your focus.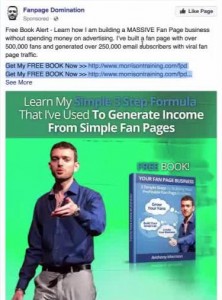 This ad is performing well because it uses bright colors to grab the attention and it doubles up on the links. You should always test your ad to make sure the links are above the words "see more".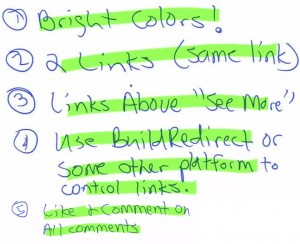 A normal URL is very long and ugly so to shorten it use some kind of cloaking or redirect service but avoid free services like bitly. If a lot of bitly links do not work Facebook will ban them all.
A redirect service also acts as a safety net against any problems that may arise by sending traffic to an alternate site. For example the Clickfunnels servers went down a couple of weeks ago causing Facebook to deactivate many ad accounts because the links were going to dead pages.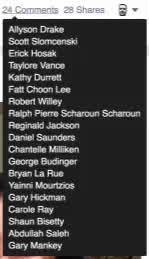 When someone comments on your ad, take 5 minutes to like and reply to those people because Facebook like it and it increases engagement.


Proudly brought to you by Michael McDonald
founder and editor of Zen Notes.
Get A Copy Of Our "your email profits" Book For Free!
The 3 Simple Steps To Building Your Profitable Email Marketing Business
Recent Posts