Inbox Blueprint 20 Minute System To Launching Your Own Profitable Internet Business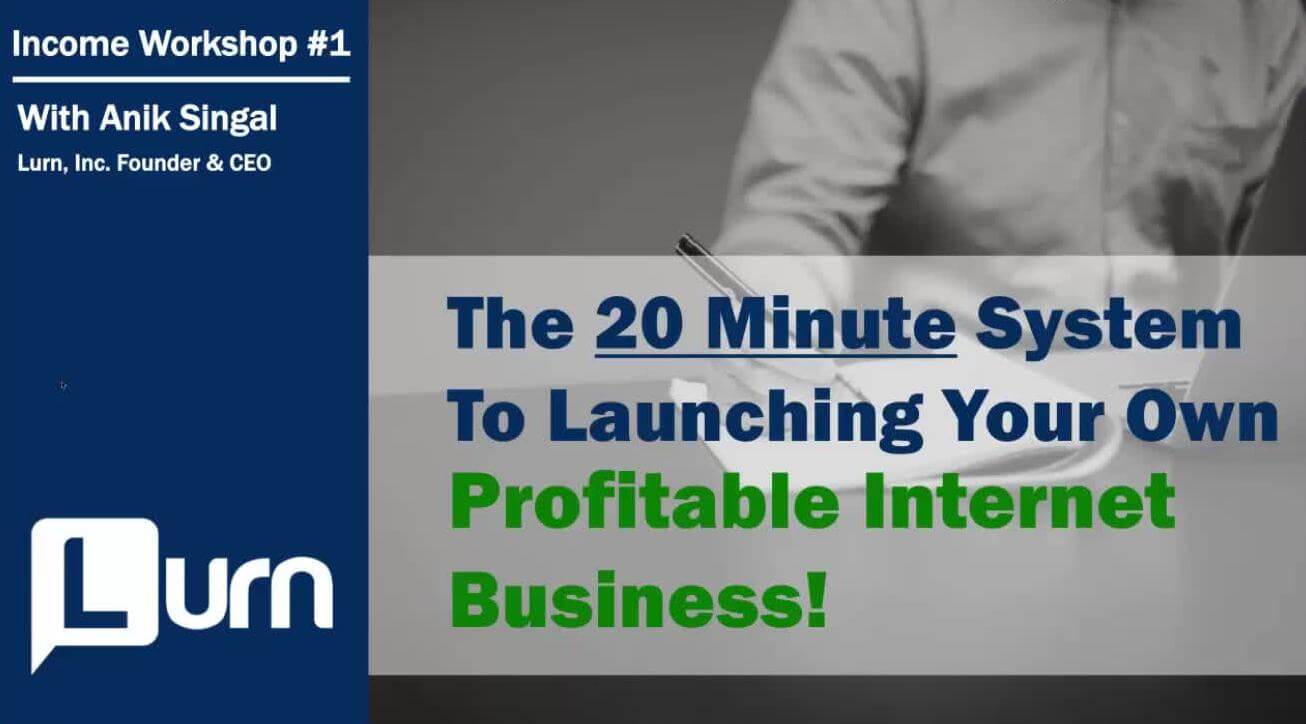 Today's guest speaker demonstrates the quickest 5 step business launch model from Inbox Blueprint.
Last week Anthony made a post asking all members of the group to put some thought into what they write before posting on Facebook, you can read that post here. That post received 159 likes and 112 supportive comments.

Before anyone decides to say derogatory things in the group it's worth remembering that every week he gives up his time to teach and train us so we can have success. Besides giving away money as a bit of fun his GoToWebinar plan costs $500 per month.
It's important to remain positive when the rest of the world is protesting and being negative. The way to do that is to focus on things within your control that are important to you so you're not influenced by what is happening on television. You cannot change things that are outside of your control so don't let them influence your mind.
The success connection group is intended to be a positive supportive environment and anyone who disrespects that will be banned, that includes anyone trying to sell competing products even if they are disguised as supportive answers.
---
Just as a reminder next week, Nov 24th, is Thanksgiving and Anthony will be on the Success Connection live as usual. It's still important to focus on your business so you can get it ready to profit from the upcoming holiday season which includes Black Friday (day after Thanksgiving), Cyber Monday (the Monday after Thanksgiving) and Christmas.
The opportunity to take advantage of the holiday season dwindles with every day you let pass. When you put all the jigsaw pieces together email marketing is like magic because you can push a button and make money but you do have to put the pieces together.
It's unusual for Anthony to bring a guest speaker on the Success Connection but it does happen 3 or 4 times a year when he thinks the person has brought value to his own life. Tonight's guest is Anik Singal who is going to demonstrate putting all those jigsaw pieces together in one place.
Anik has helped Anthony make an extra $800,000 this year so it's worth paying attention to learn what he has to say.
Your 'Why' Drives You To Have Success
I want to warn you that this is a long post…..
What's Coming Up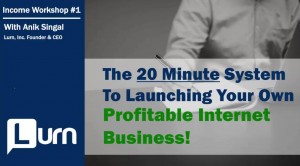 Anik will quickly go over his jaw dropping success and failure story with a different angle;
He walks over the quickest 5 Step business launch model;
He demonstrates launching a business in minutes with software he has developed at a cost of $300k;
7-FIGURE Case Studies;
His Offer Of Hands On Help For YOU..;
Anik's $10 million Eye Opening Journey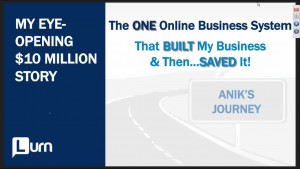 Anik started 14 years ago, when there were no webinars and he struggled to a point that he wanted to quit. He finally built a company worth 10 million dollars and thought he had the golden touch.
He abandoned the five-step system and within a year had lost the millions of dollars and was in debt to the tune of 1.7 million. It was a low point of his life when he struggled with alcohol.
One night he took stock of his situation and wondered what was it that caused him to go from being on top to the bottom. He realized it was the system and that's what he's going to share with us today.
Within 16 months the debt was paid off and after 21 months he was back to earning 10 million dollars per year.
To date he has sold over 100 million dollars worth of products on the internet. This year all the companies he owns are on track to sell 23 million dollars worth.
He's also giving back by building schools and living the life of his dreams.
Don't ever chase money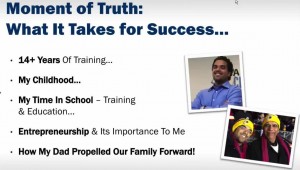 Sometimes having success is not about the steps you take but what goes on in your mind.
14 years ago Anik wanted to make something of himself but it was never going to be as an internet marketer. He is of Indian descent and comes from a family of doctors.
Looking around the people who had the biggest houses and the nicest cars were all doctors so he thought he'd become a doctor.
He was never the smartest in class but he worked the hardest, he hustled and faced obstacles and challenges. By the time college came he had set himself up to goto the best medical programs.
His parents were proud that their son was going to be a doctor and he was excited because he was going to make a lot of money.
College kicked in and there were mornings where he just struggled. He realised he did not want this as a life. He has the utmost respect for doctors who save people's lives but it wasn't for him.
Have you had a moment in your life where you've woken up and realized you're not living the best you, the person you were supposed to live. You're in the right place because we've all been there.
Being an entrepreneur was important to him. He wasn't just the kid with a lemonade stand, he was sitting inside watching cartoons because he hired younger kids to run the lemonade stand. At the time it didn't occur to him that his passion was to be an entrepreneur.
What he really wanted to do was make his family proud.
His dad is his rock and best friend. He was shaking at the knees when he told his dad that he wanted to quit the medical program to become an entrepreneur.
His dad turned around and said:
"Son it's your life, you've got to do what you want and I don't have a problem with that. If you remember nothing else remember this. Don't ever chase money, if you do it will escape you every time. Build a life full of what you want to do. Spring out of bed knowing that you are doing good serving people and changing lives for the better."
Dreams Achieved
As a young man his dad didn't have electricity so he had to walk a mile down the street to study under a lamp post. Today Anik wants to promote education for those who don't have it.
Education is the cure for poverty. Anik's vision is to serve over one million children by pulling them out of the slums.
There are tough days when it is just hard but it's because he has a deeper why that he's able to pull himself up. It's not just about the money but he has a million children relying on him.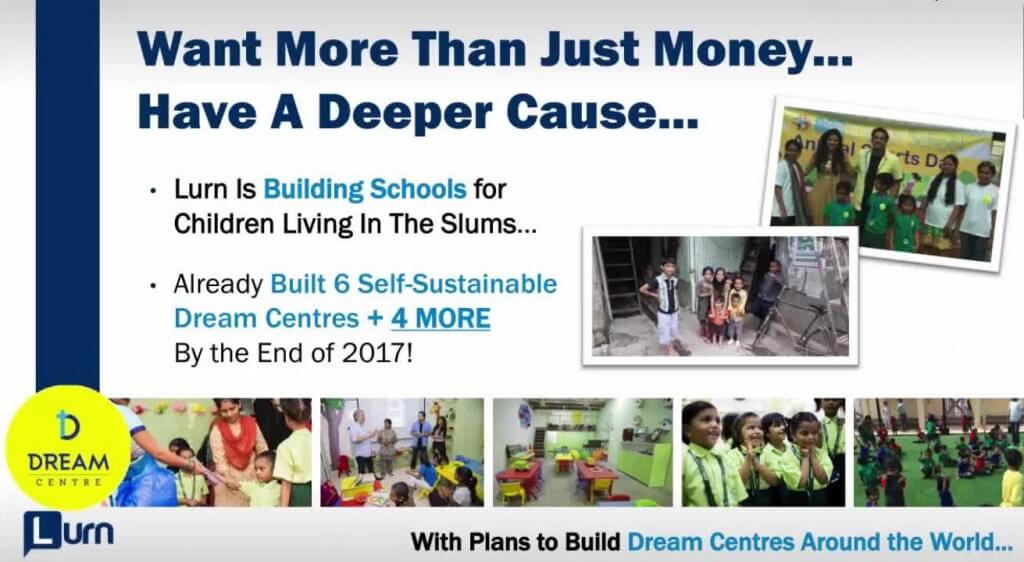 He's proud to say he has 4 schools already and will build 6 more next year.
He serves a community of over 4,500 people with entrepreneur training, health, eye and dental clinics. It's serving these people that gets him up in the morning and in the process has become very wealthy.
Wouldn't you like to good by serving the world, be proud of who you are and become wealthy at the same time?
Having wealth is not bad as long as you use it to do good.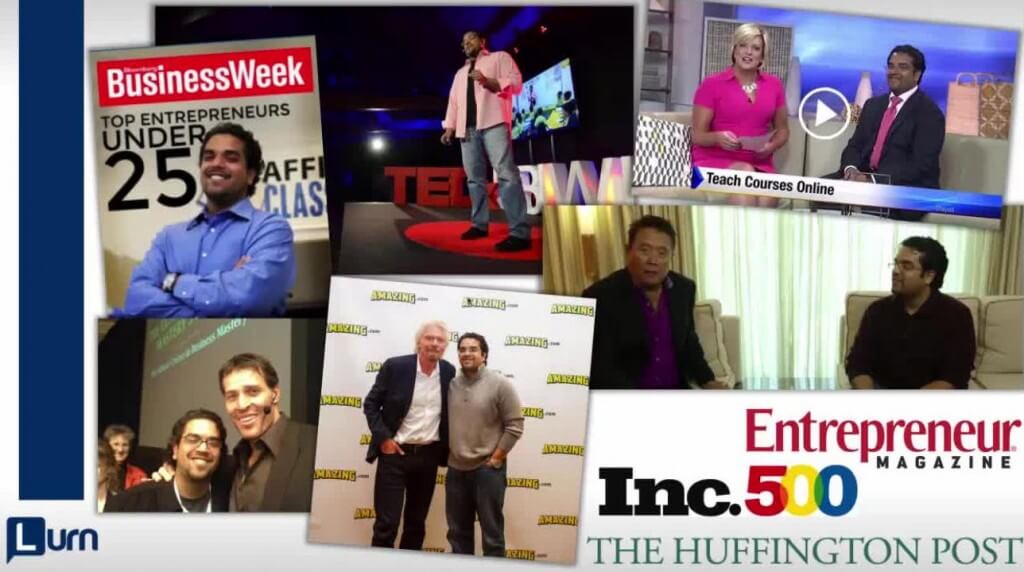 Anik has achieved many of his dreams:
Voted a top entrepreneur under 25 by Business Week;
He's spoken on National Television about how to make money online;
He's spoken for Tony Robbins;
He met Richard Branson;
His mentor Robert Kiyosaki wrote the foreword of his book;
He's been in Entrepreneur Magazine;
Inc. 500 voted him two years in a row;
Had a piece written about him in the Huffington Post;
He's not sharing these accolades to brag because he never chased after any of them. He set out on a mission using the 5 step process to serve people and the wealth came.
I'll Never Talk To You Or Help You Again
When Anik started he wanted to create his own destiny.
He spent 18 months failing because there was no help, no resources and one to show him how to do it. He probably failed at least 50 times and it's hard to hit rock bottom and keep going.
After spending countless hours on forums, just when he thought he'd figured it out – boom, he failed again!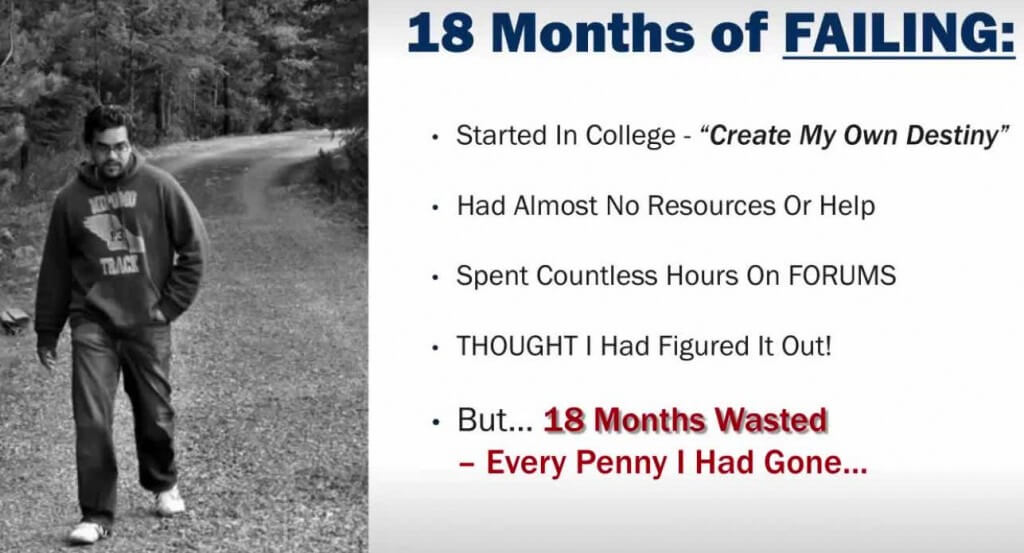 18 months wasted and every penny gone but then he became an overnight success story.
He was at his wits end when he returned to the forum to say thanks to all the people that had helped him but that he was done. He would give himself a final 24 hours before quitting.
How many of you are stressed by someone in your life that doesn't believe in what you're doing, is laughing and pressuring you to quit? me me me.
People were telling Anik your grades are falling, go and get a job, go get some experience before you start a business.
The very night that he was going to quit he got a message and to this day he doesn't know from who. the message said;
"Kid I've been watching you for over a year. I don't want you to quit, you've been hustling hard. I've never helped anyone but today I'm going to help you.
Here are the steps you need to take. If you do these you will make money by tomorrow. I'll never talk to you or help you again, it's all up to you now."
Anik thought "what do I have to lose" and worked until 3 in the morning before going to sleep.
When he woke up 6 hours later he had made his first $300 on the internet. That was over 12 years ago. Not one day has gone by since then where he made less than $300.
To this day the person who helped him has remained a mystery but it is Anik's goal to be the person that helps us.
Launching Your Online Business
Two Things You Need For An Online Business
There are two things you need to make an online business happen:
You need a concrete copy and paste system;
You need automation in this technology age;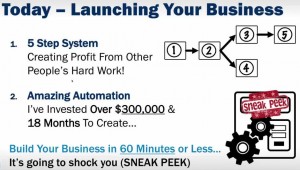 When Anik and Anthony started there was no automation but today there are so many great plug-and-play solutions. The solution shared with us today will leave your jaw on the ground.
So how much does this business model really make?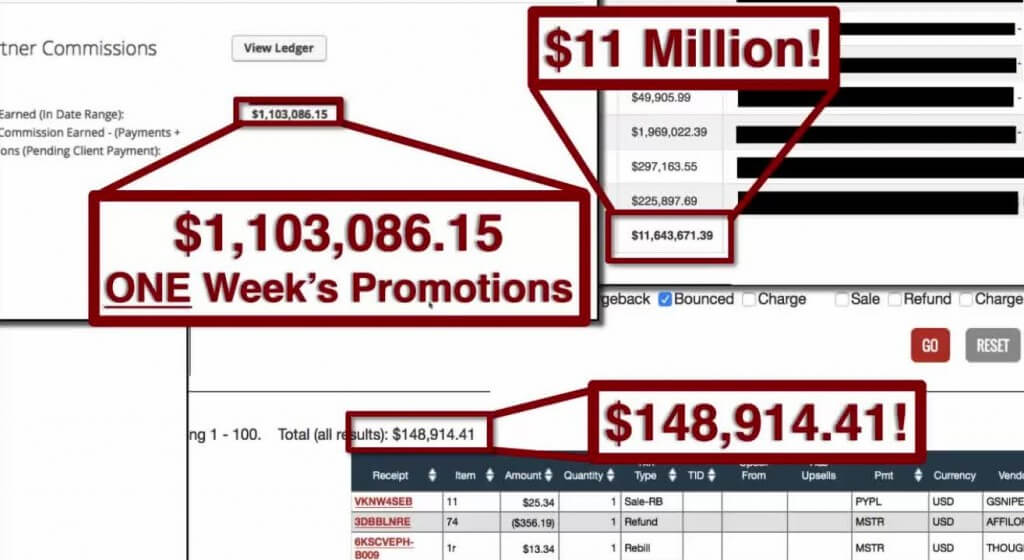 One list made 1.1 million dollars in commissions after just one week. That left 51 weeks of the year to send follow-up emails;
11 million dollars was made from selling his own digital products;
$148,914 was made in the personal development space after 2 weeks of emails selling ClickBank products;
If you're just starting out you're not going to make this kind of money by next week. If you just made 10% of this after several months would that change your life?
This Is Not A Get-Rich-Quick Scheme
This is not a get-rich-quick scheme, it's a business that needs dedication, time and attention.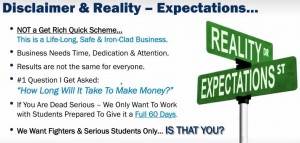 "How long will it take before I see results?"
It's a really good question but impossible to answer without knowing:
How hard will you work?
What you already know?
What don't you know?
How many hours can you put in each week?
If you can dedicate 1 hour a day for the next 60 days then Anik guarantees this will make an impact in your life.
The entire Lurn nation is here to:
support;
mentor;
train;
teach;
provide the tools;
coach;
But only you can do it!
How Exactly Does Email Turn Into Profit
Imagine you wake up in the morning and spend 20 minutes writing an email.
You send that email out to your list of 10,000 subscribers.
The email contains an affiliate offer that you're promoting and you get 500 people click the link.
Out of the 500 people that visit the affiliate page lets say only 2% purchase the product.
That's just 10 sales or 0.1% of the original 10,000.
If the commission on each product was $50 then you would have made $500 that day.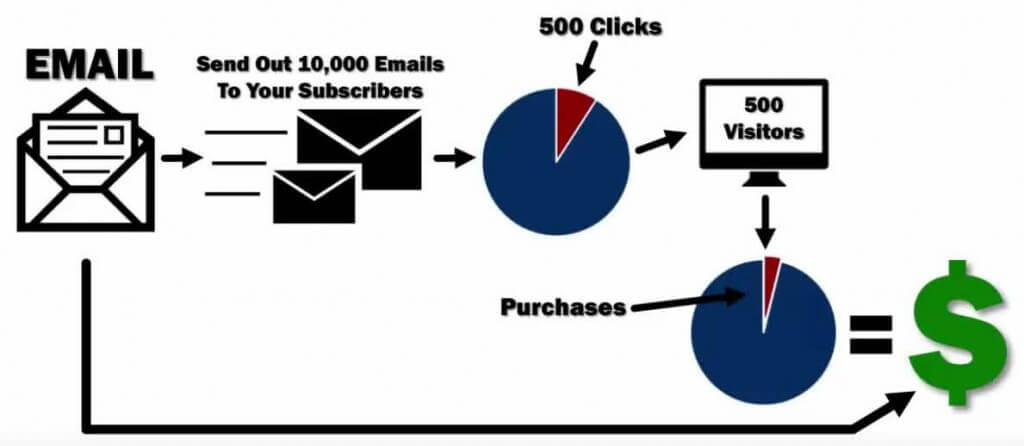 Would $500 change your day?
What if you did that 5x a week, would that change your life?
In Anik's business each subscriber is worth $4 20 per month.
To be conservative while you're just starting out if you were making just $0.50 per subscriber then with a list of 10,000 you would potentially earn $5,000 each month.
Anik is making 2.5 million dollars each year just in affiliate commissions.
The 5 Step System
Every online business needs an online presence and that used to be a website. The best conversion you should expect from a website is only 2% so if you wanted to sell another product you'd have to repeat the entire process.
Anik's epiphany was to build different business pages on one website. Each business was literally one optin page converting at 40%.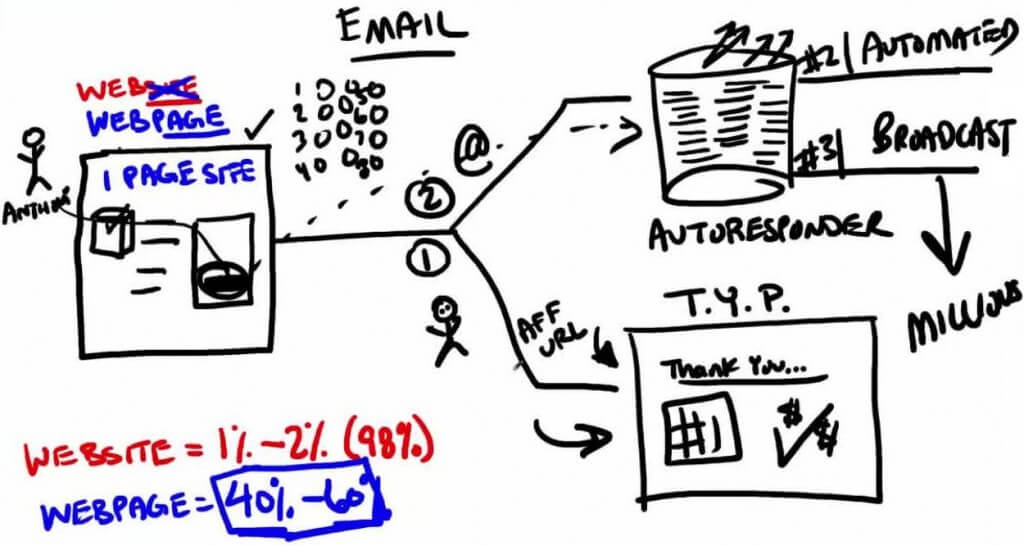 When a person visits an optin page and they put in their email address two things happen:
They are taken to a Thank You Page (TYP) where you can say "Thank You, goodbye" or you say "Thank You" and make a sale $$.
The second thing to happen is the email address is put in an autoresponder. Now you have two additional ways to make money with automated and broadcast emails.
Automated emails are sent on a predefined schedule based on when the person signs up.
Broadcast emails are sent whenever you like to everyone on the list.
The only thing left to do in this model is get more traffic. By the end of the presentation Anik and Anthony give away free traffic.
Case Study #1 – How To Make Instant Money With The T.Y.P. Method
Anik wanted to start out in the personal development space and a person he was following was launching a product.
Anik wanted to meet Dr. Joe Vitale and he thought what better way than to sell a lot of his product. On top of that Dr. Vitale was offering a $12,000 prize to whoever sold the most.
At this stage Anik had no list, nothing so this is what he did.
He made an opt-in page;
He already had the affiliate offer;
He wrote three really simple follow-up emails;
In all it took 45 minutes.
Traffic was sent to this landing page.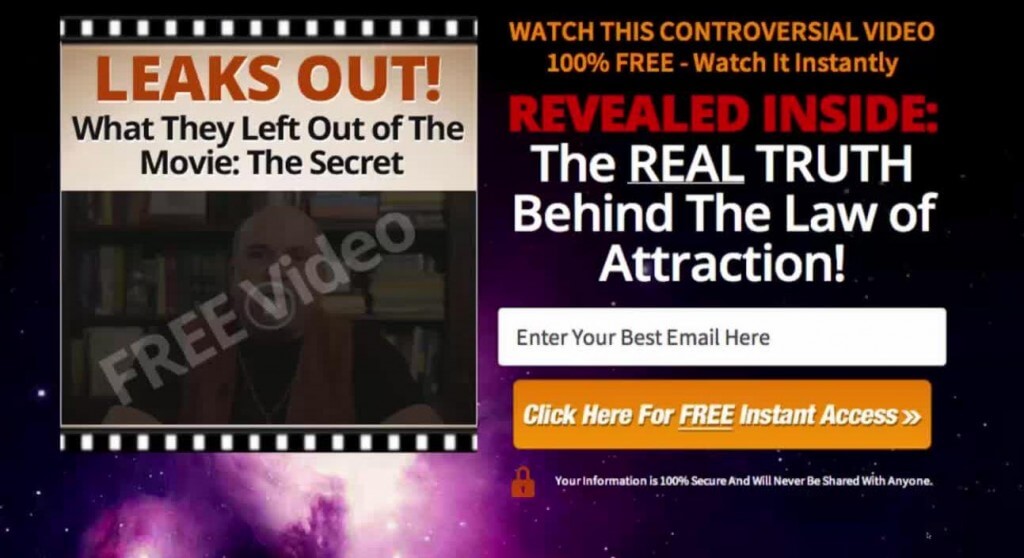 When people entered their email address and clicked for instant access they were taken to the following offer page on Dr. Joe Vitale's website.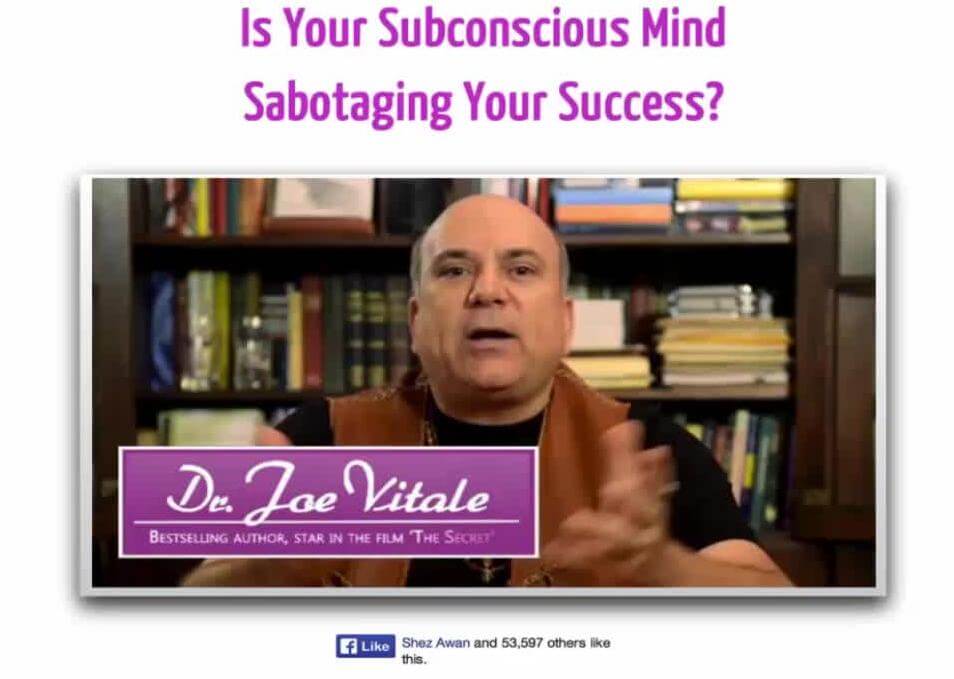 Dr. Vitale did all the hard work to make the website, the sales video and the product. All Anik did was get an affiliate URL to send people to the offer page and when somebody bought he made 75% commission.
The entire process was completed in just 45 minutes.
It made $8,800 in commissions;
Anik won the $12,000 prize;
It produced 8,000 leads;
Can you see yourself doing something like this?
How Does This Become A Full-Time Business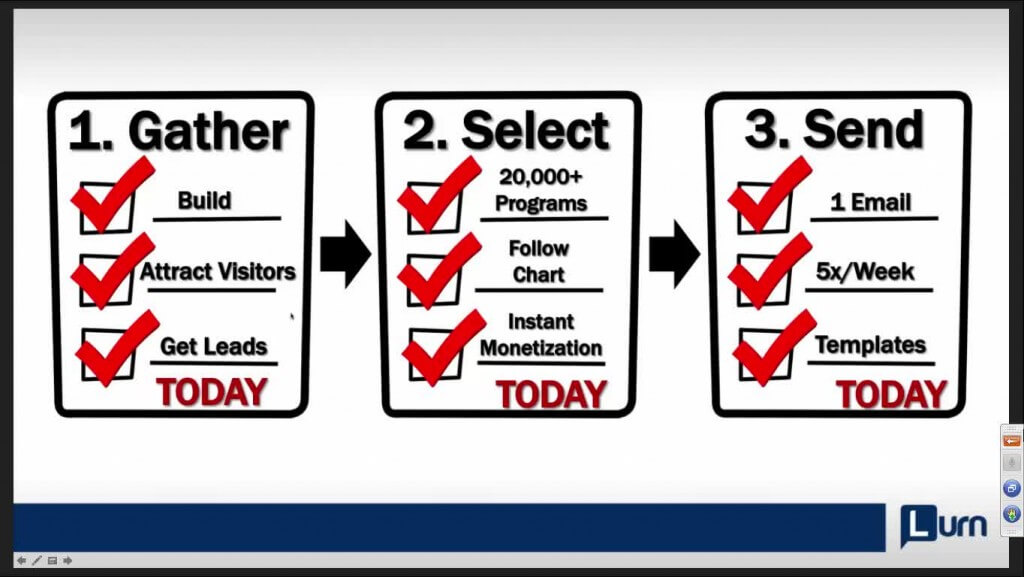 There are really only three steps:
Gather.
That means you build a website,  attract visitors and get leads.
Select.
Select a program from the 20,000 that are out there.
Send.
Make sure you send at least one email 5 times a week, even if you just copy and paste the templates that Anik gives you.
Do you think you can do this and turn email into a full-time business?
Building An Email Business Can Be Complicated, Right?
You know you need an opt-in page;
You know you need a free report;
You know you need some emails;
You need to pick an affiliate program;
Hosting;
URL;
It's easy for 5 steps to become 50 very quickly.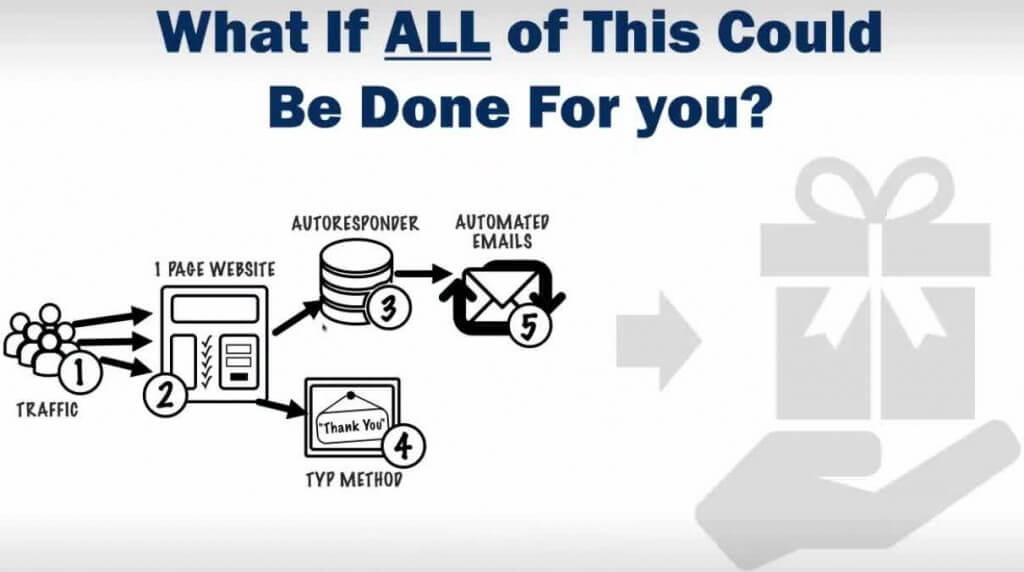 Greatest Breakthrough In Email Marketing
This program has been running for 2+ years with thousands of students so why haven't there been more success stories?
Anik started giving them a call and found many of them we're having technical difficulties.
There were videos on every aspect so why weren't they following the videos?
The common response was they would follow part way through before running into a roadblock and stop.
Anik approached a software company in New York City and said I'm willing to spend up to 1 million dollars to build this platform but they turned him down saying it can't be done.
He went to firms in India and in California but they both couldn't do it, neither could his friend who was very good with technology.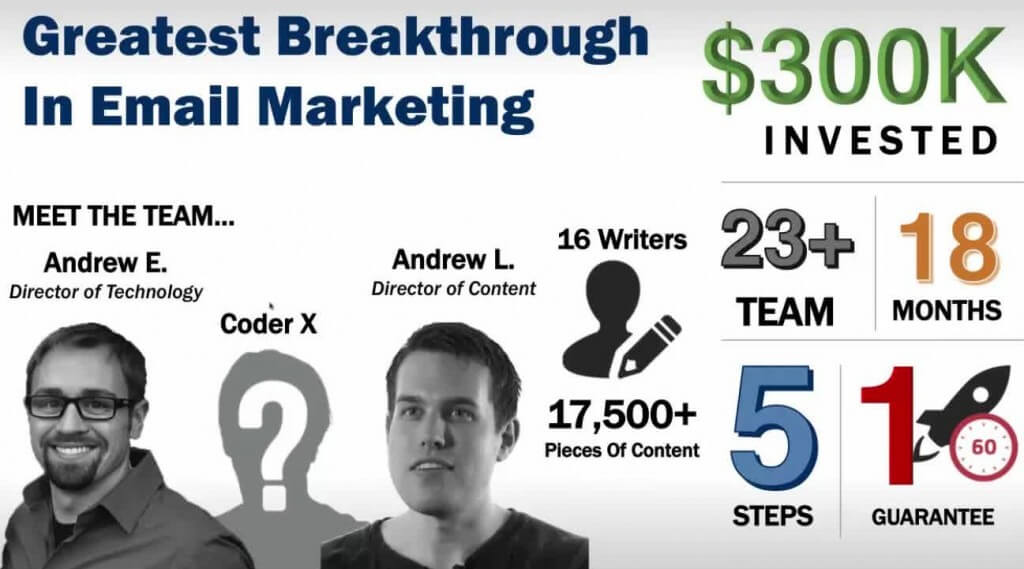 Finally he did what every good entrepreneur does, he assembled a team and built it himself:
$300,000 Invested;
Team of 23+, Andrew E, Coder X, Andrew L, 16 writers;
18 months;
5 Steps;
Guaranteed Business from go to launch in 60 seconds;
Introducing inbox BLUEPRINT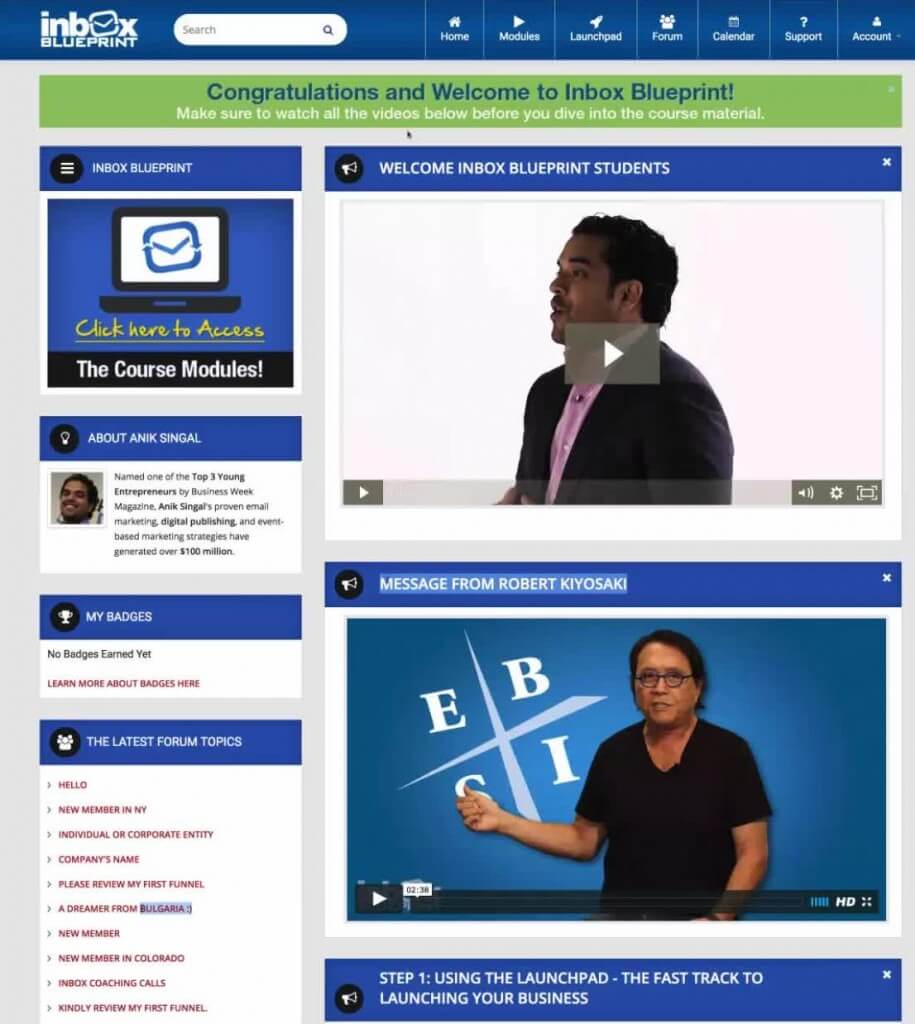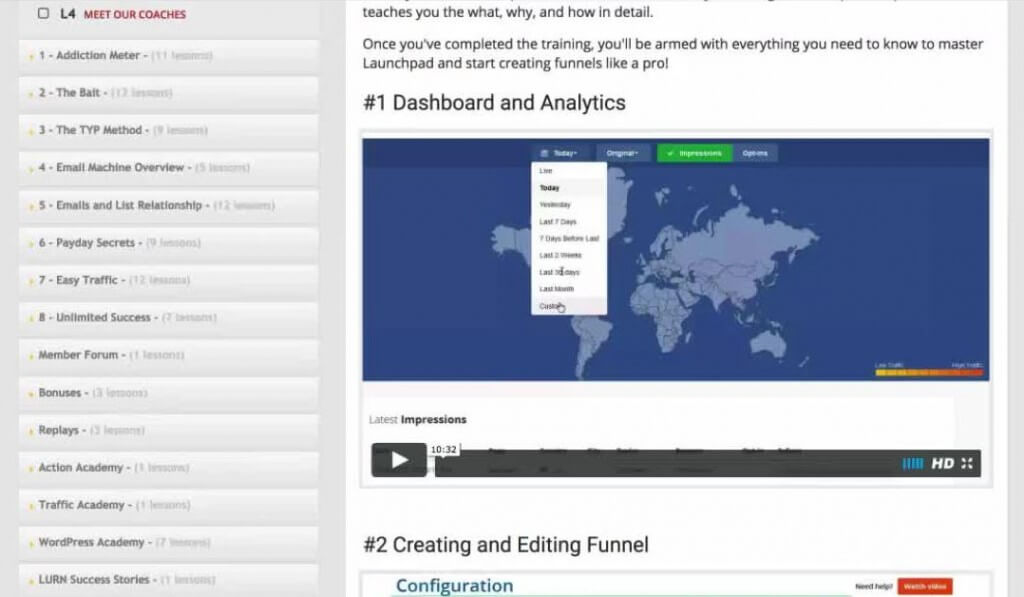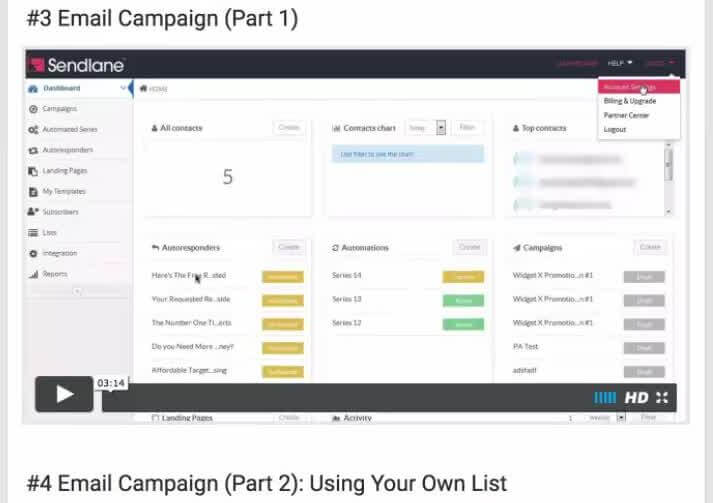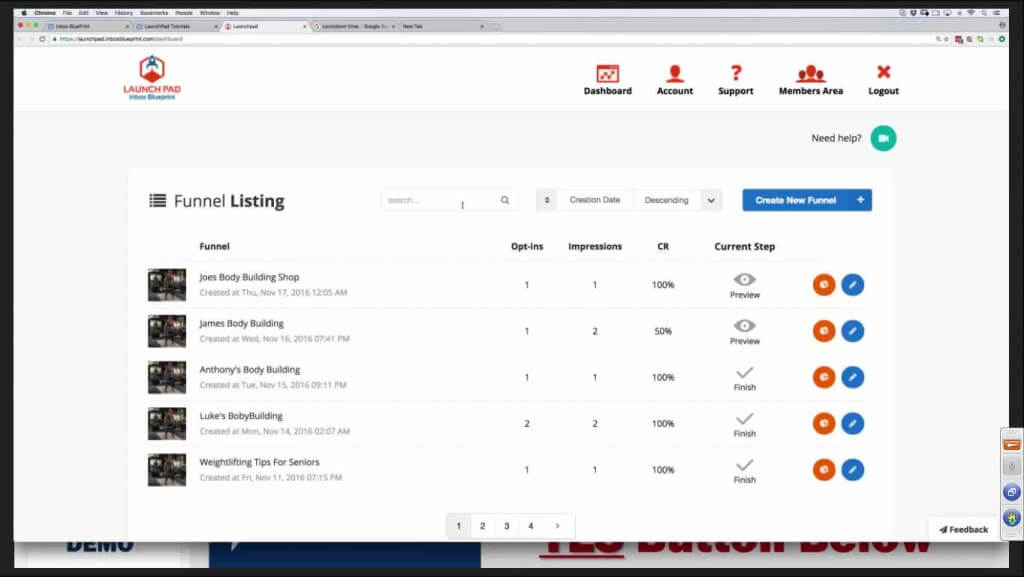 Building A Business In Under 14 Minutes
The entire process was implemented in 13 minutes 13 seconds:
Page built;
Free report built;
Emails created;
Offer selected;
Start!
Campaign Niche selected from among 30. It's statistically impossible for two people to have exactly the same business using this platform.
Niche selected – [Bodybuilding]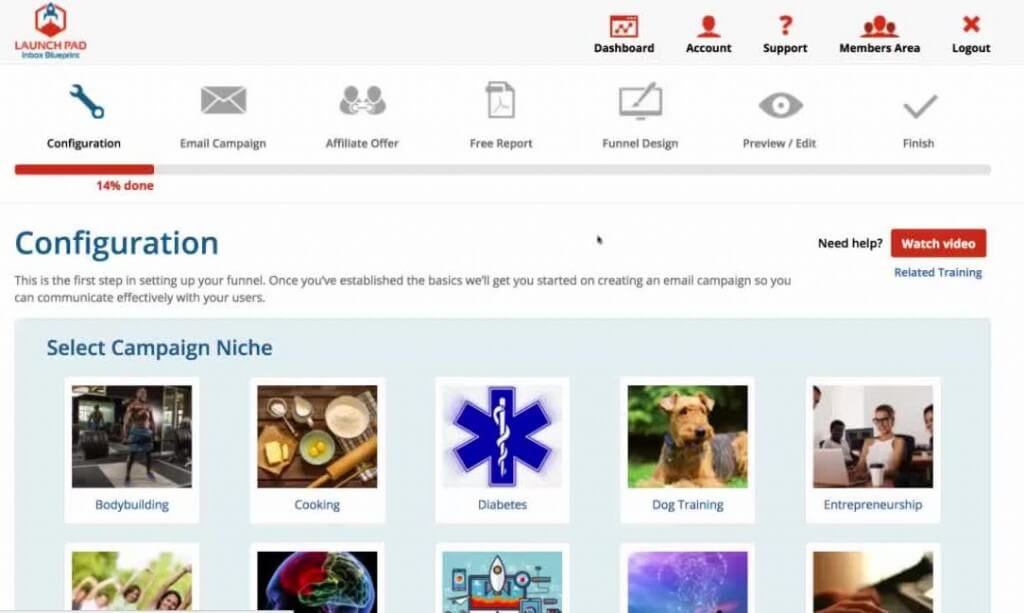 Name the funnel – BMX Body Building.
Let inbox host the page or use your own hosting.
Select your own autoresponder or very quickly sign up to Sendlane.
We're 42% complete and only 2 minutes in. It's time to select an affiliate offer from ClickBank or use your own.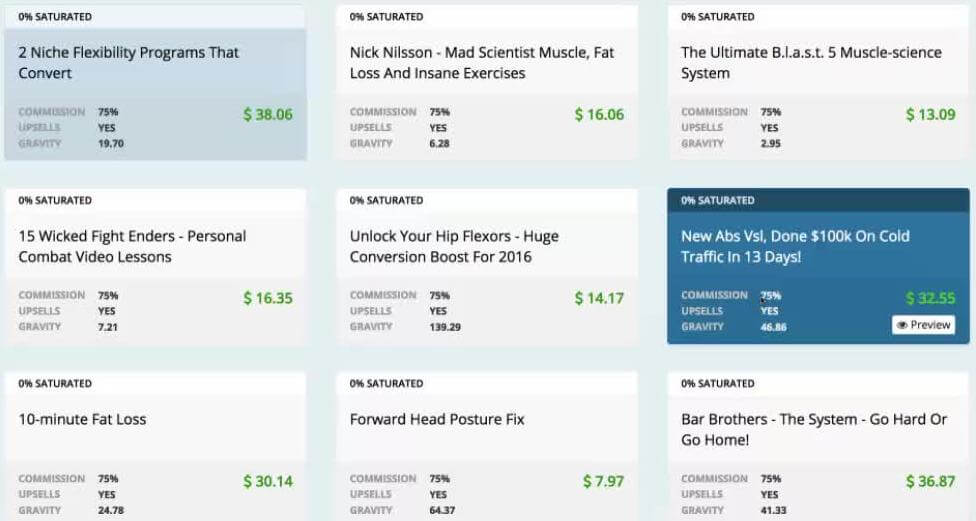 The saturation score ensures if any offer is used too often then it gets pulled from the list making sure everything is always fresh. The platform is completely integrated with ClickBank so all you need to do is select the offer and enter your ClickBank username.
45% complete.
You need a reason for people to come and optin to your list so now it's time to create the free report. If you already have a free report you can upload it and design a 3D cover.

Describe each affiliate offer that you are using. If you're using more than one then the system will automatically use a round robin to sequence the offers.
Select at least 4 articles.
You can write your own articles or select from among 17,500 pieces of content handwritten by a team of 16 writers in Chicago. These are not outsourced, they're great pieces that took over a year to put together.
If an article's saturation score is too high it will turn red whereupon it's removed from the list and a fresh article is written.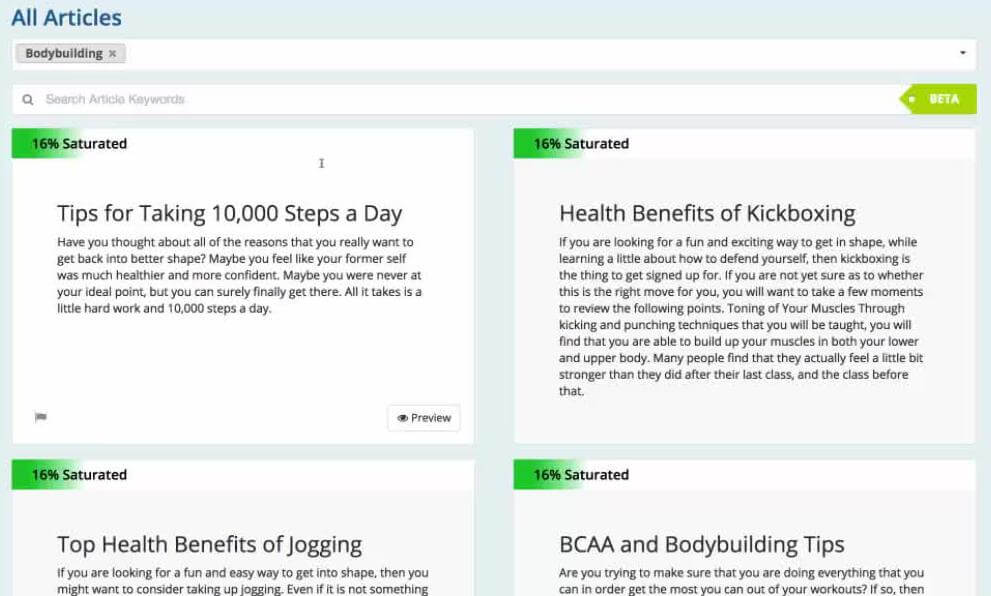 You can change order in which the articles will be sent simply by drag and drop.
Edit the articles to make them unique.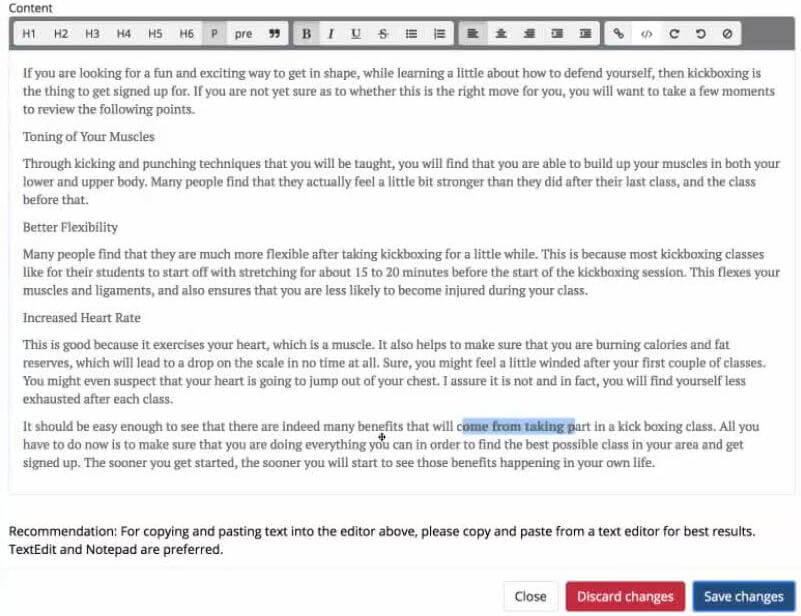 Type something about yourself because you'll get full rights to all the content.
Give your free report a title.
Select a cover layout.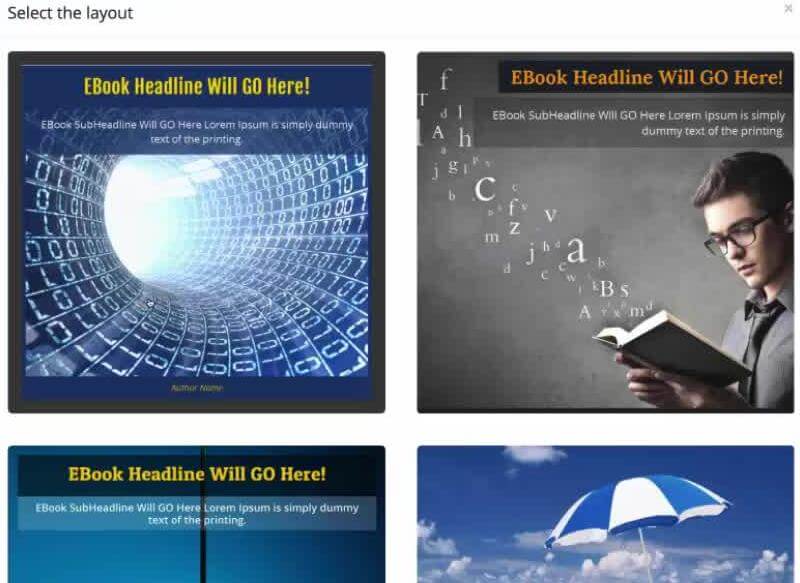 Select a cover background.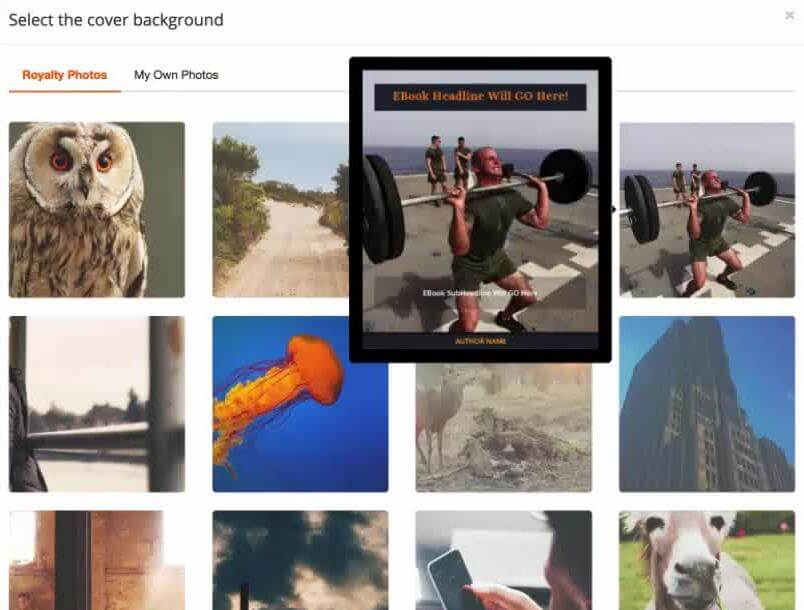 Modify the cover until you're happy with it.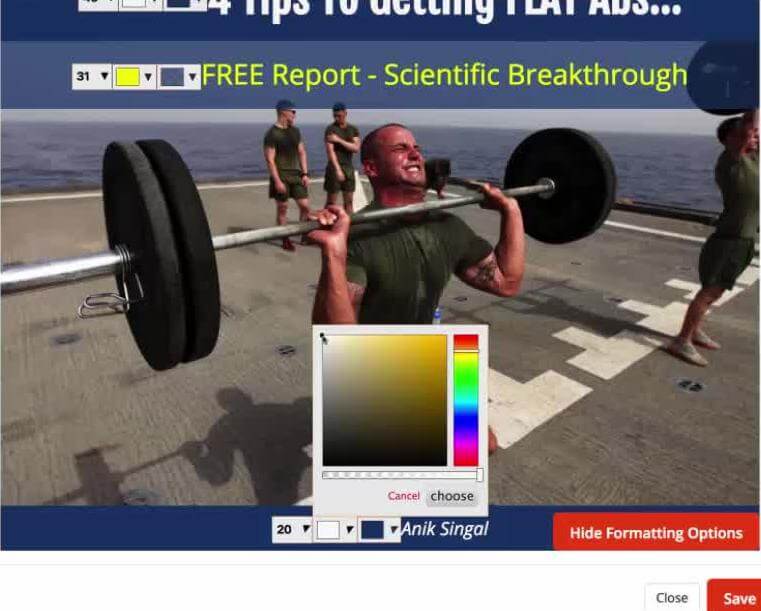 The free report is complete, we're 52% complete and 7 and a half minutes in. It's time to move on to the email.
Select the affiliate offers that you want to be sent with your solo ads.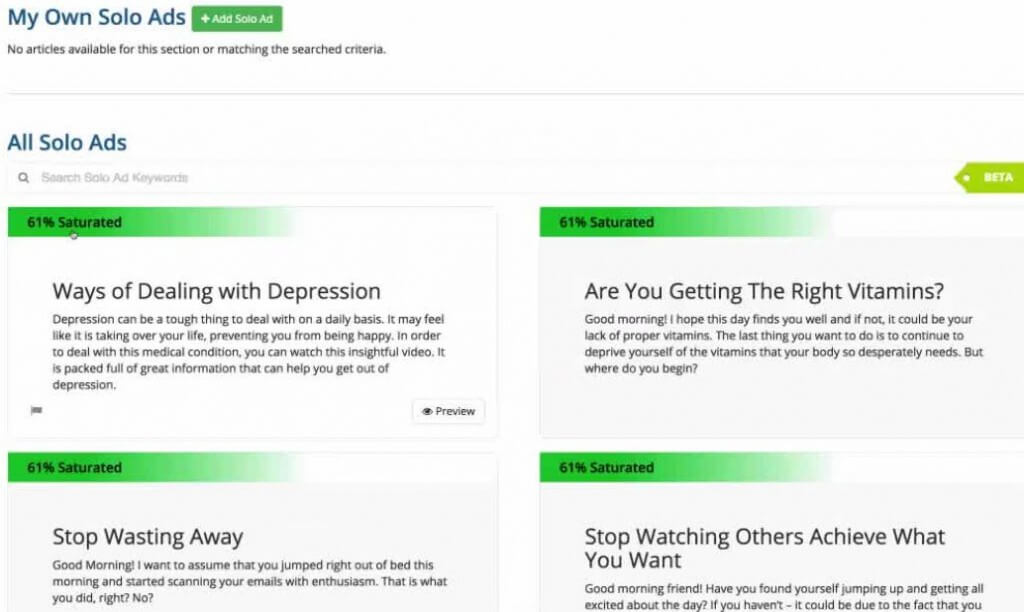 You can't just send out promotional emails so now you select some quality articles.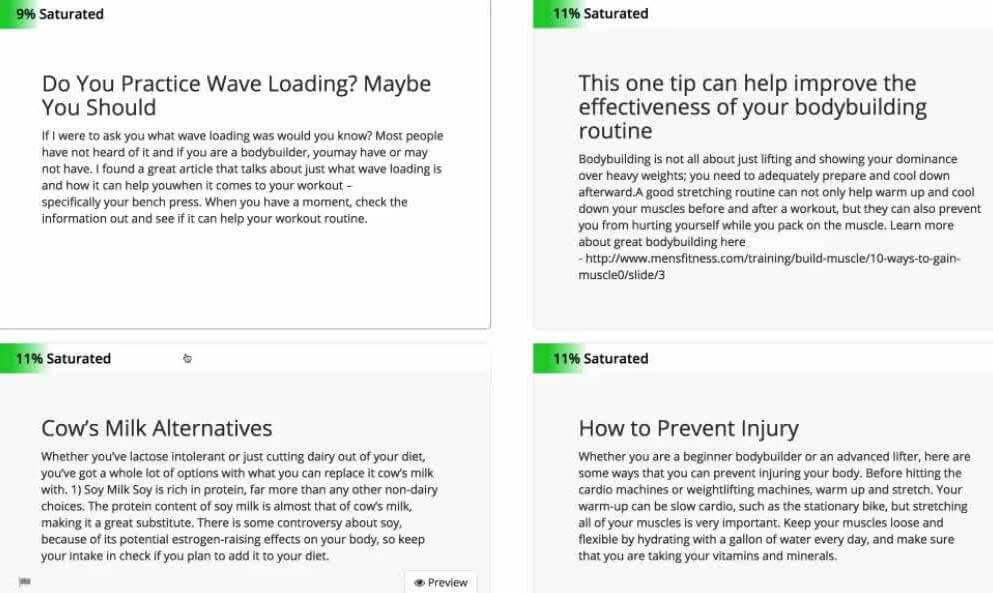 Again you can move the articles around to change the order that they'll be sent out.
Set interval between emails and then subject lines.
Review the ordering of endorsement and content emails.
Choose the optin page type.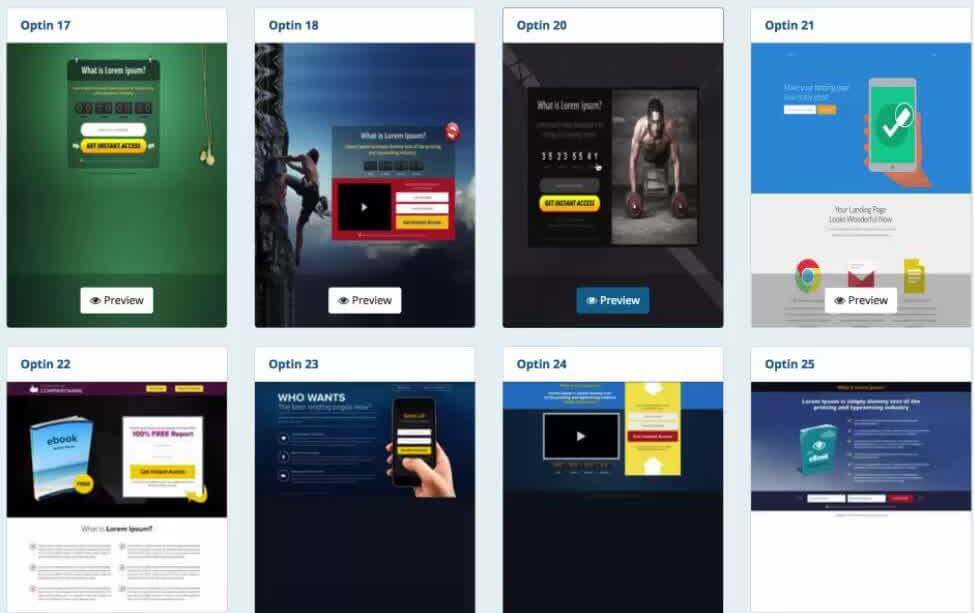 This is the page before editing.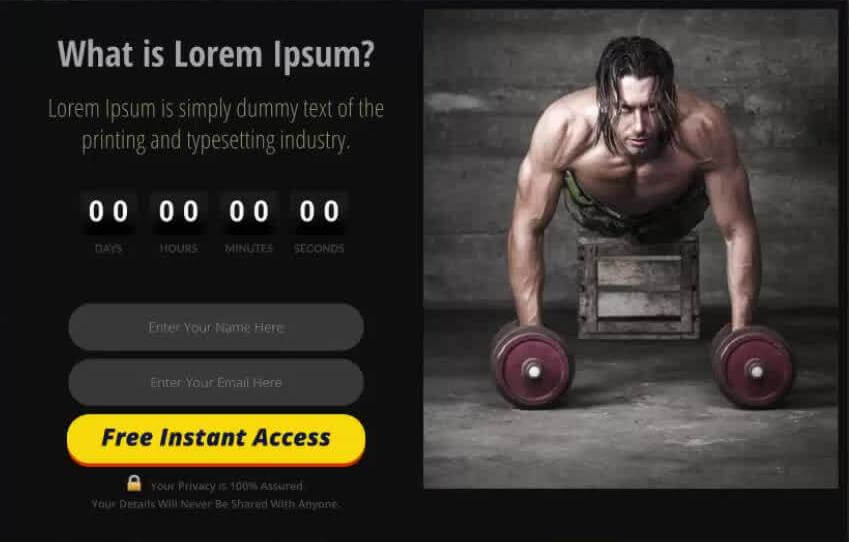 And the optin page a few seconds later. It even includes the free report cover.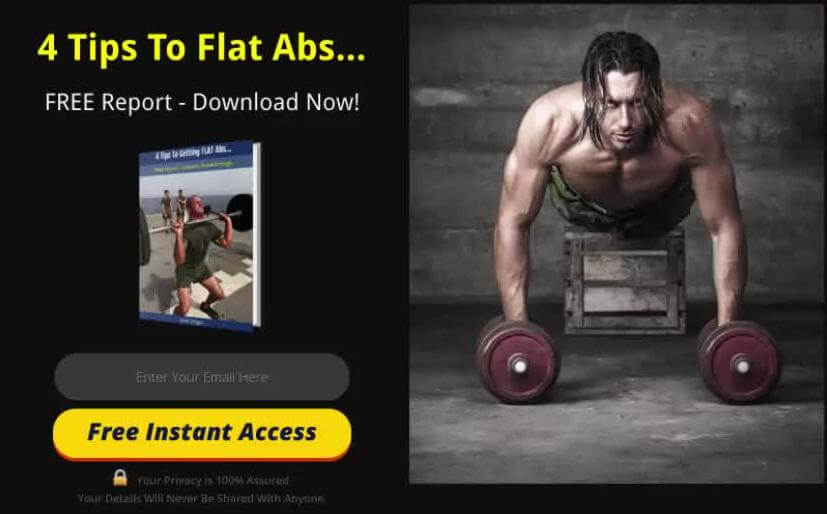 Split testing is built in.
Select the Thank You Page type, Segway or Timer.

And we're finished in 13 minutes.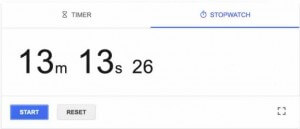 It's time to preview the webpage running.

When someone puts in their email address and clicks [free instant access] they're shown a brief thank you page…

and 5 seconds later the affiliate offer.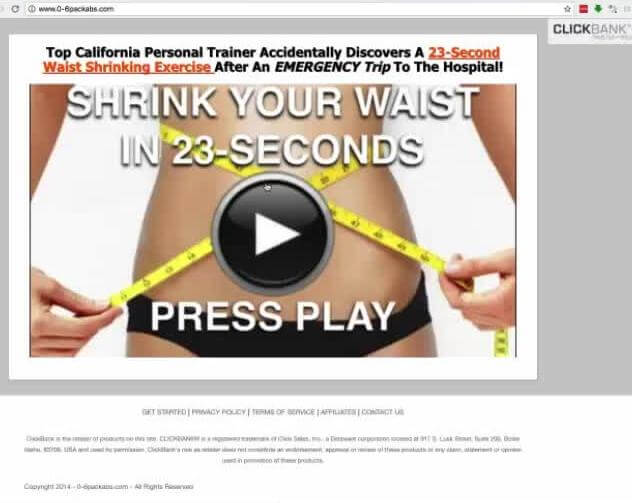 How Many Of You Want This Tool Now?
Do you believe this would make a significant difference to your business ?
Commit A Minimum Of 60 Days
If you work hard and commit a minimum of 60 days then Anik guarantees you will have an online presence. If you aren't willing to commit 60 days to building an online business then Launch Pad isn't for you.
All you need to focus on is doing this: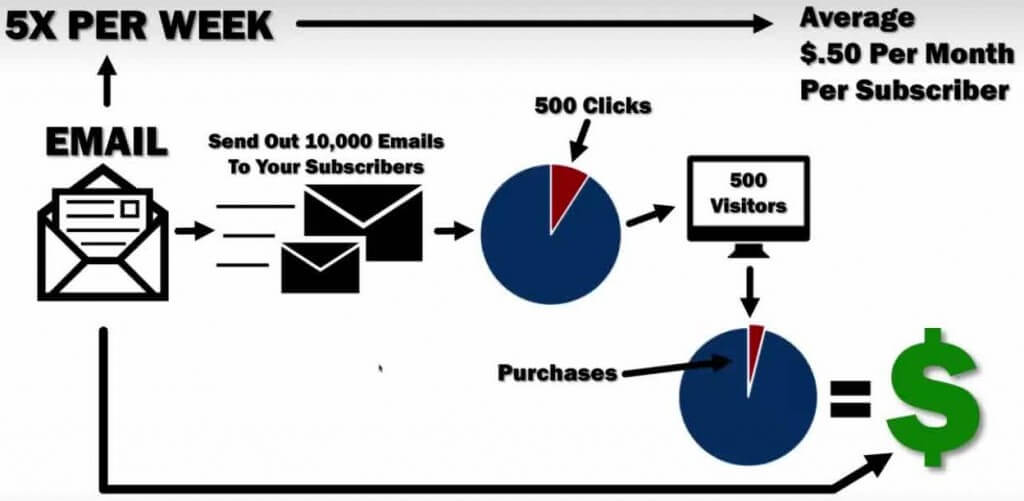 Build your business using the five-step system;
Send 5 emails each week;
Everything else is done for you.
How Can Anik Help Today
This system is 14 years in the making:
The entire system with full video training;
You can build an unlimited number of 1 page websites;
You can quickly build your free gift and emails using templates;
You get the top traffic sources;
Build your business in under 60 minutes;
What you need to get started is a proven system and automation.
Anik has added over 4 million email subscribers using this blueprint that has been broken down into 8 simple modules that take you one step at a time.
The straightforward videos show you what to copy and paste each step of the way so they're not overwhelming.
With this system you get the best training in the world valued at $6,991.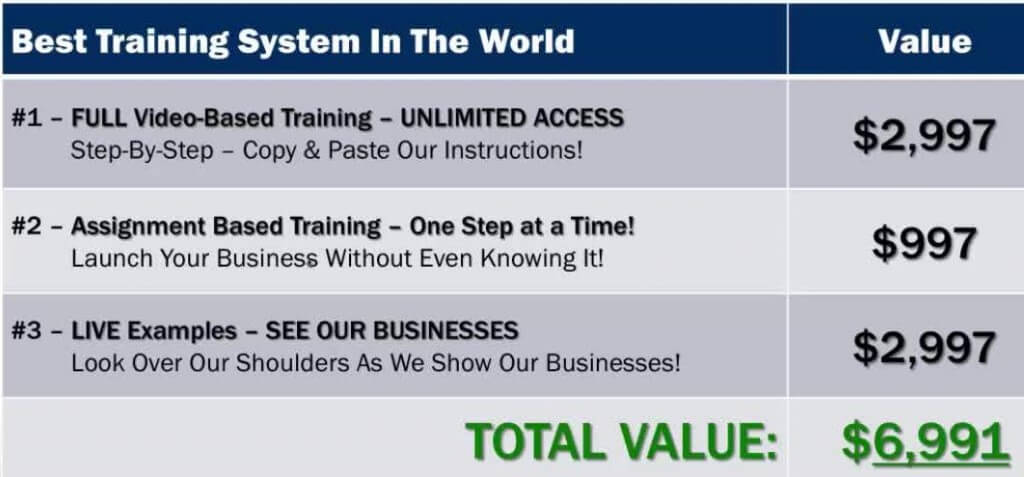 You get automated done for you tools that cost $300,000 to develop over 18 months with a team of 23 members.
With the launch pad you don't need any technical skills or experience.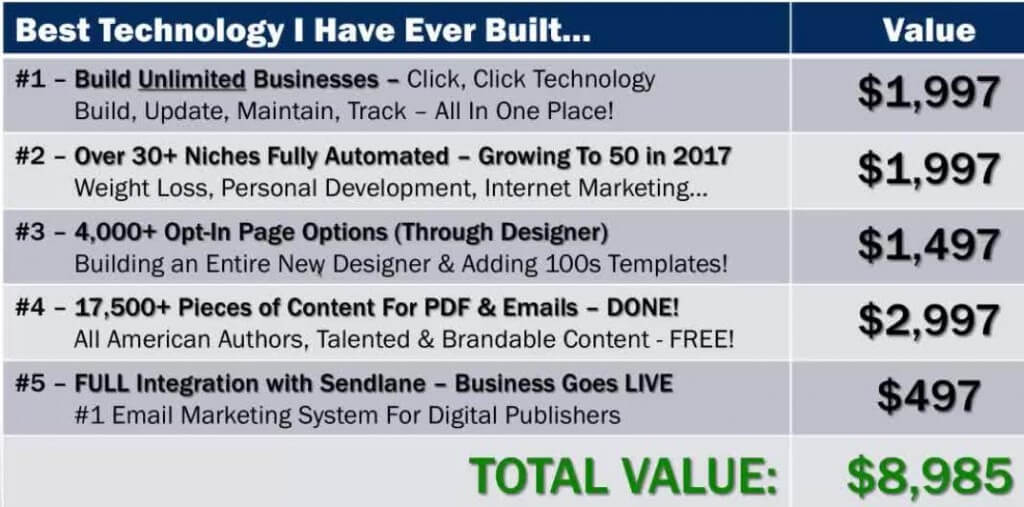 You get 17,500 pieces of content written by talented American authors, 30 niches and lifetime access with unlimited upgrades.
With a Subways franchise you can not decide open another one tomorrow but with this system you can build an unlimited number of businesses.
You get everything you need to get started even if you have no experience:
Guidance;
Step by step videos;
Assignments;
Profitable niches;
Access successful students;
Best affiliate offers;
Autoresponder – free start;
Top traffic sources;
Open office hours;
This is over $15,976 in real value, everything you need to turn your passion into a real business and generate commissions in just days.
Do you think Anik's $300k investment can lead to your breakthrough?
Serving 22,000 students and creating incredible success stories Anik realized he had to remove every obstacle. One thing that meant was an investment of $200,000 each year to continually improve the platform.
How Do I Get My Business To Go Live?
The first breakthrough was getting the business live.
Launchpad has eliminated the technical challenges so you can have your business up and running within 60 minutes without having to create content yourself.
All the steps you need to go through are ready and waiting for your selection. You saw the demonstration where Anik built a business up and running in just 13 minutes.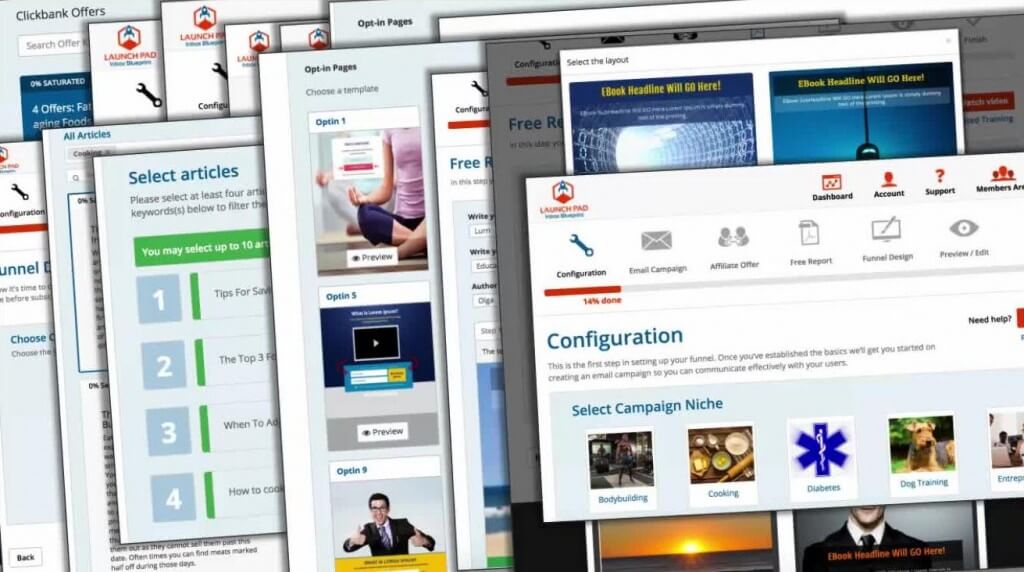 What Niche Should I Enter?
A second challenge people had was deciding what niche to enter. It's a big risk if you select the wrong niche from the beginning.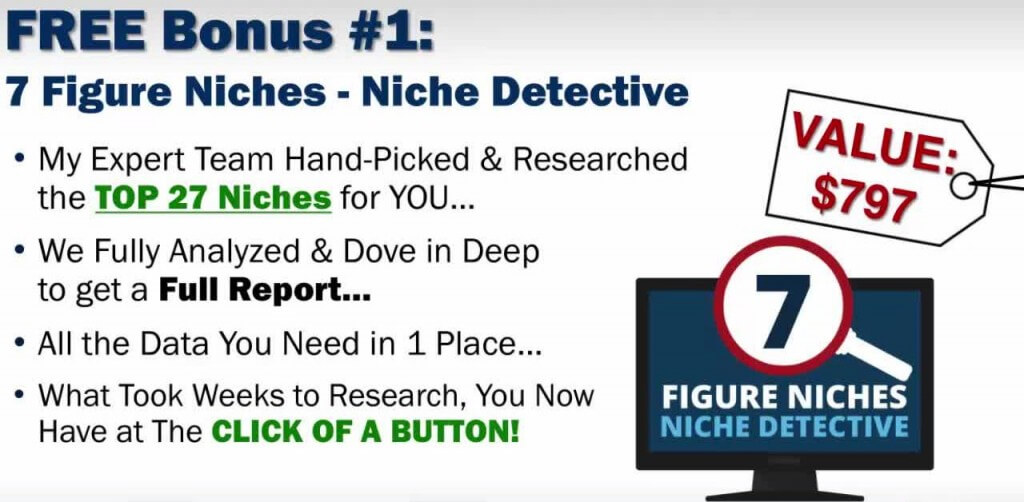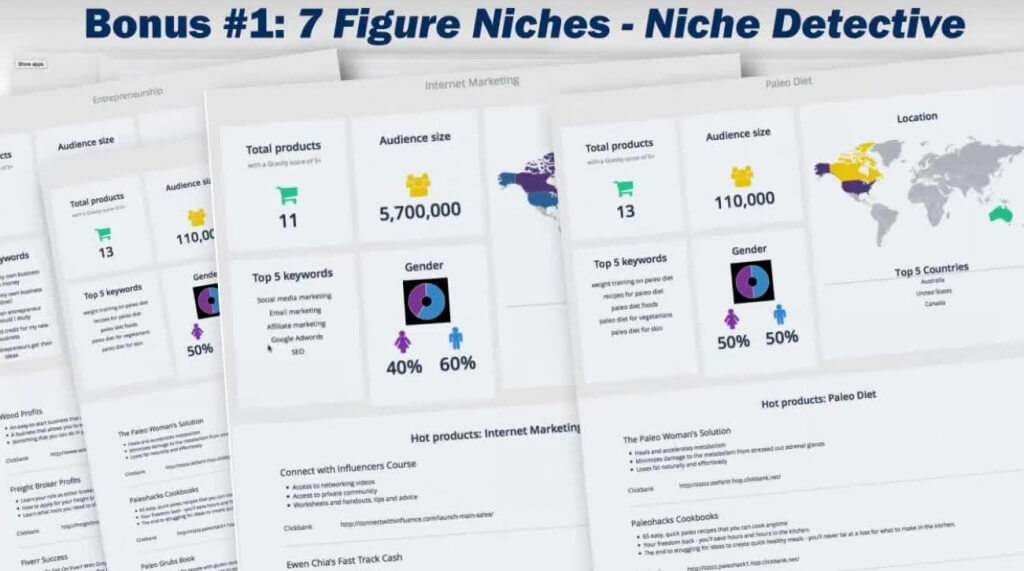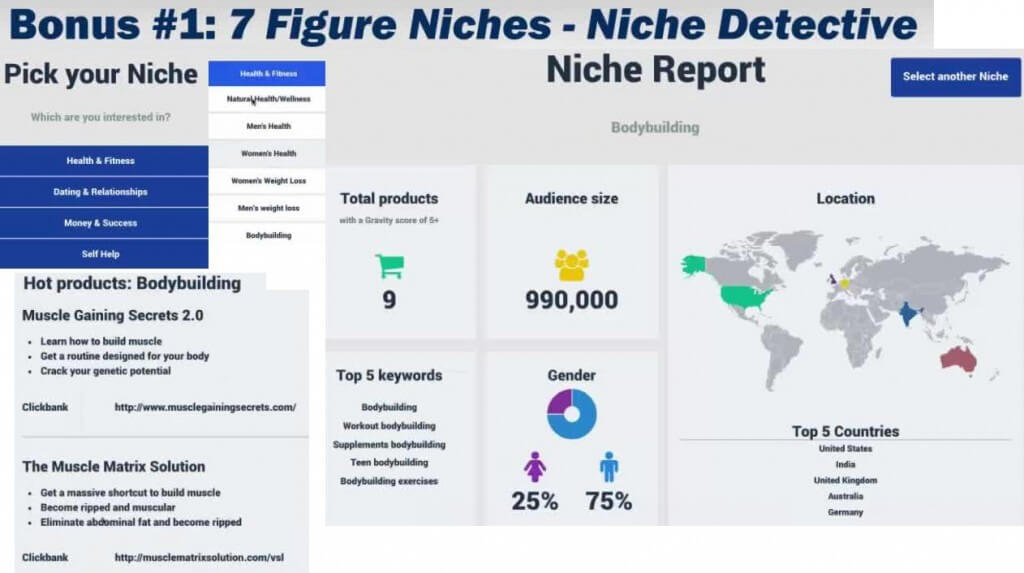 What If I'm Not Good At writing?
What if your school teacher told you "don't ever write for a living you stink!"
If the idea of writing content intimidates you then you don't need to with over 17000 pieces of content to choose from.
Bonus 2 – $3 Million Email Formula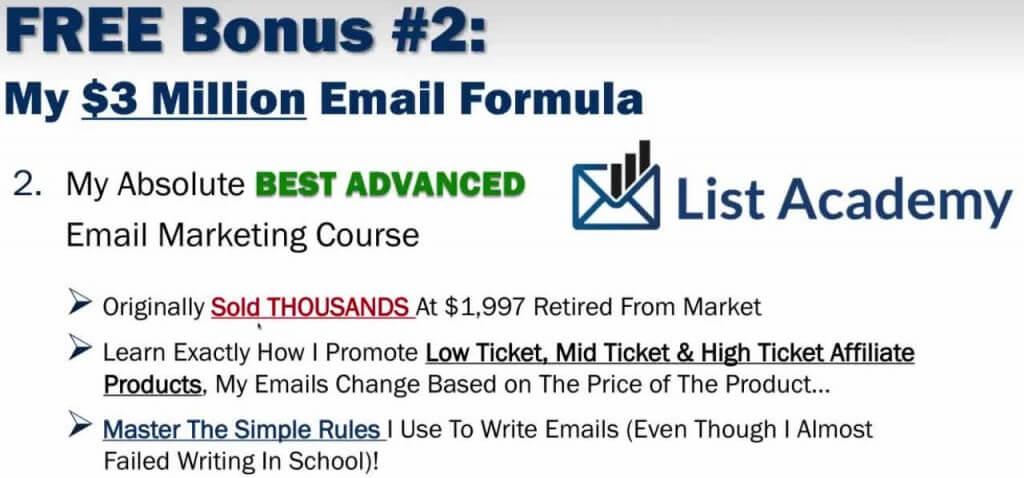 Email Templates;
You only need 3 types of email and Anik will give you 3 templates for type so all you need to do is fill in the blanks.
Surprise bonus – List Academy;
Thousands were sold at $1,997 each before it was taken off the market. Learn exactly how to promote low, mid and high ticket offers and the simple rules to writing an email.
How Do I Get People To My Website?
Bonus 3 is First Day Traffic League, an eight-week traffic boot camp. Watch an over the shoulder case study that gets the first 1000 subscribers from head coaches Willey Laney, Dave Lovelace, Bob Costello and Andrew Lance.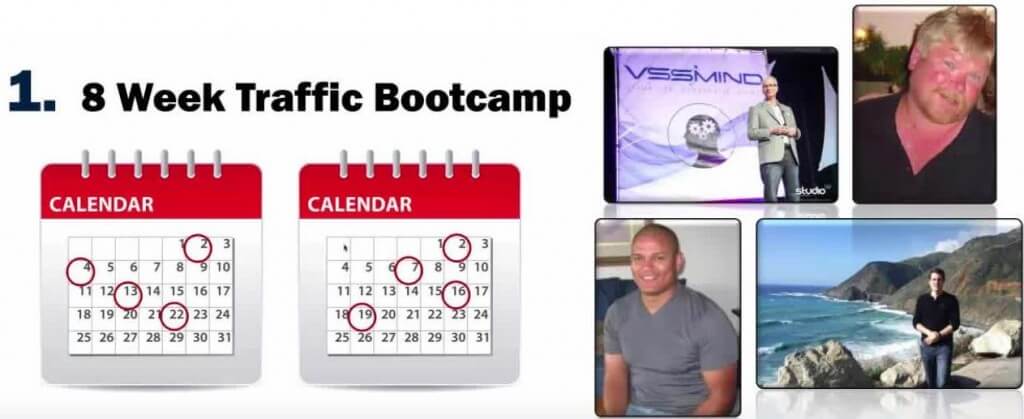 Bonus 3 includes Traffic Academy and $500 worth of free traffic from Clickonomy. Anik will give you 20% on top of whatever traffic you buy, up to $500 worth.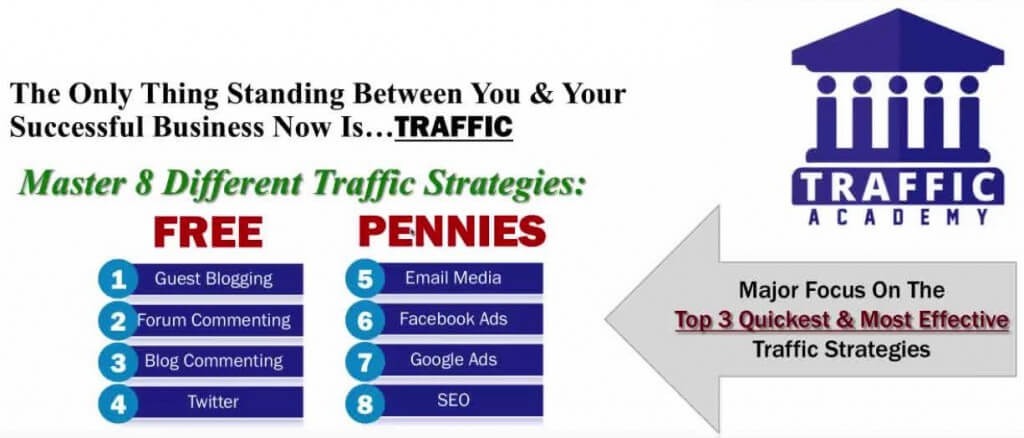 Clickonomy has generated over 1.7 million clicks over the last two years.
Bonus 3 is worth $2,997.
Does that alleviate your traffic concerns ?
What If I Need More Help?
How many times have you wished someone would be available to answer your specific question?
Bonus #4 is Four Pillars Of Elite Support.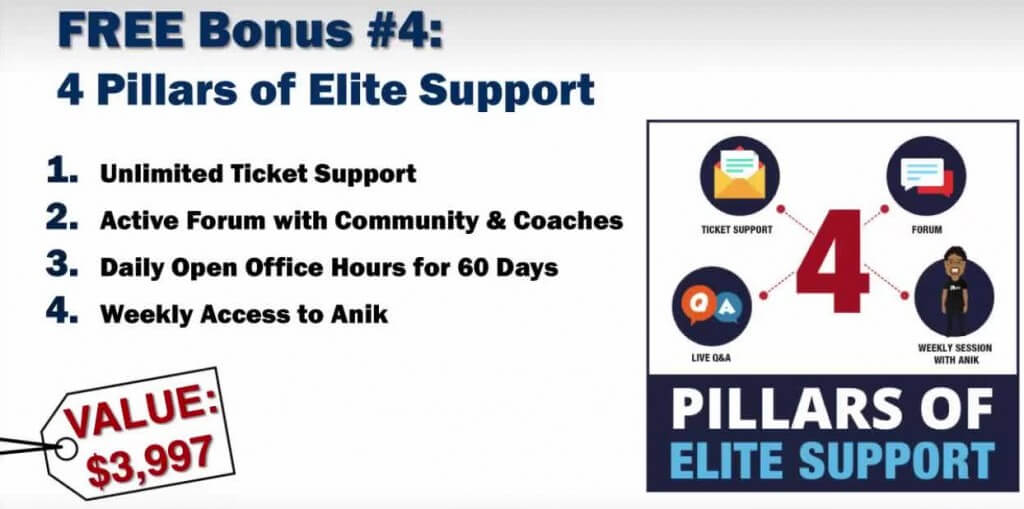 Your ticket will be responded to within 3 or 4 hours, 12 at the max;
The support team of 10 people will answer whatever marketing question you have around the clock;
The support forum has been up for a year and you'll probably find most answers to your questions there;
Through the next 60 days you'll be able have your business reviewed and get direct feedback.
Every week and Anik will be available online giving the latest and greatest training;
Do you think someone who has sold over 100 million dollars worth of products on the internet, has 14 years experience and has a list of over 4 million subscribers, do you think their involvement in your business would change your life?
Lurn nation has a support team of 20 people working full-time to make sure you get your questions answered.
What If I Fail?
The biggest breakthrough yet is removing the fear of failure.
Have you ever invested in a program, given it your best but you got overwhelmed, overloaded and you quit because nobody was there to support you through it?
Quitting wasn't your intention when you started that program.
FREE Bonus #5: Profit Plan B – No Student Left Behind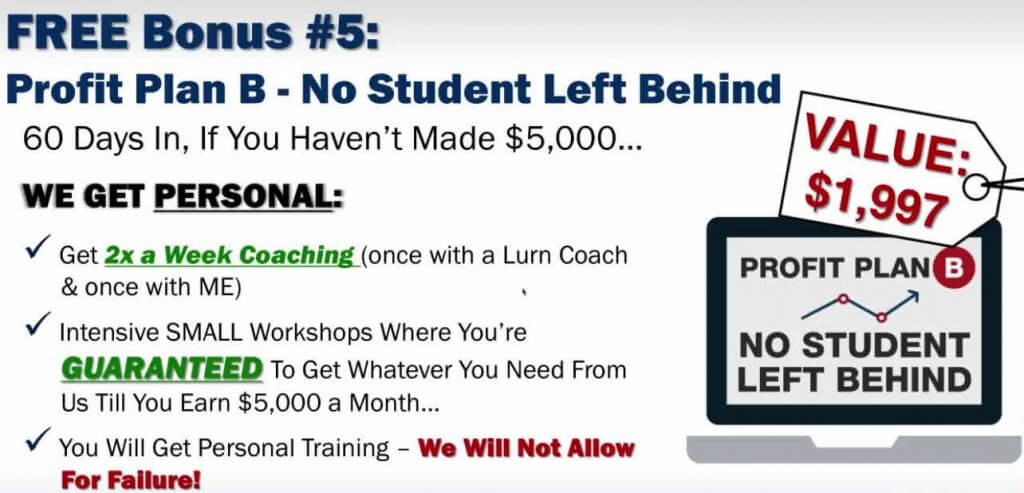 After 60 days you will automatically get an email. If you don't confirm that you've made at least $5,000 profit you'll receive auto enrollment in Profit Plan B for free.
You will receive coaching twice a week once with a Lurn coach and once with Anik personally. You'll also participate in small workshops so you get whatever support you need until you earn $5,000.
Failure is not an option!
Anik knows you want a new life and he's willing to support you until you get it.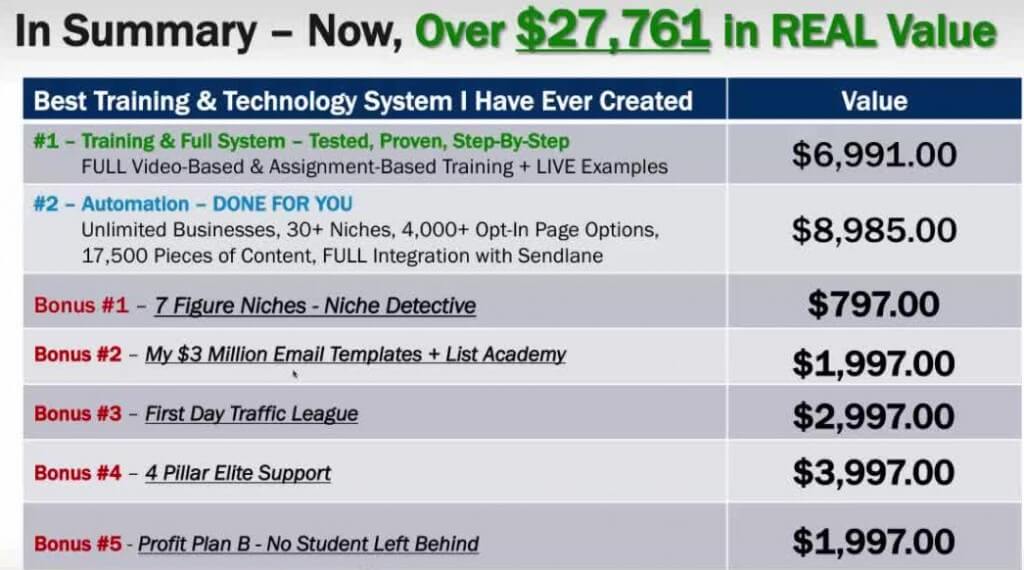 Are You Ready To Finally Have Your Business Breakthrough?
When Anik was starting out 14 years ago his #1 goal was to make this system accessible but he also knew he had to recover his investment. To cover costs and grow this business he realized he would need to invest $200,000 a year.
Anik cannot do this and go broke, so do you think it's fair that he recover his investment?
40 students a year would cover the costs but $5k each was pretty selfish and when you're starting out you probably can't afford that so that price point was not an option.

Anik's dad wanted to know what he was working on. When he saw it he said:
"This is brilliant, good for you son, you're really going to help a lot of people!"
Then his dad asked what he was going to charge so he told him $2,997 a year. His dad thought that was a fair price and then offered some advice.
Anik's dad said:
"I'd like to propose that you do something different to what everyone else does. Everyone is charging for software and training so what if you treated this as a partnership and invest on behalf of your students?
When they make money they'll come back and buy your more advanced programs.
Why don't you stick your neck out and support them by carrying the costs?"

But this price still didn't feel right.
Everyone on Anik's team said he was crazy but he wanted to give you:
One price;
Unlimited lifetime access to the platform forever;
Unlimited coaching and help;
An unlimited number of businesses;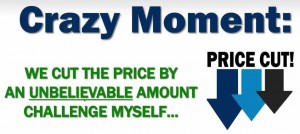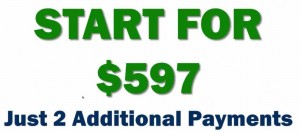 Today you can have everything:
List Academy;
Traffic Academy;
Email Templates;
Inbox blueprint;
Coaching, training and support;
Niches;
…
You can start with a payment of just $597 and two additional monthly payments,
or save $294 with one payment of $1,497 and never have to make another payment.
Anik has saved 25 or 30 seats for this webinar but he cannot take any more than that because enrollments are almost full. Why wouldn't you make one payment and put the extra money towards getting traffic?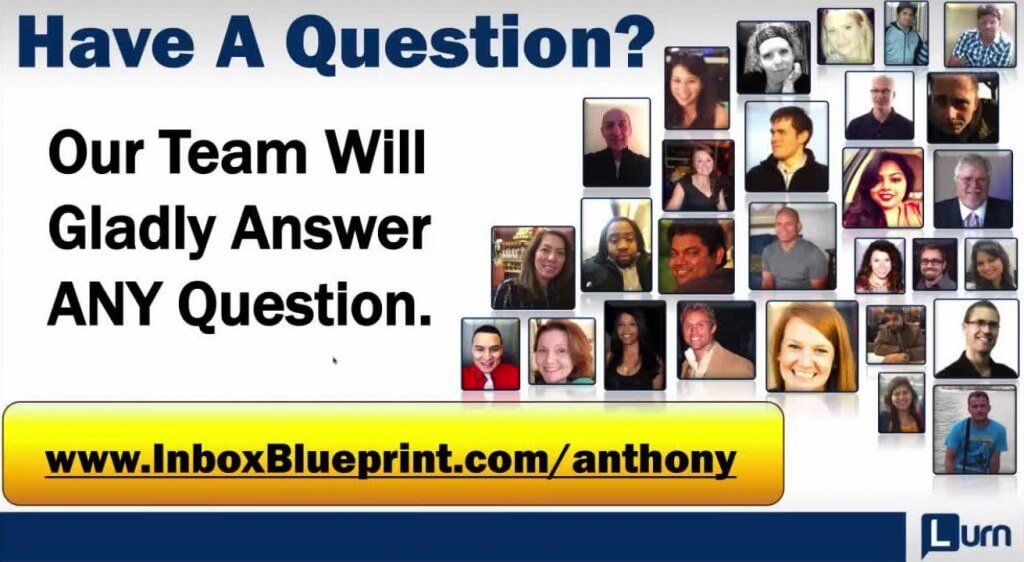 www.InboxBlueprint.com/anthony
Anthony has noticed when people buy a product something that causes a problem is advertising. People are happy to buy the product and go through the training but by the time they come to advertising they freak out.
If you buy inbox Blueprint using Anthony's link he is going to give you $100 for Facebook advertising (see the conditions).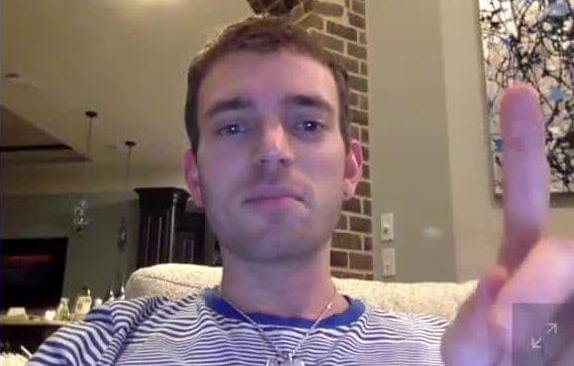 If you already purchased through somebody else's link, other than Adrian, then you can send an email to [email protected] and ask them to transfer your account over to Anthony and you will still get the $100.
You will only get the money when Anik's support team email Anthony with a list of people that purchased with his link, or have been transferred over. If your name is not on the list then you're not in the system and you won't be eligible for the coupon.
You also need to set up a business using inbox Blueprint:
Go through the training;
Build a landing page;
Have an autoresponder setup;
Have emails in the autoresponder;
Have offers that you promote in the emails;
You're ready to rock!
Conditions to get the $100 Facebook advertising money from Anthony:
You bought inbox Blueprint using Anthony's link
or you had Lurn transfer your account to Anthony;
Your name is on the list that Anik's support team email to Anthony on Tuesday 22nd November 2016;
Your business is reviewed by Anthony and ready to rock.
Do not email Anthony's support staff asking where is my $100.
This bonus is limited to 50 people;
When Anthony gets the list from Anik he will email you personally telling you what you need to do to get the money.
After you've set up your business and sent a link to Anthony he'll check it's legitimate then he'll send $100 to your PayPal account for your Facebook advertising.
If you purchased through Adrian then you would already have the coupon and there's no point switching accounts.
Anik hasn't even finished telling us all the bonuses he's offering and 20 slots have already gone.
Anthony came from the television world writing and selling books. The first time he got inspired to start a course was many years ago when he saw Anik's program called Affiliate Classroom.
Anthony was amazed Anik had 20,000 students and wasn't on television, so he reached out to him.
When Anthony saw the ad for Affiliate Classroom he was inspired to teach and create information products. In a roundabout way if it wasn't for Anik there wouldn't be any Success Connection, teaching or webinars.
Anthony has Anik's product, he knows how good it is and that's why he wants  us to have the opportunity to get it as well.
Ok, Anthony's segway is nearing completion and 39 slots are gone. That means there are only 11 Facebook coupon bonuses left.
Anik Is Back With His Biggest Bonus
42 slots are gone.
This bonus is the biggest one Anik has ever done in his entire career but it comes with a catch.
Tony Robbins sat down with Anik and told him:
"Nothing you're telling me is what success is made of, that's not how you succeed. You've got to make a conscious decision to succeed."
There are only 8 spots left so if you've been sitting on the fence now is the time to make a decision. If you can make a decision in the next 10 minutes then you will get this bonus.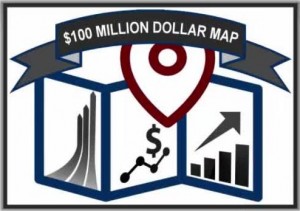 It's literally a step by step assignment based training to make your own digital information products.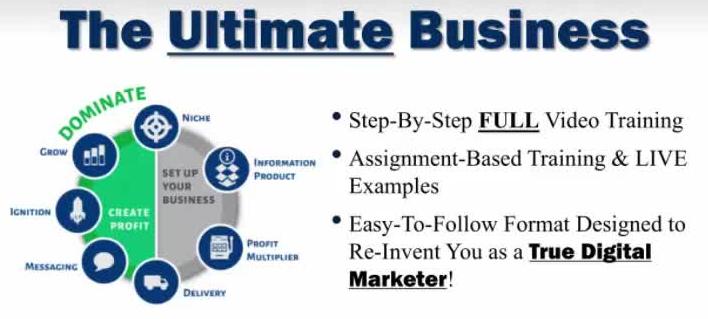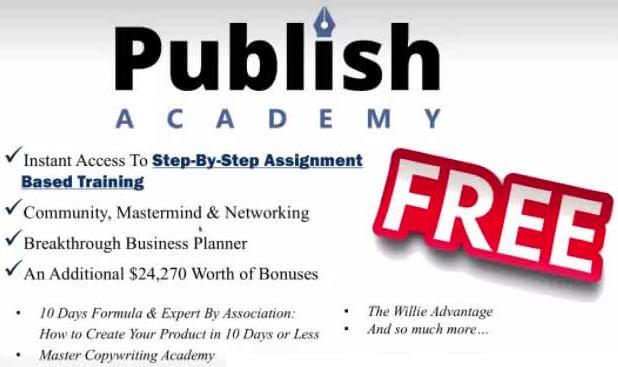 Publish Academy is endorsed by Anthony and by itself was selling for $2,997.
Today you can get it for free, no up sells.
This is the last time the course will be offered at this price. In the next couple of days this program is going to double in price and become an annual investment.
This is the final opportunity to get over $30,000 worth of value.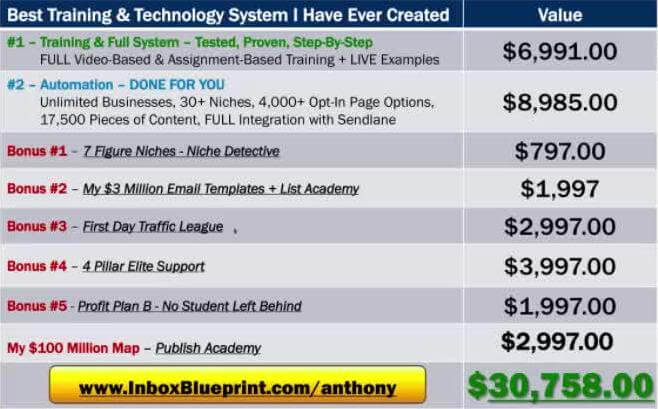 A lot of people make a decision to get a product but they don't make the second decision to use it.
If you just get on the Success Connection each week, quit watching all the other webinars, stop buying inferior products and just focus on what Anthony teaches and the people he brings on then this is what'll happen. At the end of the day you're going to have more success because Anthony will lead you down the path that leads to success.
He'll help us make intelligent logical decisions.
Nothing will be brought onto the Success Connection that won't help your business be more successful.
A lot of people are unhappy about having to spend money on advertising and that's why there's the Facebook coupon bonus. A lot of leads and sales can be generated with $100.
When you see sales coming in all of a sudden you're hooked, you're addicted, you're not scared you're happy, you're excited and ready to rock.
Once you purchase inbox Blueprint you don't need additional money for anything:
You don't have to develop your own product;
Anthony is giving you $100 for your initial advertising;
You're promoting an affiliate offer;
You're building a landing page that's also hosted on inbox Blueprint;
You're getting your articles and emails from inbox Blueprint;
You're getting your free report from inbox Blueprint;
You get the autoresponder Sendlane free for the first month;
You don't need additional money to move forward;
The Success Connection referee is calling timeout…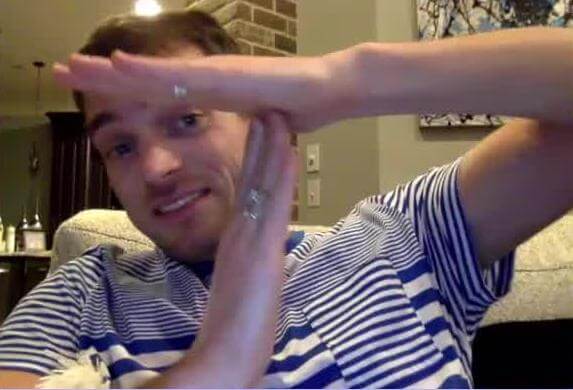 The whole reason Anthony got permission from Anik to give away advertising dollars is so you don't have to spend your own money on Advertising. He knew someone was going to have this excuse:
"Gosh, I bought this and now I've got to spend all this money on Advertising!"
Excuses kill success, they create failure. Action creates success!
Sometimes giving away money in this industry can be looked on as a rebate but that's not the case. You don't just buy the product and get $100.
You have to buy the product, build the business, launch it, send the link to Anthony so he can review it then he'll send you $100 so you can buy Facebook advertising.
Q. So will the $100 last forever?
It will get the ball rolling. If you can take that $100 and turn it into $200 then the following month you can turn it into $400 and so on.
It gives you an incentive to take action so you're not buying something then making excuses only to get left behind;
It helps you make a logical decision;
Don't buy this program if you're going to sit on your butt and not use it.
Anthony doesn't want to be the reason you spent $1,500 then didn't use it;
He doesn't want to be the reason you fail;
He doesn't want to be the one you're mad at;
He doesn't want to be the one you dislike;
He wants you to love him and come back next week when he's not spending Thanksgiving with his family but when he's giving his time to us. Anthony is willing to give up anything in his life so that we have success.
In return he asks us to give up a little bit of time, a little bit of comfort.
He is making sacrifices in order to show us that he's serious about us being successful. Don't buy this program if you're going to make excuses and not use it.
"If you do today what you did yesterday,
tomorrow will look the same as it does today."
"Right now you have an opportunity to make a big change your life
by making a small decision."
The Success Connection is not about selling things, it's about empowering people to have success. The inbox Blueprint is in tune with everything Anthony teaches otherwise we wouldn't be seeing it.
The great thing moving forward is whenever Anthony talks about something related to email marketing you can take action to implement it in one place.
$1000 Weekly Snapchat Contest
What team was Anthony watching when he said "screenshot this if you think they'll win the game"?
Michael Thompson quick as lightning won.
Cash Giveaway
On Facebook
Congrats Ivys Ramirez. You won $500 on the fan page.
Congrats Denis Slota. You won $250 twice on two different posts, what were the chances!
Because Denis won twice Anthony wanted to be fair so he's picking another winner. Congrats to Kathy Demlow. You won $250, hustle.
$4k "Work Like I Do" Giveaway
This prize is everything Anthony uses to run his business. An Apple Mac computer, an iPad pro, an Apple pencil and software.
The giveaway will happen live on Dec 1st and you need to be on live to win.
Summary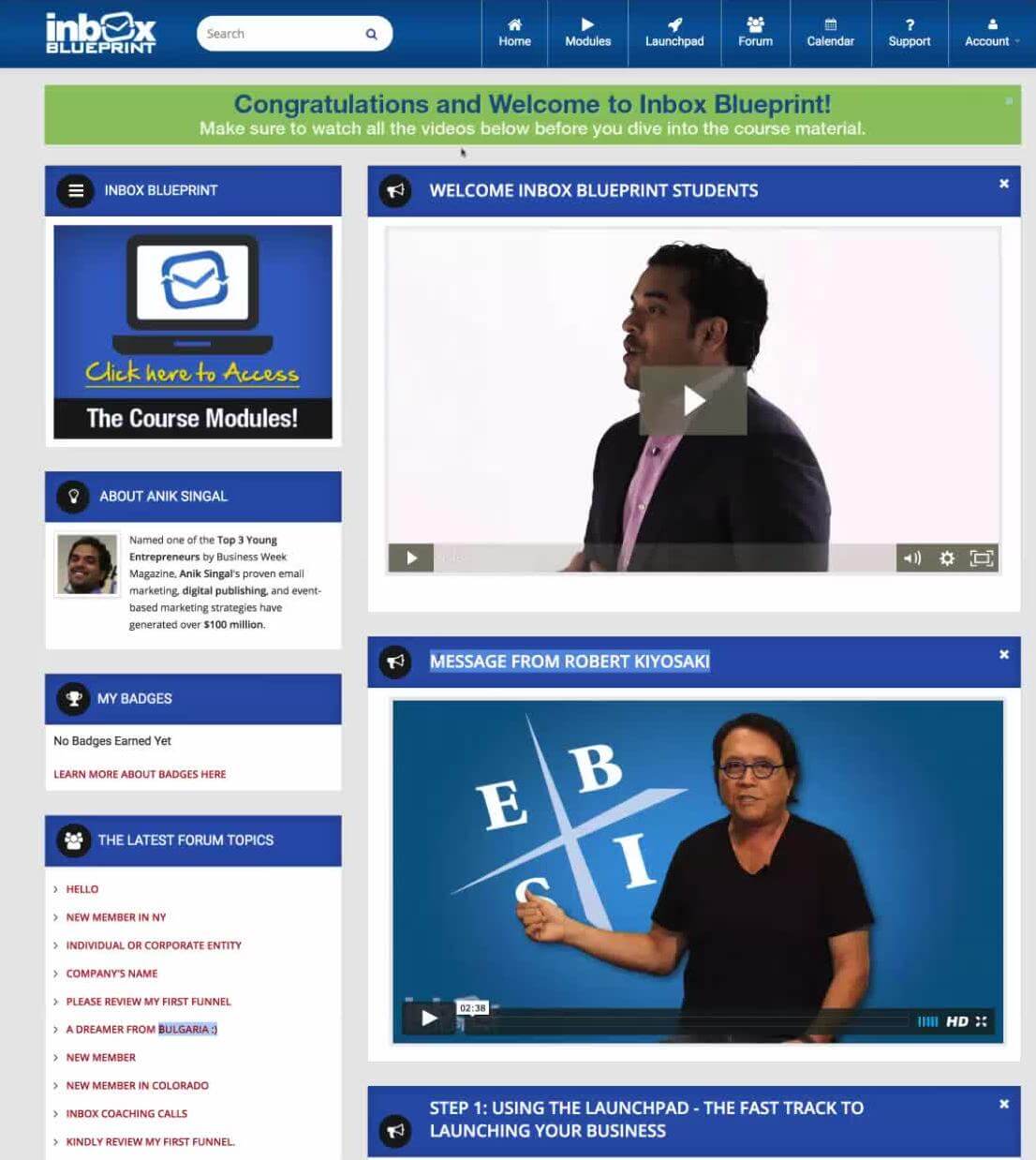 Author Rating





Aggregate Rating
no rating based on votes
Brand Name
Inbox Blueprint
Product Name
Inbox Blueprint
Price
USD 1497
Product Availability
Available in Stock
Get A Copy Of Our "your email profits" Book For Free!
The 3 Simple Steps To Building Your Profitable Email Marketing Business
Recent Posts