Sick Profit Cycle Funnel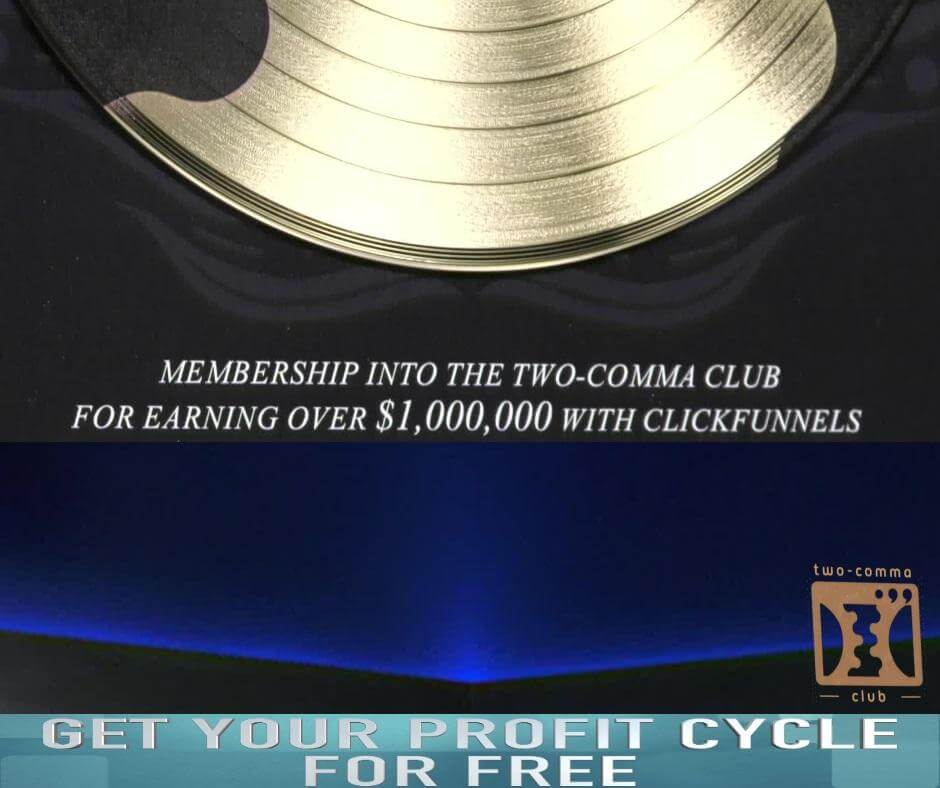 Stupid Sick Profit Cycle Funnel
When you have time to think it gives you a chance to come up with pretty awesome ideas. Sometimes though when you go full throttle ahead small mistakes get made along the way like last weeks Profit Cycle Funnel thank you page.
This funnel allows you to leverage Anthony's brand, promote Clickfunnels and make some money.
Breakthrough State Of Mind
Previously we were asked if we'd like to create our own product and a ton of people said yes but… followed by a lot of obstacles like it would cost a lot of money. If you go into an activity thinking you can't do it then guess what you won't do it.
Another objection people had was they are worried about not being taken seriously. There is a lot of crap out there so do you think if you focus and create one hell of a product that teaches people how to do something well, don't you think your product will be better than 99% of the stuff out there.
Gardening;
Programming
Internet marketing;
Microsoft excel;
Rehashing Anthony's stuff;
It's all about you believing in yourself so instead of thinking negatively think positively:
There's a bunch of crap products out there;
Most people create stuff without good knowledge;
Perhaps you can change that and make a difference in someone's life because you take it seriously and you know what it's like to be on the other end.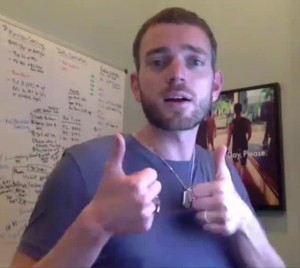 This is not about watching a webinar for entertainment and saying –
"Great lesson tonight Anthony, good job."
This is for educational purposes.
Change your state of mind so you believe you can do it. No more excuses – take action and make things happen that you thought you'd never make happen because they can happen for you.
Say this aloud and mean it:
"I am going to breakthrough barriers"
Hey guys, before you read my notes that I give you for free
would you mind quickly liking my Facebook page facebook.com/ZenNotes.
It'll take 2 seconds but means a lot and keeps me paying it forward, thank you.
Last Weeks Funnel
The landing page video has Anthony with a quirky look but sometimes that can work in our favor and people click to check it out.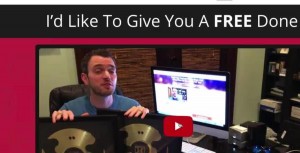 The original thank you page video was put in by mistake so this is the modified thank you page with a new video.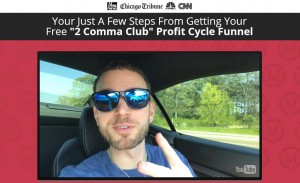 People are skeptical about whether or not the person they're listening to is telling the truth or not. They need to see evidence so driving around in a Ferrari is a subtle hint that this person has made money doing what they're teaching and it increases their trust.

This funnel currently has a 49% conversion rate.
New Follow Up Page
Steps are important so when they see they are on step 2 of 3 they feel closer to completion.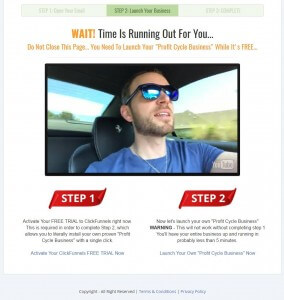 We're not using false scarcity by saying the price will go up tomorrow, we're just saying launch your business while it's free.
Additional Emails
Day 16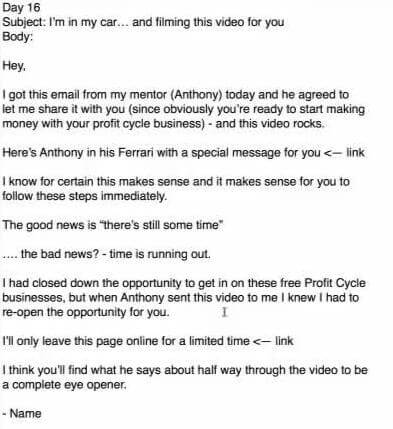 This email is coming from you but the video is from Anthony so it has to be positioned correctly.
Someone reading this email might be distracted and not know who Anthony is but when they read "Ferrari" they'll stop and pay attention. By telling people to watch a video halfway through it generates curiosity and they wonder what it is all about.
The link sends people to the new follow up page that has a video message saying people are already getting Clickfunnel signups and making money:
Steve, Cathy, Yaz, David, Sherin, Andre, Donna, Bill, Robin, Kwon, Eric, Terry, Roberta, Thomas, Randy…
Day 18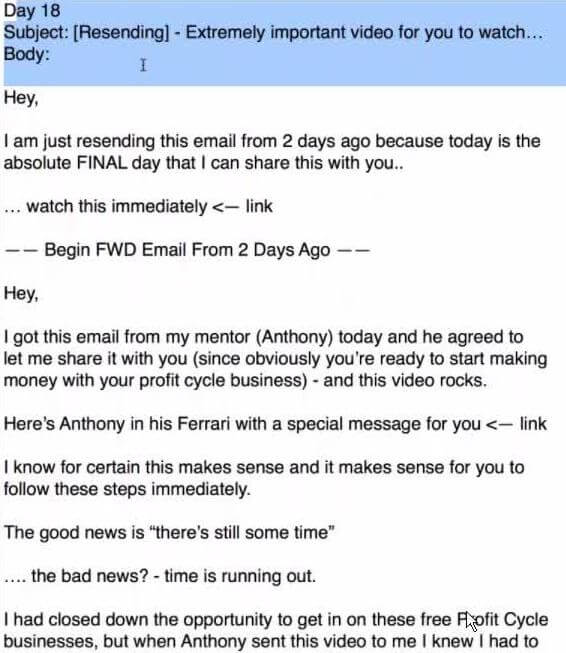 Day 18 uses the resending method. The subject line doesn't even say what the email is about.
If people did not see the previous email they will feel they missed something and here is a second chance. Second chances resonate with people because tons of people need and want a second chance so you need to tap into that psychology and show this is their second chance.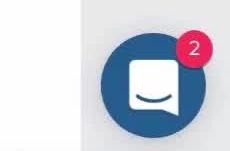 Once you download the new funnel click the support button and ask Clickfunnels support how to get the new funnel into your existing one. You will need to save it as a template before you can use it in other funnels.
This New Video Is Stupid Sick And It's Free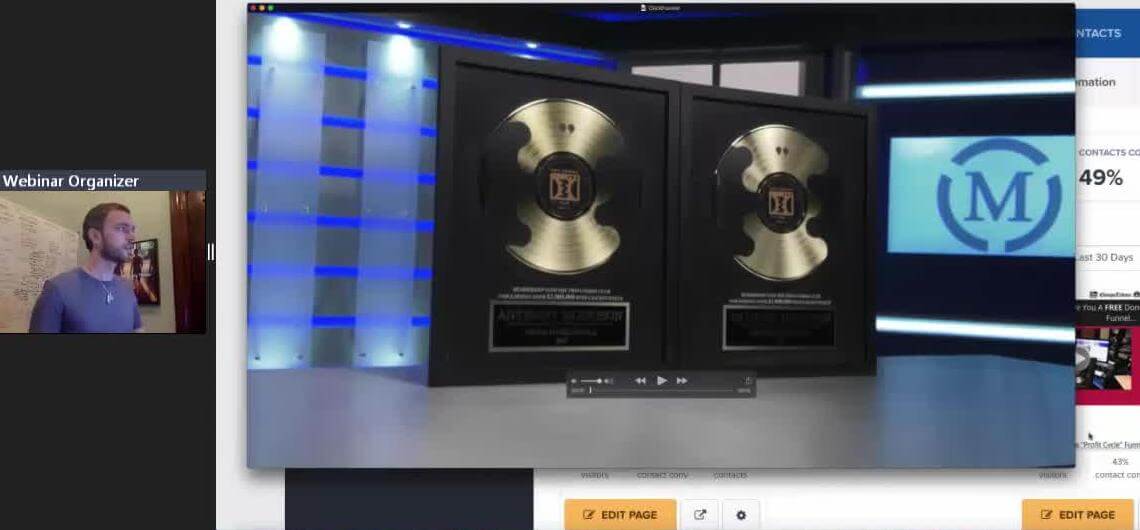 You don't want a video longer than 30 seconds on Facebook because people won't watch it. You want a video that gets people's attention, one that flows well, intrigues people and it should increase the click through rate.
You can't say:
I made two million dollars using Clickfunnels – You can too!
People see these and they instantly think they're music-related awards so they stop to take a closer look and realise they represent 2 million dollars in revenue. It's visually saying "I made 2 million dollars" just not in so many words and Facebook doesn't have an issue with that.
We're using these awards to promote our funnel. People will probably think they're clicking on an ad from Anthony because it then goes to a landing page with him on it and they get his funnel when they sign up to Clickfunnels.
In all transparency Anthony says he is giving his students permission to use his content.
There isn't a voice-over but the video speaks for itself and there may be a voice version later if this one doesn't work.
Facebook Ad Copy
There are two types of people that respond to Facebook ads, those that click because of images and those that click "see more" and read the copy. If someone reads the copy it will likely impact their decision to click the link so try to tell a story and appeal to both groups.
The links in the copy should take them to your optin page.
"Wow… I had no idea a single "Profit Cycle Funnel"
could actually change my life…"
Do you think that sentence would grab attention and intrigue people.
I was so lucky to have met a great mentor who actually gave this to me for free… he even gave me permission to allow others to use it..
http://yourlinkhere.com <— Get Your Funnel For Free
http://yourlinkhere.com <— Get Your Funnel For Free
The idea is to have the links to show before the words "see more" as in this example:

There is no reason not to have long copy especially as it converts better in split testing. You want to pre sell people before they arrive at the landing page.
It's part of the whole #payitforward movement..
There are certain things in life that motivate us that unite us and it doesn't matter if you're black or white, it doesn't matter what your political affiliation is or the level of your education. Things like paying it forward are the fibre that makes us who we are.
This idea that we have success and pay it forward by sharing it with other people is something that many people buy into because it moves them. Making people feel some emotion is what moves the needle, it makes them stop pay attention and read the copy.
Next is where you need to tell your own story. There's no point in telling Anthony's story and there's no point in him trying to make one up for you so use this to model from.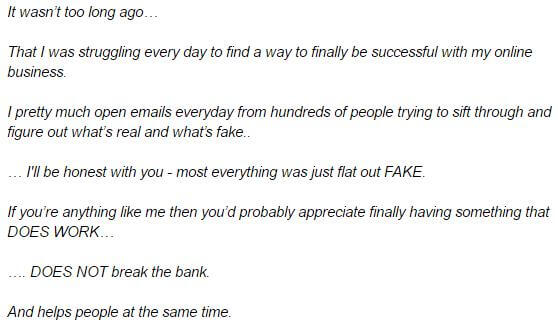 We are overcoming objections without saying:
This isn't fake;
This does work;
This doesn't cost a lot of money;
You won't struggle anymore;
As we tell the story people will relate to the parts they experience themselves:
"Oh I click on hundreds of emails too and I buy things that don't work. I'm tired of it and it cost me a lot of money, I wish I could have something that worked, gosh I can help people too."
So we are trying all those objections into our story. Remember when people click the link they're going to see Anthony so we need to make that transition.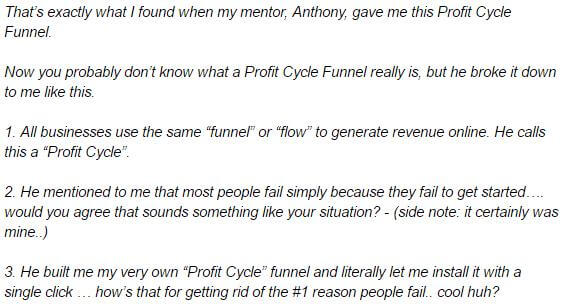 We are overcoming a common objection that people have which is they say they always fail. Well they fail because they don't get started and here is a single click to get them started.
….. THERE WAS ONLY ONE THING I HAD TO AGREE TO DO….
Now we talk about their responsibility to share this funnel too.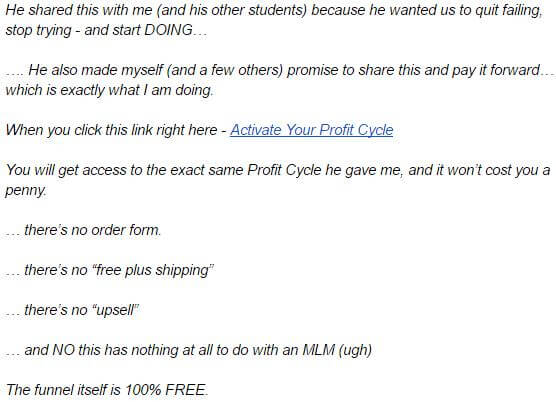 We've overcome all the objections people have for not taking action because we're telling them upfront there are no tricks on the other side of the click.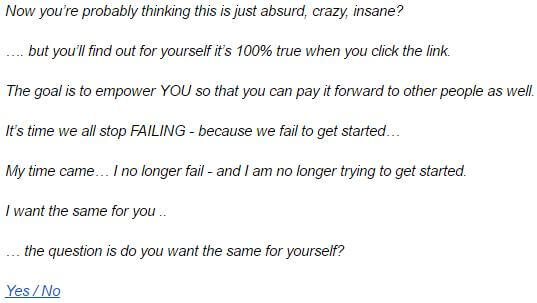 Those "Yes" and "No" link to the exact same place. If you use copy like this then you'll break every objection people have for not clicking the link.

Do you appreciate these notes…
then pay it forward and like my Facebook page facebook.com/ZenNotes
Summary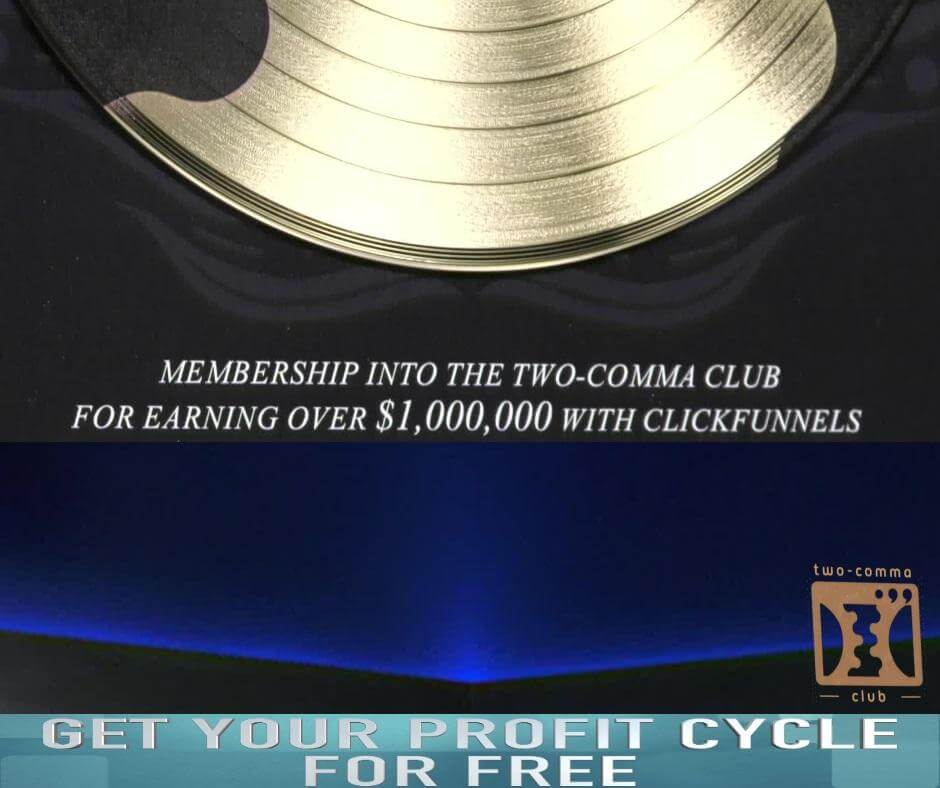 Article Name
Stupid Sick Profit Cycle Funnel
Description
When you have time to think it gives you a chance to come up with pretty awesome ideas. Sometimes though when you go full throttle ahead small mistakes get made along the way like last weeks Profit Cycle Funnel thank you page.
Author
Michael Mcdonald
Publisher Name
Morrison Publishing
Publisher Logo

Get A Copy Of Our "your email profits" Book For Free!
The 3 Simple Steps To Building Your Profitable Email Marketing Business
Recent Posts
Categories