Email Copy Types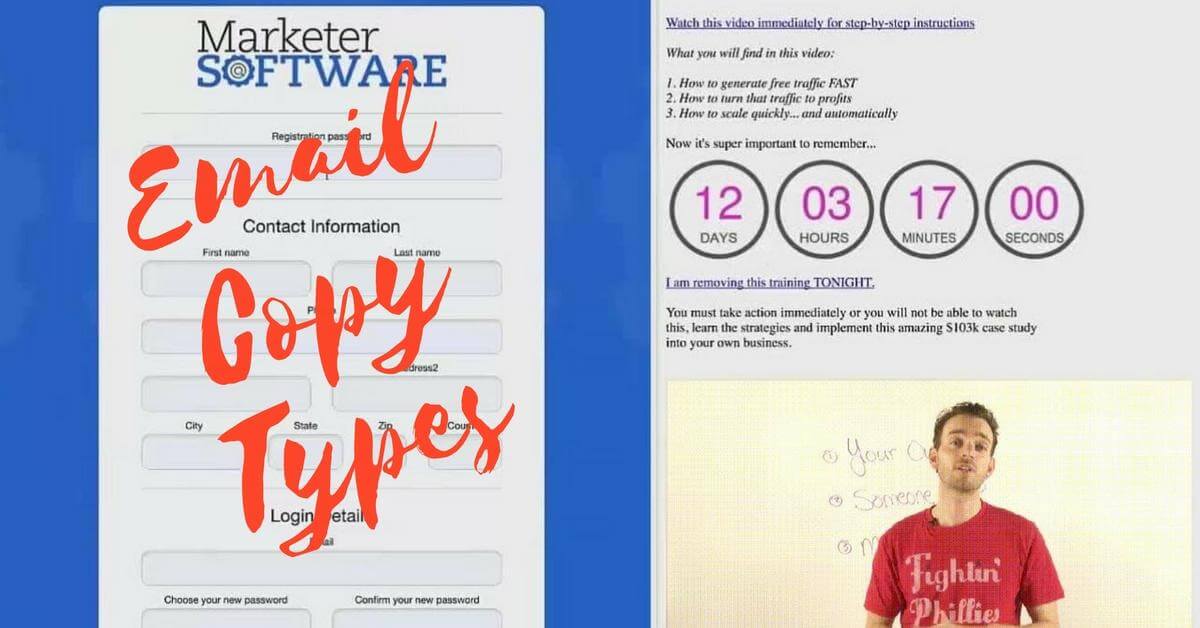 Email Copy Types
A successful email business requires knowledge about the goal you're trying to achieve, length of email, frequency of sending, time to send and email copy types.
A typical promotion will send one email for each type of copy because you don't know what people will respond to. The different types of email copy are:
scarcity;
benefits;
proof;
blind;
combo;
The subject line should be indicative of the type of email copy.
When you're preparing to write a promotion email you should be thinking:
What are the benefits of somebody using this ?
Are there any results that I can talk about ?
Can I add scarcity to it ?
It's not something you need to spend a lot of time obsessing about.
Scarcity Email Copy
This is typically used to build BUZZ at a certain date and time for:
Webinars;
Product launches;
Generate sales on an Amazon store, Shopify store or affiliate promotions;
Include the following to get subscribers to take action fast:
Countdown timers:
Deadlines;
"Ending on day X at time Y"
"Running out…"
"Limited quantity…"
"Only 22 remain…"
Whatever type of scarcity you use make sure it's authentic. People have really good BS detectors and if you try and trick them with false scarcity then they'll unsubscribe you.
Example "Scarcity" Subject Lines:
[24 Hours Left] Watch This Reply Immediately
[Ending Today]…
[Removing Today]…
[Last Chance]…
[Deadline Today]…
Example of a scarcity email: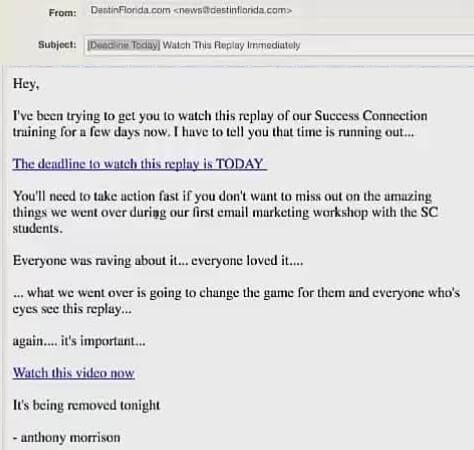 Hey,
I've been trying to get you to watch this replay of our Success Connection training for a few days now. I have to tell you that time is running out…
The deadline to watch this replay is TODAY.
You'll need to take action fast if you don't want to miss out on the amazing things we went over during our first email marketing workshop with the Success Connection students.
Everyone was raving about it… everyone loved it…
… What we went over is going to change the game for them and everyone whose eyes sees this replay…
again… it's important…
Watch this video now.
– Anthony Morrison
This scarcity email is all about prompting the reader to take action by pointing out the deadline. You can split test different subject lines without having to change the body text.
Benefits Email
Include a bullet point list of all the value they'll get from the product. This is usually for longer emails.
This subject line indicates a benefits type of email because it talks about learning 3 email marketing secrets.
[Webinar Replay] – Learn the top 3 email marketing secrets..
Example benefits email: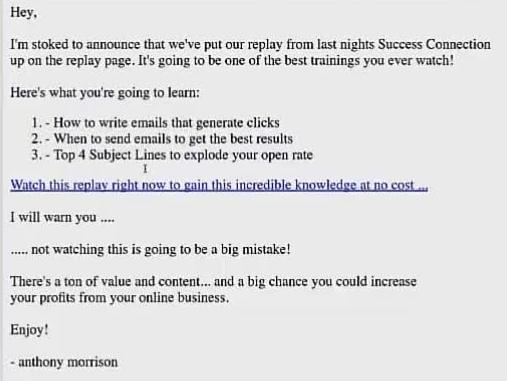 Hey,
I'm stoked to announce that we've put our replay from last night's Success Connection up on the replay page. It's going to be one of the best trainings you ever watch!
Here's what you're going to learn:
How to write emails that generate clicks;
When to send emails to get the best results;
Top 4 Subject Lines to explode your open rate;
Watch this replay right now to gain this incredible knowledge at no cost…
I will warn you…
… not watching this is going to be a big mistake!
There's a ton of value and content… and a big chance you could increase your profits from your online business.
Enjoy!
– Anthony Morrison
The link to your offer will typically go right after the list of benefits because if you're the type of person that gets excited about a list of benefits then you want to take action immediately. Having the link after the list will get a better response than having it somewhere else.
Proof Email
Some readers will not take action based on scarcity and benefits alone, they need to see proof for themselves.
This could be in the form of:
Testimonials;
A list of points;
Before and after images;
Again this is usually for longer emails.
Example proof subject line:
[$103k in 10 Days] – Amazing Case Study Results..
Example benefits email: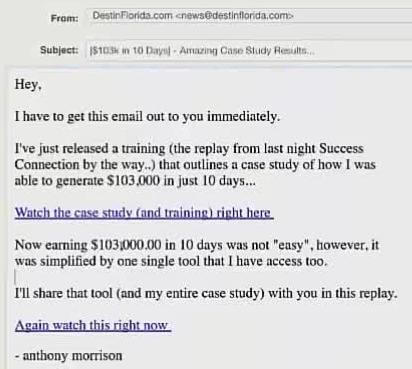 Hey,
I have to get this email out to you immediately.
I've just released a training (the replay from last night's Success Connection by the way..) that outlines a case study of how I was able to generate $103,000 in just 10 days…
Watch the case study (and training) right here.
Now earning $103,000 in 10 days was not "easy", however, it was simplified by one single tool that I have access to.
I'll share that tool (and my entire case study) with you in this replay.
– Anthony Morrison
People that are triggered by proof are going to want evidence that works. This is usually in the form of a case study that gives the end result:
"14 pounds lost in 7 days case study revealed";
If you're in the weight loss industry you could talk about you lost this much weight.
You made this much money;
"Dog stopped barking within 3 days using this simple technique";
If you're in the dog training niche you could talk about how you got your dog to stop barking indoors in just 3 days using this simple technique.
…
Blind Email
The subscriber has no clue what they'll see when they click the link. You're not listing anything specific about the offer other than it's good content.
Consider if you're promoting internet marketing, the e-mail could be something like:
"Hey, I found this awesome product online that's helped me to make a ton of money. Click here and you can see how I'm doing it."
There's no bullet point list of benefits or anything of value, it's just a Hot Topic that makes people take action.
These emails are typically much shorter.
Example "blind" subject line:
[$103k Profit] – Watch Now
Example "blind" email: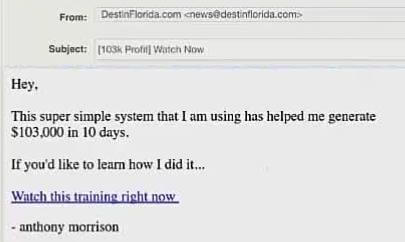 Hey,
This super simple system that I am using his helped me generate $103,000 in 10 days.
If you'd like to learn how I did it…
Watch this training right now.
– Anthony Morrison
If someone is not responding to the other email types sometimes all it takes for them to take action is to send a short blind email.
Combo Email
The combination type of email is always longer because they include scarcity, benefits and proof in an attempt to trigger all response types to take action:
Clicks;
Sales;
Conversions;
Example "combo" subject line:
[$103k Case Study] – Ending Today Strategy Revealed..
Example "combo" email: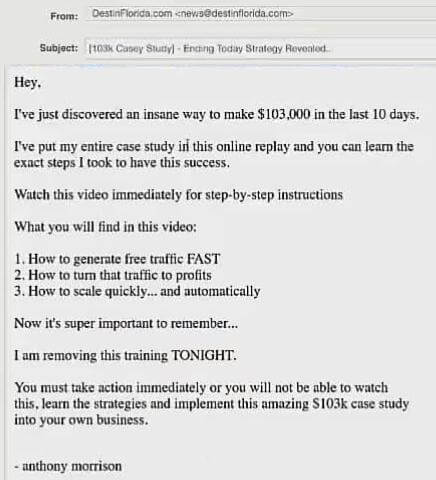 Hey,
I just discovered an insane way to make $103,000 in the last 10 days.
I've put my entire case study in this online replay and you can learn the exact steps I took to have this success.
Watch this video immediately for step-by-step instructions..
What you will find in this video:
How to generate free traffic FAST;
How to turn that traffic into profits;
How to scale quickly… and automatically;
Now it's super important to remember…
I am removing this training TONIGHT.
You must take action immediately or you will not be able to watch this, learn the strategies and implement this amazing $103k case study into your own business.
– Anthony Morrison
Scarcity is covered by saying it ends today in the subject line and in the link.
Benefits are cover in the bullet list and by using the word 'strategy' in the subject line..
This email covers proof by saying exactly how much was earned in what period of time. Including phrases like 'case study' and 'step-by-step instructions' intrigues people who need more proof that it works because you are showing them details.
Immediately after showing proof you have a link to watch the video.
When you write a combination email that triggers every type of person you're going to reach 100% of your audience.
The "Email Profit Cycle" is all about bridging traffic to sales, getting people to open emails and click links.
How Often to Send Email
You should be sending an email every day.
Not sending an email everyday is like a plane that takes off with empty seats. Once the plane leaves the ground the airline can never recover the lost revenue of empty seats.
The day you don't send email is a lost opportunity to make a profit from your list.
You don't want to be sending sales emails every day because you'll burn out your list. When you not generating sales or leads send emails that build rapport with your audience.
Next Week
Next we'll look at:
Sequencing, when to send content and when to send sales emails.
Best strategies to increase the click-through rate (CTR);
3 ways you can build your own email business fast;
Subject lines that convert;
Where to get the best offers;
Marketer Software
The goal of this software is to help you get more opens, more clicks and more conversions from your email.
You'll have to watch the success connection to get the access password. Anthony does not always open this up and when he does it's only for a limited time live or during the replay.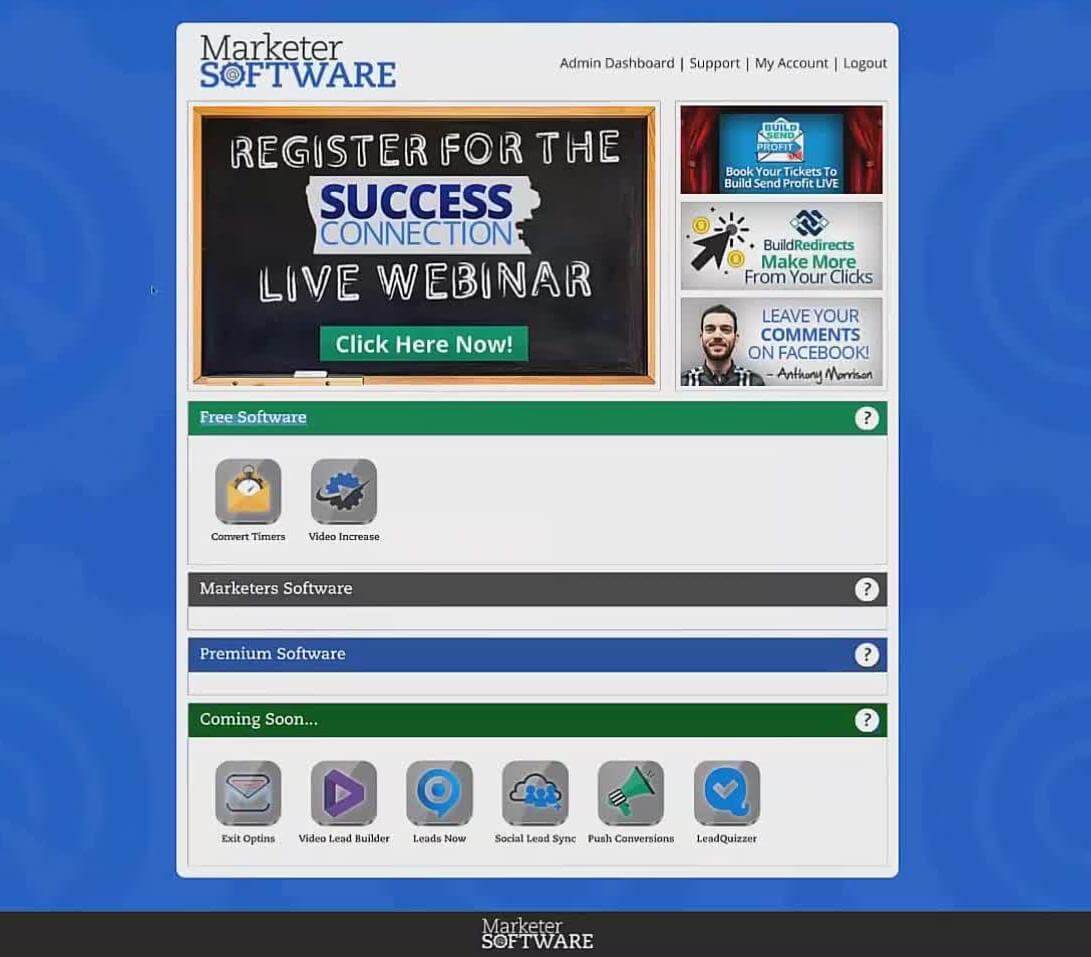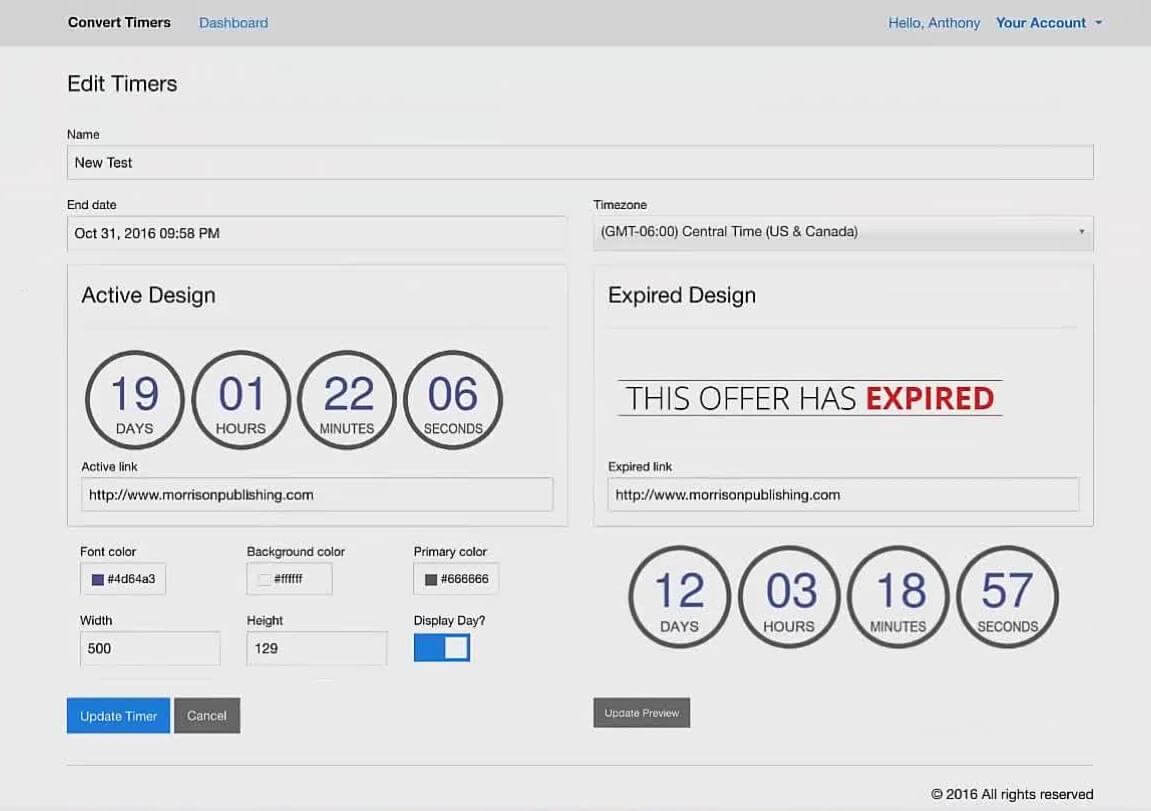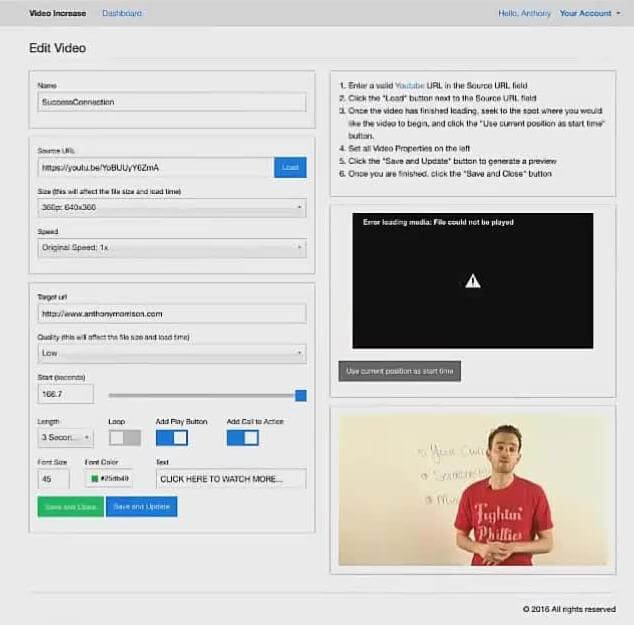 This is an example of an animated GIF: 
http://videoincrease.marketersoftware.com/videos/5/gif
Now you can insert countdown timers and animated gifs into your email to add urgency and increase conversions.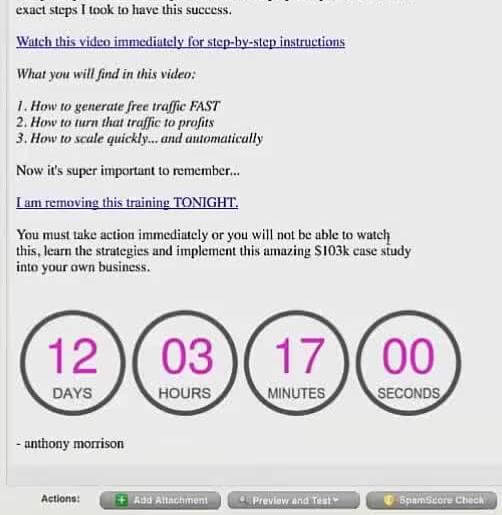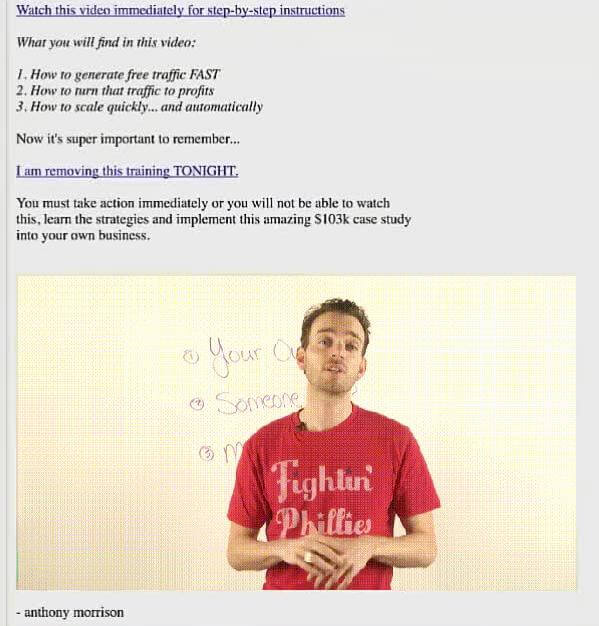 The replay for this webinar can be found here.
Summary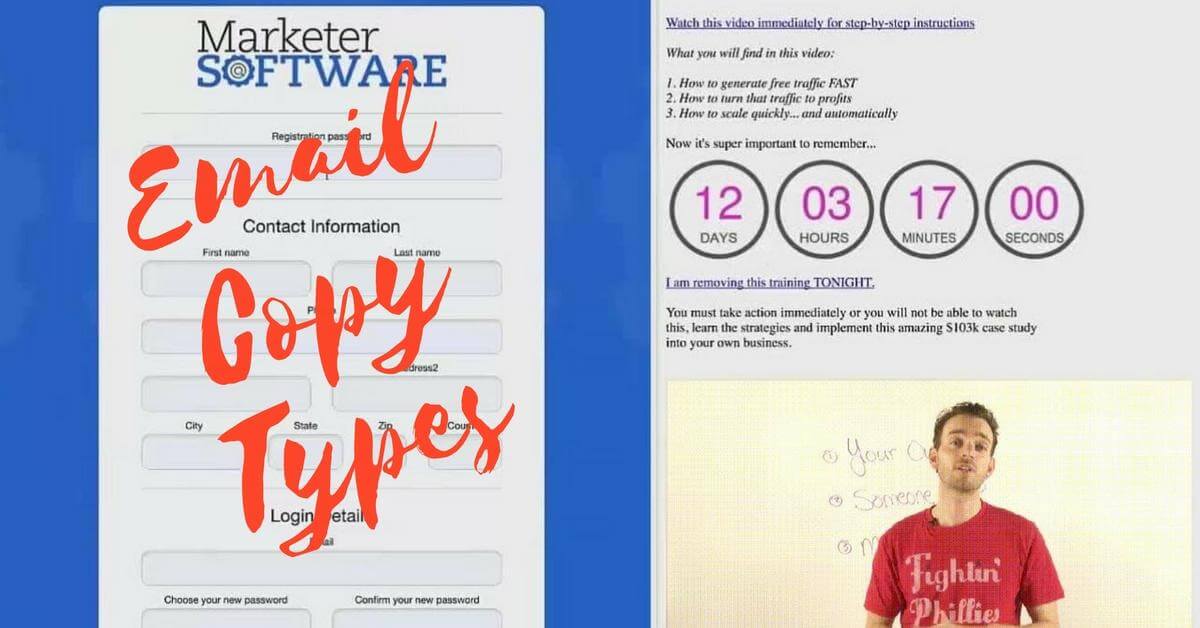 Article Name
Email Copy Types
Description
The type of email you write depends on the goal you're trying to achieve. A typical promotion will send scarcity, benefits, proof, blind, and combo emails.
Author
Michael McDonald
Publisher Name
Morrison Publishing
Publisher Logo

Get A Copy Of Our "your email profits" Book For Free!
The 3 Simple Steps To Building Your Profitable Email Marketing Business
Recent Posts
Categories