Facebook Advertising Notes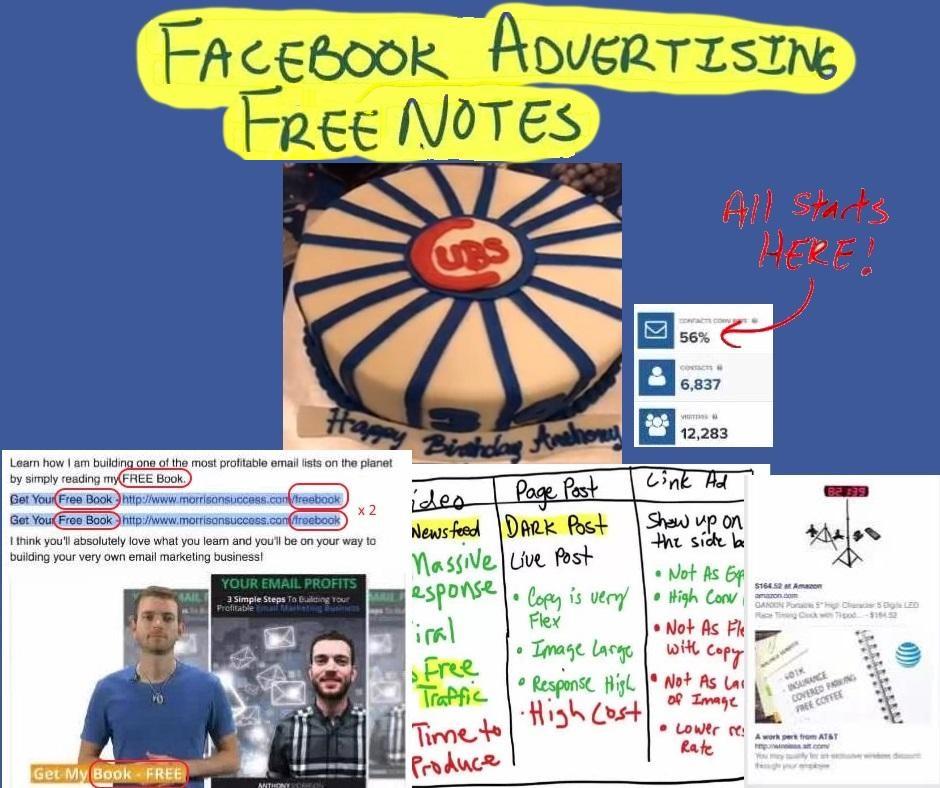 Increase Optin Rates
No one can tell you what offer to promote and who you should target because we all come from different countries and have different interests. These Facebook Advertising Notes describe the thought process behind creating an Ad.

When you're making Facebook ads the number one metric you should be watching is your optin rate. If people are visiting your landing page but not opting in then it doesn't matter how good your Ads are, you're not going to be successful.
Of the people visiting the Mobile Optin landing page, 56% opted in. The process now is very good because it has been tested and tweaked a lot.
If your landing page conversion rate is low then consider tweaking a few things.
Tweak the Landing Page

Test the Copy used for the Bullet Points
Bullet points are for people who want to know what benefits they'll get from reading the free book so focus on the details and make sure it speaks to your audience.
Test the Copy on the Button
You could try this as an alternative:
"YES! LET ME DOWNLOAD FOR FREE"
Tweak the Thank You Page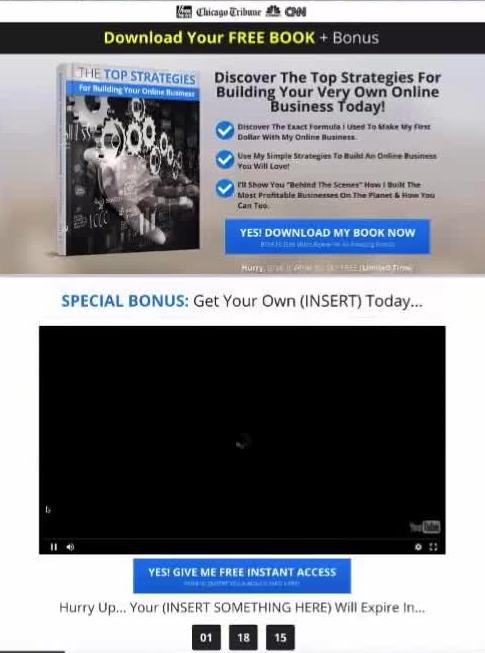 It's less important to test everything above the fold because it only provides a download link and doesn't affect our success.
The goal is to get people to look down below where the profit centre is so focus on testing below the fold.
Test Headline Offer Copy
The headline is super important because it's designed to get attention. When people click the download button you want them to see the headline below.
People love the word bonus and it will draw their attention down.
You just want people to click so the special bonus needs to be fast and to the point, something like:
SPECIAL BONUS: Get Your Own Email List Today…
Test Button Copy
It's worth testing the button copy to find what works best. If you include the bonus that people are going to get on the button itself then it will convert at a higher rate. so instead of:
you could try
YES! PLEASE HOOK ME UP WITH MY OWN EMAIL LIST NOW
Bonus 500 Email Subscribers
or
YES! GIVE ME FREE MY 500 SUBSCRIBERS NOW
Add some urgency and a timer:
Hurry Up… Your BONUS Will Expire In…
Facebook has banned fake times on the landing page. A timer on the Thank You page is safe as long as it's legitimate.
You could make the timer redirect to another URL when it expires or reaches a certain value, effectively taking the bonus away from people. This is setting the expire action to redirect URL in Clickfunnels.
We're creating the perception that what you say is for real so people immediately go back to the page and click the button, grateful that they didn't lose the bonus.
Test Images
A lot of the products you find on ClickBank and JVZoo have their own advertising graphics. You would just replace the video with the image.
Test Video vs No Video
Video works best because when people visit the Thank You page the video immediately starts playing so people look down to see what the bonus is all about.
If you don't want to make the video yourself you can have someone on Fiverr make one for you. You just write out the script of what you want them to say and give it to them.
Test The Profit Offer
Whatever offer you promote, as a marketer, it's your responsibility to do your own due diligence to decide if you agree with it or not. After watching the sales video and reading through the copy if it looks too good to be true then it probably isn't worth promoting, just apply some commonsense.
You want a high average Earnings Per Click (EPC).
Facebook Advertising Notes
There are three types of Facebook Ads:
Page Post (live or dark);
These show up in the news feed.
Dark posts are Ads not posted on your fan page. They do better 100% of the time.
Link Ad;
Video Ad;
These show up in the news feed.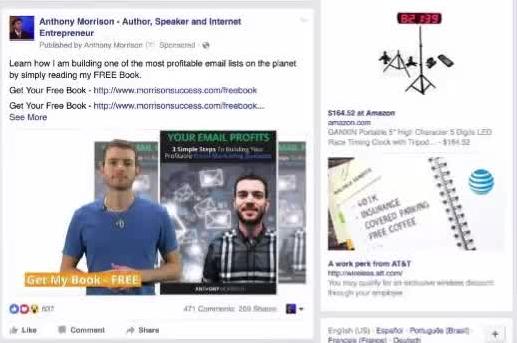 Anthony's page post is showing on the left hand side while AT&T's link Ad is showing on the right hand side.
Pros and Cons

Because you are just giving away a free book to generate a lead and not trying to make a sale the page post works great. Almost anything converts better when you give it away for free.As a guide out of 100 visitors the page post might convert 4 people while the link ad might convert 7 or 8. The Link Ad has a higher conversion rate but will get fewer eyeballs.
Most of Anthony's success has come from page post ads. At the end of the day Page Post Ads and Link Ads work and the results balance out.
When you advertise in the news feed with an image you get a higher response than Link Ads because people like and share the Ad. When you then use video the response rate is even higher because it's more engaging.
The Path
Start with Page Post Ads and Link Ads. The strategy is to optimize and make these work first, afterwards run Video Ads.
If you can get the Page Ad and Link Ad to work then you've got a working funnel, you're build a list and a working business. Now you can create a Video Ad that's going to get even more exposure because of the viral likes and shares.
Tips on Making Video Ads
Just Do You
Native advertising works best, just hold your phone and take a video of your natural self. When people see that video on Facebook they don't think it's an Ad until they're halfway through but by that time you've got their attention.
High quality studio produced videos do not convert as well as just holding the phone driving the car.
Double Up the Links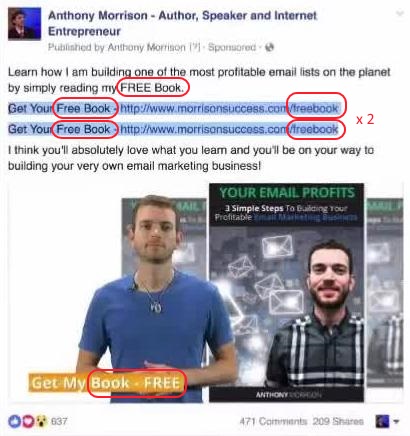 The reason for duplicating the link is we don't know how much of the post will be visible on someone's device. It's an attention-grabbing pattern interrupt and no one else is doing it.
This strategy works, it doubled responses
The Ads tested without links did not get as high a response.
Use Freebook in the Link
Wherever someone looks on the Ad they will see one of the many free books.
Next Week
Anthony will give us three goodies:
His approved list of good offers.
FB ads cheat sheet.
Trends of best response time.
What converts at the right time at the right moment.
Auto responder sequence.
You will need a Clickfunnels account to make a copy of the shared funnel before the link is taken down this Sunday.
Summary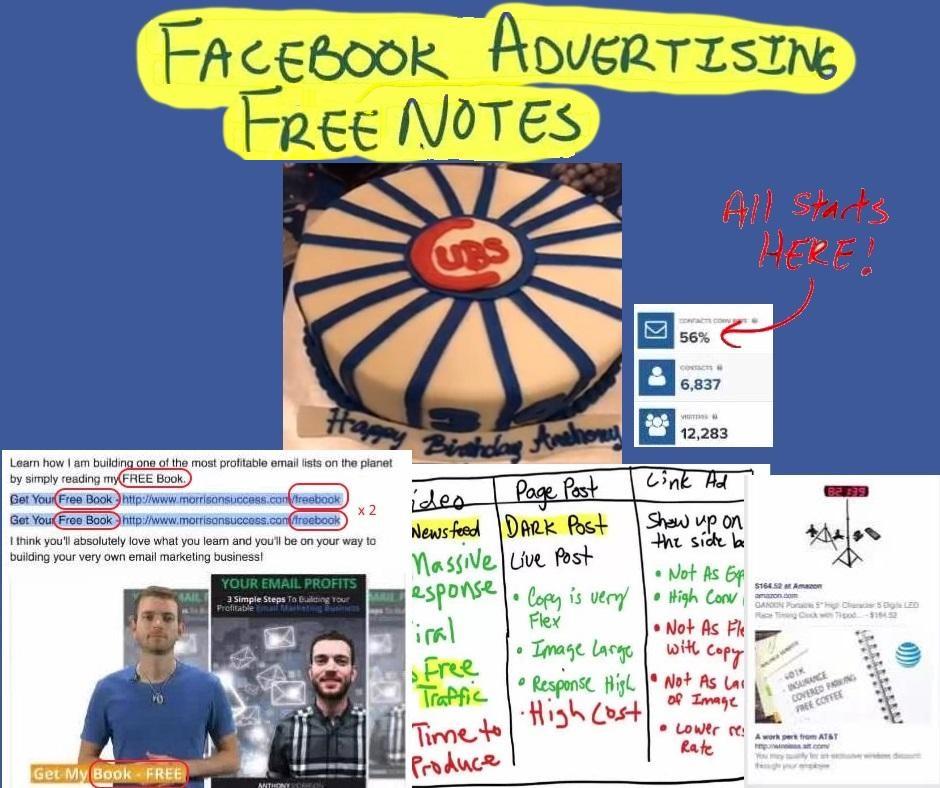 Article Name
Facebook Advertising Notes
Description
No one can tell you what offer to promote and who you should target because we all come from different countries and have different interests. These Facebook Advertising Notes describe the thought process behind creating an Ad.
Author
Michael McDonald
Publisher Name
Morrison Publishing
Publisher Logo

Get A Copy Of Our "your email profits" Book For Free!
The 3 Simple Steps To Building Your Profitable Email Marketing Business
Recent Posts
Categories