Writing Email Copy That Converts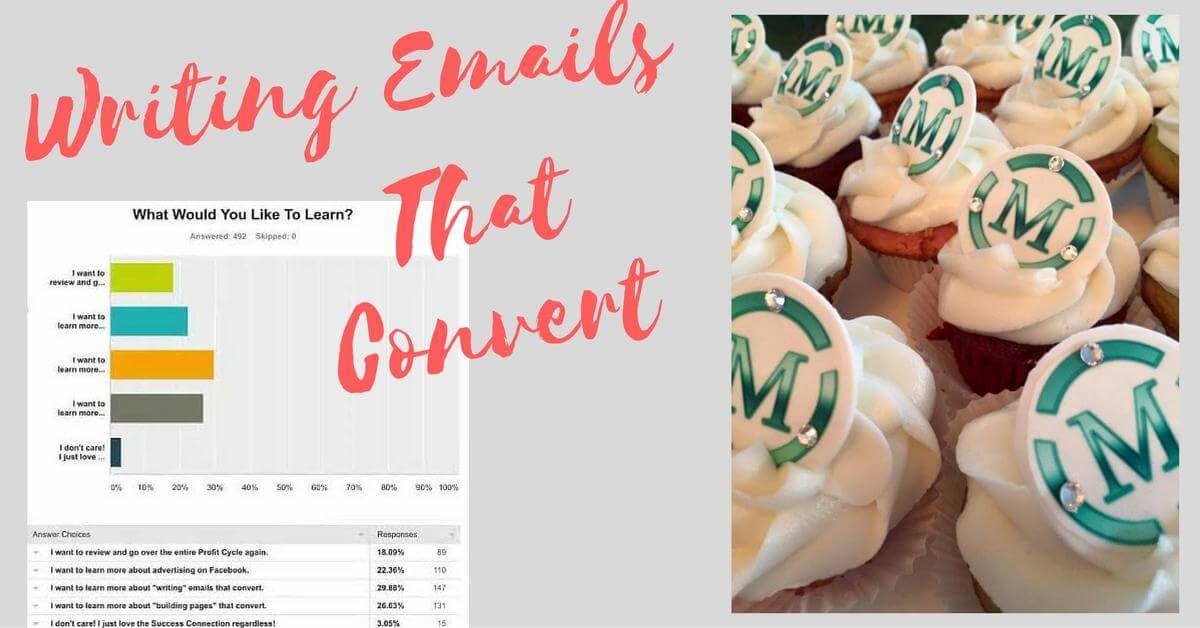 The survey results are in and 29% of people said they want to learn about writing emails that convert. Then building landing pages that convert followed by advertising on Facebook and the profit cycle.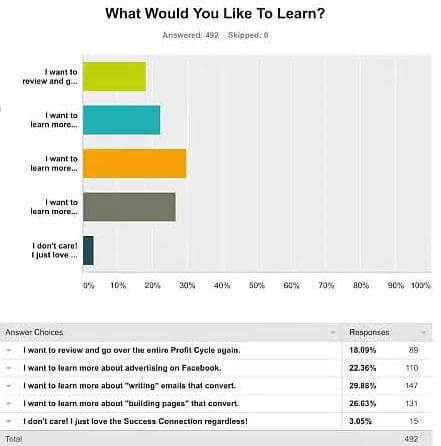 This post will cover the step effect, basic email copy rules, email objectives, sales email copy, relationship building email copy with examples.
Step Effect
It's human nature to follow all the steps to completion and rare for a person to start step 1 then quit. If you tell them right at the beginning that there are two steps required then they'll feel compelled to carry out step 1 and step 2.
Why else do most people complete all years of schooling while a lot fewer drop out.
Consider the example of a shop that spends $5 to attract a customer who spends $10 on socks. They make a $5 profit and the customer walks away.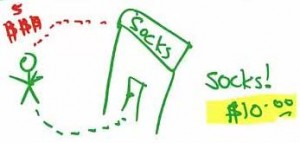 If the shop used the step effect then once the customer was inside they would try to sell a second product like shoes, a massage, customized socks or something to make extra profit.

Whatever the second offer is it should be related to the first.
Step 1: Weight loss offer.
Step 2: Colon cleanse offer.

Basic Email Copy Rules
Three psychological strategies are used to get people to buy:
Talking to people that respond to a direct referral;
Talking to people that respond to urgency;
Talking to people that respond to value;

Urgency Works!
You'll generate more clicks from your copy if your email includes urgency:
Limited time only;
Available today;
Open now, hurry;
Show Value
Show the value of what you're selling often with the use of bullet points.
Here are the reasons why you should buy this:
Benefit 1;
Benefit 2;
Benefit 3;

Include Links
Typically include 3 links to the offer you're selling spaced out throughout the email – top, middle and bottom.
Length of Email Copy
The length of your email should be proportional to the cost of the product you're selling.
Short emails typically use blind or scarcity copy when your goal is to GENERATE CLICKS. They can be used when offering something for free.
If you're trying to sell an expensive product then the email should be longer and it should have more value. Longer emails typically use scarcity, benefits, proof and combo copy with the goal of GENERATING SALES, not clicks.

People are sold in one of two places:
In the email;
A long email may have so many benefits, so much proof and urgency that people are already sold and ready to buy.
or on the offer webpage;
A short email might compel people to click the link and visit a webpage which then sells them on a product.
There are four email goals:
Generate leads;
These are short emails aimed at affiliate offers and CPA offers where there is nothing to buy. You want people to quickly open the email and click the link.
Generate sales;
These are longer emails aimed at selling affiliate products, CPA, your own products or products on a Shopify or Amazon store.
Build Rapport (aka Relationship Building, Brand Building or Authority Building);
These are always a longer email because you want to give as much valuable content as you can so they get results.


It could be an email linking to an article that you read and the value you got from it.
It could be some valuable content you write that you think they would benefit from.
It could just be something lighthearted and funny that you send to make them feel good.
You're adding value to their day.

Hybrid 
Email Goals
Sales Email
The sales email is usually longer because you are asking someone to pull out their wallet and hand you their money. You do not know what will cause the person to buy so you need to include different emotional triggers followed by a link to your offer.
Sales Email Example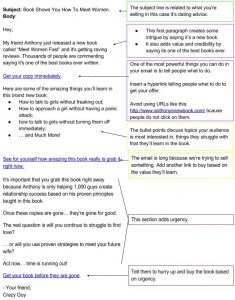 Subject Lines: New Release – Book Shows You How To Meet Women
The subject line is related to what you're selling in this case it's dating advice.
Body:
Hey,
My friend Anthony just release a new book
called "Meet Women Fast"and it's getting raving
reviews. Thousands of people are commenting
saying it's one of the best books ever written.
This first paragraph creates some intrigue by saying it's a new book.
It also adds value and credibility by saying its one of the best books ever.
One of the most powerful things you can do in your email is to tell people what to do.
Insert a hyperlink telling people what to do to get your offer.
Avoid using URLs like this: http://www.anthonysnewbook.com/,
because people do not click on them. Make the URL readable and related to the text.
Here are some of the amazing things you'll learn
in this brand new book:
– How to talk to girls without freaking out
– How to approach a girl without having a panic attack
– How to talk to girls without turning them off immediately
– … and Much More!
The email is long because we're trying to sell something. The bullet points discuss topics your audience is most interested in, things they struggle with that they'll learn in the book.
See for yourself how amazing this books really is grab it right now
Add another link to buy based on the value they'll learn.
This next section is adding urgency.
It's important that you grab this book right away because
Anthony is only helping 1,000 guys create relationship success
based on his proven principles taught in this book.
Once these copies are gone… they're gone for good.
The real question is will you continue to struggle to find love?
….. or will you use proven strategies to meet your future wife?
Act now…. time is running out!
Get your book before they're gone
Tell them to hurry up and buy the book based on urgency.
– Your friend,
Crazy Guy
The Step Method To 10x Profits
You can just sell the book or you can use the step effect and sell a course as well.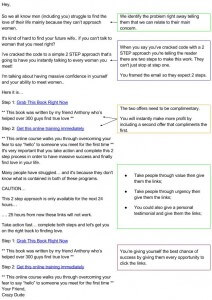 Hey,
So we all know men (including you) struggle to find the love of their life mainly because they can't approach women.
It's kind of hard to find your future wife.. if you can't talk to woman that you meet right?
We identify the problem right away telling them that we can relate to their main concern.
I've cracked the code to a simple 2 STEP approach that's going to have you instantly talking to every woman you meet!
I'm talking about having massive confidence in yourself and your ability to meet women..
Here it is…
When you say you've cracked code with a 2 STEP approach you're telling the reader there are two steps to make this work. They can't just stop at step one.
You framed the email so they expect 2 steps.

Step 1: Grab This Book Right Now
** This book was written by my friend Anthony who's helped over 300 guys find true love **
Step 2: Get this online training immediately
** This online course walks you through overcoming your fear to say "hello" to someone you meet for the first time **
The two offers need to be complimentary.
You will instantly make more profit by including a second offer that compliments the first.

It's very important that you take action and complete this 2 step process in order to have massive success and finally find love in your life.
Many people have struggled… and it's because they don't know what is contained in both of these programs.
CAUTION…
This 2 step approach is only available for the next 24 hours…
.… 25 hours from now these links will not work.
Take action fast… complete both steps and let's get you on the right track to finding love.
Step 1: Grab This Book Right Now
** This book was written by my friend Anthony who's helped over 300 guys find true love **
Step 2: Get this online training immediately
** This online course walks you through overcoming your fear to say "hello" to someone you meet for the first time **
Your Friend,
Crazy Dude
Take people through value then give them the links;
Take people through urgency then give them the links;
You could also give a personal testimonial and give them the links;

You're giving yourself the best chance of success by giving them every opportunity to click the links.
Promoting Simple Lead Generation Offers
There are tons of offers that will pay you just for generating a lead, check out Offervault.com. Sometimes all that's required is for someone to put in their zip code and you get paid.
There's nothing to buy;
You get paid per lead;
Less value needed in the email;
Example lead gen offers include:
Auto insurance;
Credit cards;
Credit repair;
Free credit reports;
Legal;
Example Leadgen Email
If you're not trying to sell something it makes it a lot easier to write a short email which doesn't take them long to read. You give them a reason to click the link, they put in their name and email address and you get paid.

Hey,
It's important to keep tabs on your credit score.
There are millions of people who end up with terrible
credit for reasons they didn't even expect or know..
Go here now to check your credit score for free <— link
Enjoy!
There's not a lot of value in this email. The goal is to get them to click this link.
Example Leadgen Email With Step Effect
Try to find a couple of offers that would naturally go together in a step effect email.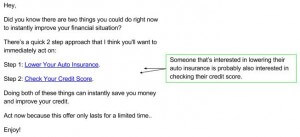 Hey,
Did you know there are 2 things you could do right now
to instantly improve your financial situation?
There's a quick 2 step approach that I think you'll want to
immediately act on:
Step 1: Click here to lower your auto insurance
Step 2: Click here to check your credit score
Someone that's interested in lowering their auto insurance is probably also interested in checking their credit score.
Doing both of these things can instantly save you money
and improve your credit.
Act now because this offer only lasts for a limited time..
Enjoy!
Not everyone that clicks on the auto insurance is going to check their credit score but a certain percentage will.
When people take up the auto insurance offer Anthony gets paid $6 and if they then check their credit score he gets $15. Even if half the number of people open this email he gets paid the same.
Writing emails using the two step approach helps you make more money.
The only way you get paid with these emails is if people take action. What you do is generate urgency and create value so they click the link and you get paid.
Rapport Building Email Copy
There's nothing for sale;
Give value for free and ask for nothing in return;
The goal is to engage with your subscribers;
Example Rapport Email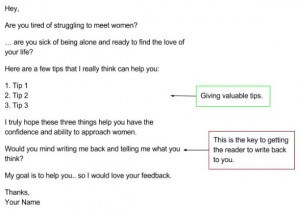 Hey,
Are you tired of struggle to meet women?
… are you sick of being alone and ready to find
the love of your life?
Here are a few tips that I really can help you:
1. tip 1
2. tip 2
3. tip 3
Giving valuable tips.
I truly hope these 3 things help you have the
confidence and ability to approach women.
Would you mind writing me back and telling me
what you think?
This is the key to getting the reader to write back to you.
My goal is to help you.. so I would love your
feedback.
Thanks,
Your Name
When you engage with the reader two things happen:
When they send you an email you're automatically white listed in their email box.
You're having a two way conversation so they're more likely to respond to your emails because they feel like you care about them and are interested in what they have say to you.
You can't just write emails and expect people to buy from you. When you build a relationship now you're in a position to sell something to them.
Hybrid Email Copy
Here's how are you build value and sell in the same email. Take your relationship building email and at the end put a PS and a link to your offer almost as an afterthought.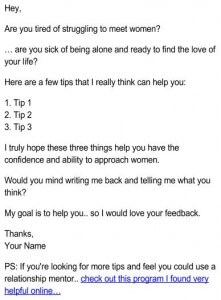 Body of email…
Thanks,
Your Name
PS: If you're looking for more tips and feel you
could use a relationship mentor.. check out this
program I found very helpful online… <— link
You gave 3 tips for free;
You told them you care and asked if they'd write you any feedback;
Finally you're giving a link to an awesome product;
This is a real gold mine, the hybrid type email converts at a crazy rate because it's a form of indirect selling.
Practice Writing Emails
It's important to receive just a few points at a time so you can go away and implement them. If you receive a lot of data then you'll just go away and do nothing with it.
The only way to become a good email copywriter is to practice a lot and get feedback on what works.
Summary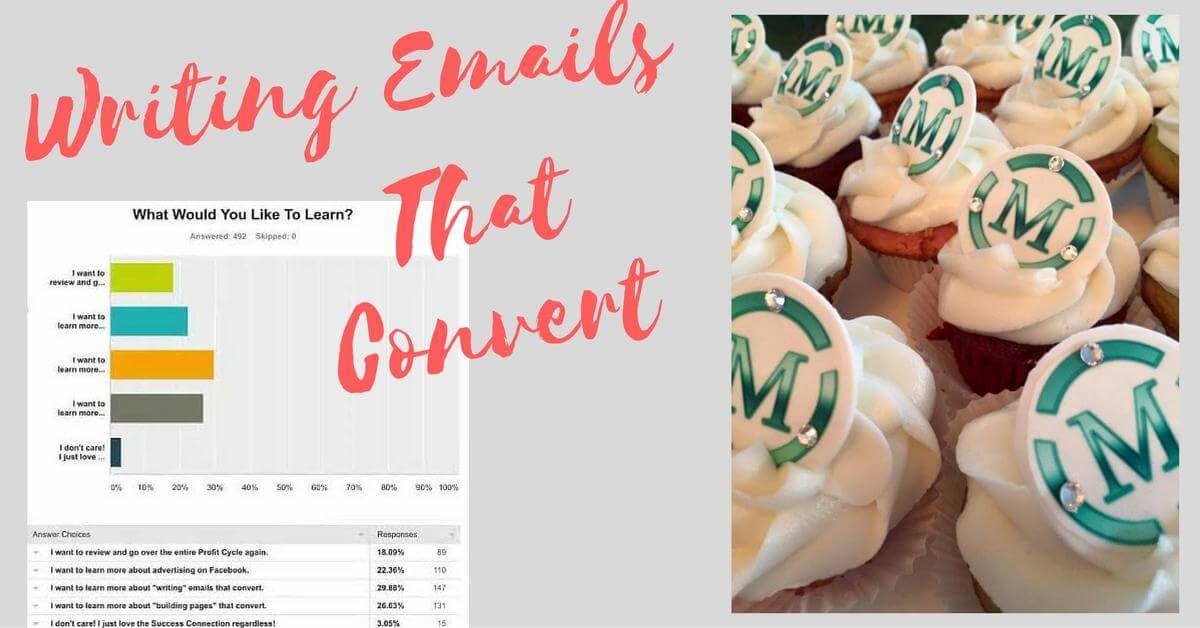 Article Name
Writing Email Copy That Converts
Description
The style of copy used in an email depends on your objective - to sell a product, build a relationship or generate a lead.
Author
Michael McDonald
Publisher Name
Morrison Publishing
Publisher Logo

Get A Copy Of Our "your email profits" Book For Free!
The 3 Simple Steps To Building Your Profitable Email Marketing Business
Recent Posts
Categories