Your 14 Day Autoresponder Series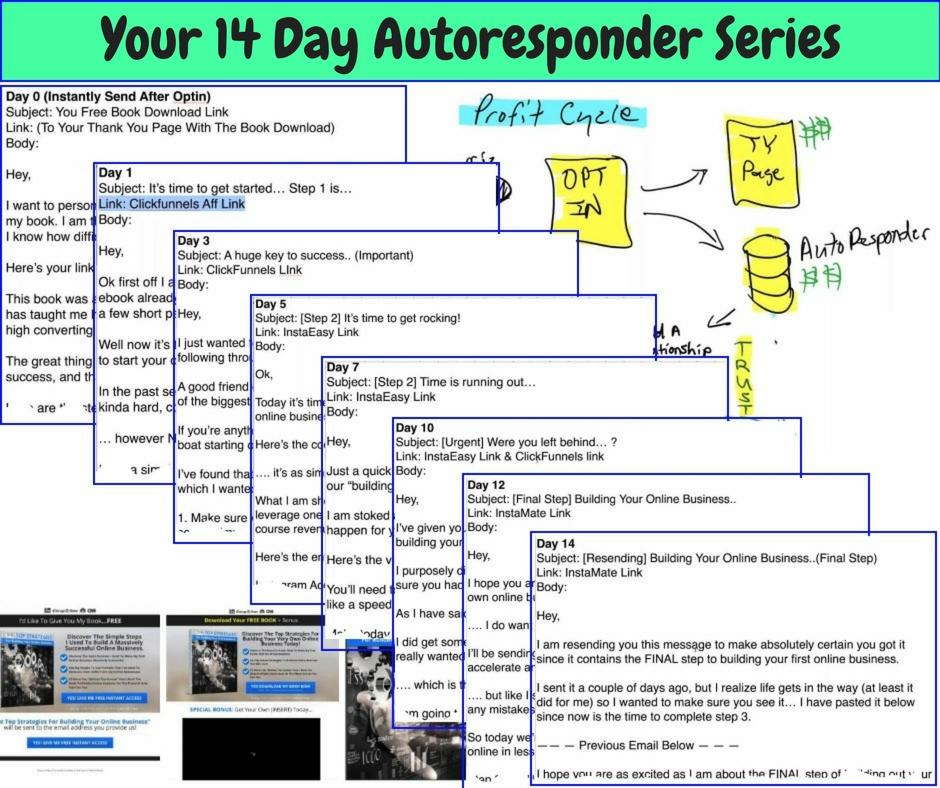 Why You Need A 14 Day Autoresponder Series
It's the teacher's responsibility to make each training a little bit better each time with more value like a 14 day autoresponder series followed with direction on how to apply the techniques to grow your knowledge and your business.
A lot of people aren't successful even though they've been trying for a long time and one reason is because they're looking in all the wrong places.
There's a parable that talks about giving a man fish to eat or teaching him to fish so he can feed himself. If you've never tried fish before then you're less inclined to go out and try fishing by yourself. Another way of teaching is to let you taste how good the fish are then you'll be motivated to learn so you can catch them yourself.
Giving you a data dump is not the answer and neither is doing everything for you because then you become dependent. The idea is to give you pieces of the business done for you, then provide training on it so you can go and implement it for yourself before moving onto the next step.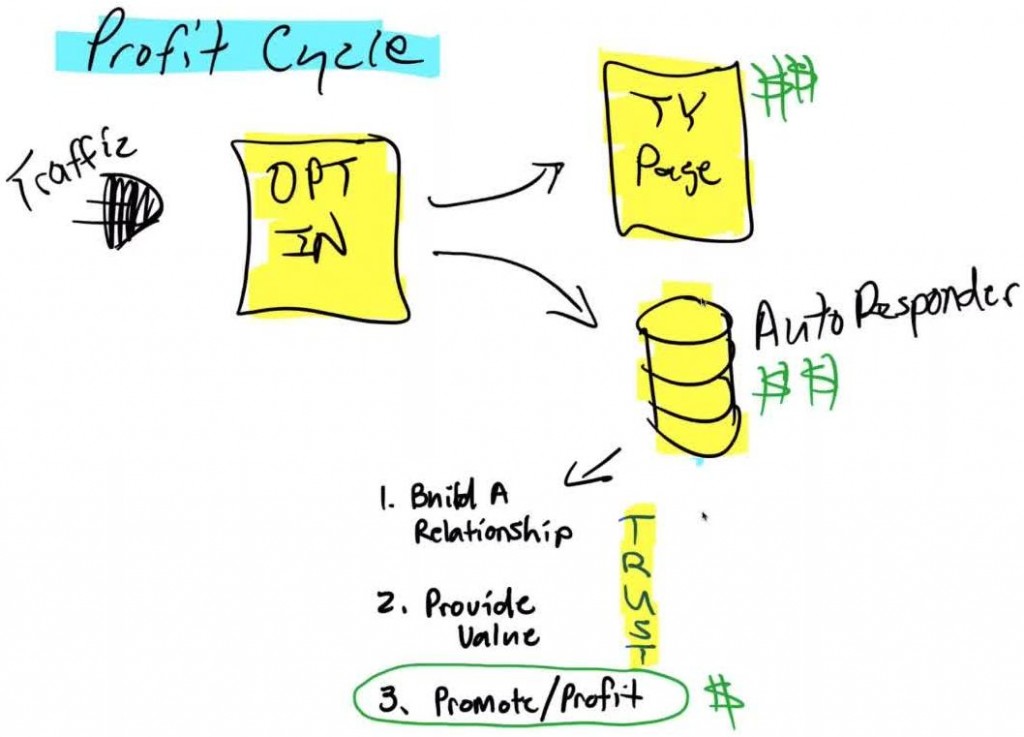 Your goals for building an autoresponder are to send emails that:
build a relationship;
provide value;
profit from promotions;
The third goal is the least important. If you build a relationship with people and give them lots of value then you'll earn trust so when the time comes for you to ask them to buy something they won't hesitate.
A big problem people have is not knowing what to say in the emails they write so that is the piece of the puzzle given to you today for free including the offers to promote. The emails are written to go hand in hand with the free book and funnel from last week.

People that like the book and optin are looking for the simple steps to build a successful online business. That's the mindset of the person you're writing emails for.
Auto Responder Series Day 0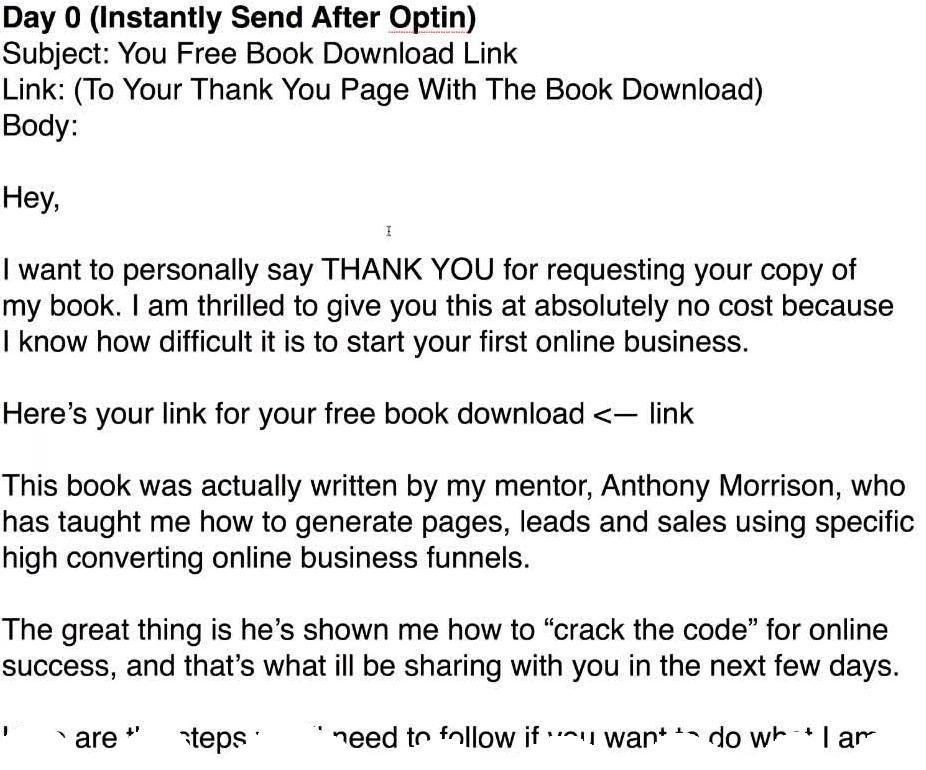 The first email the achieves 3 things:
You're thanking the subscriber for requesting the free book;
You're providing the download link if they haven't got it already;
You're letting them know that you'll send more emails over the next 14 days;
You're letting them feel comfortable with the knowledge that you won't overwhelm them with information but you'll give them mini steps which when implemented will lead to success.
Auto Responder Series Day 1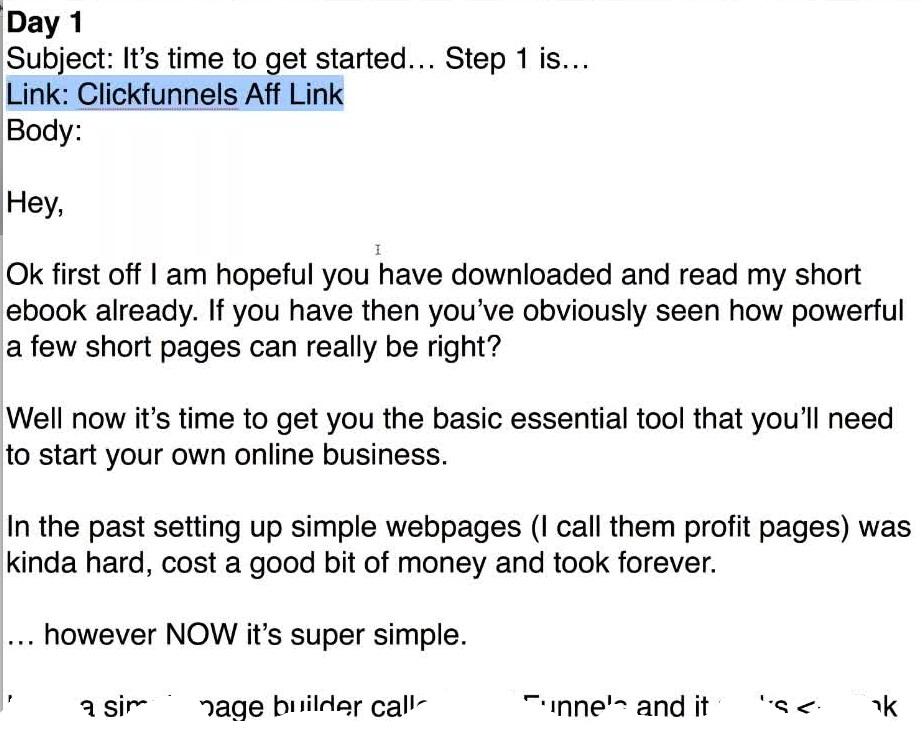 You're letting them know what action they should have taken from the last email. You then recommend the first tool that has a free trial period and makes it easy to build funnels. Let them know that you'll be doing this together so they don't feel like they're on their own.
Push the pain you felt by not knowing what to do and the relief experienced when a mentor showed you what they are using and the revenue they make. Even if you haven't experienced a lot of success you are leveraging the success of your mentor.
Auto Responder Series Day 3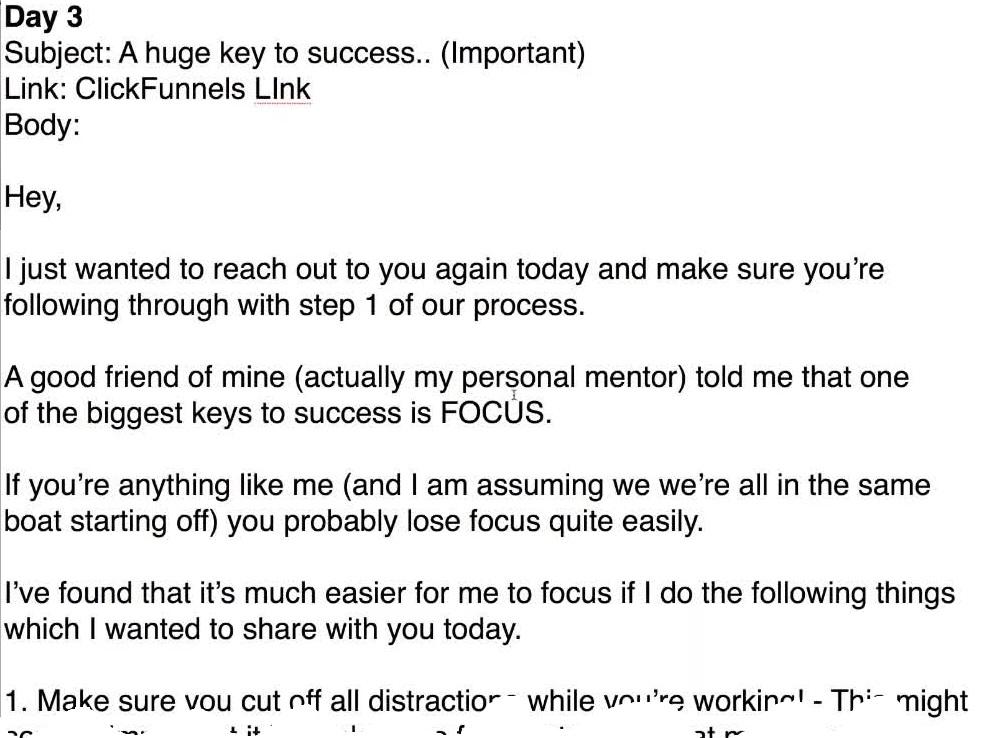 This email is not promoting any product, it just provides value by teaching the importance of focus and how to do it. Focus will help reach our goals as quickly as possible by avoiding mistakes.
Cut off distractions;
Don't run before you walk because that leads to mistakes and a loss of confidence;
Make a habit of doing a bit each day;
Make each step relatable to something they're already comfortable with.
Auto Responder Series Day 5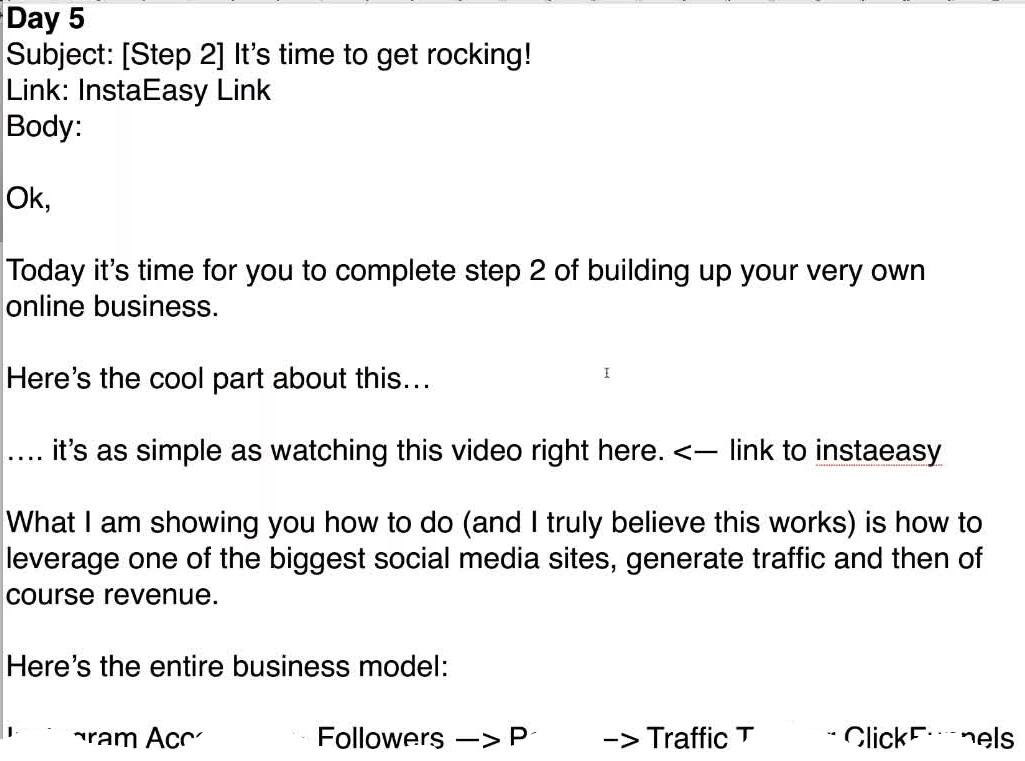 Step 2 shows the exact tool used to leverage one of the biggest social media sites to generate traffic that is sent to Clickfunnels. Not only that but the tool automates the process with the push of a button.
Let them know that they can build their business in any Niche they're passionate about and that they should take action before step 3.
Auto Responder Series Day 7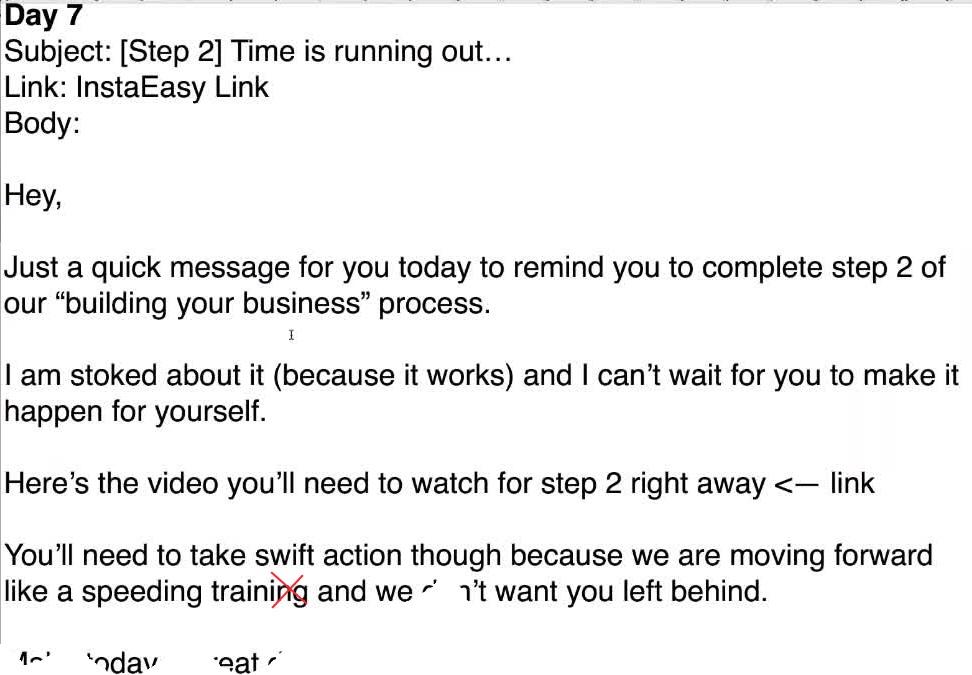 Every email is talking about doing things together so they know we're not talking down to them but from the same level. This email is a motivational reminder that they should focus and take action on Step 2.
This allows you to sell your product just by being nice and building trust.
Auto Responder Series Day 10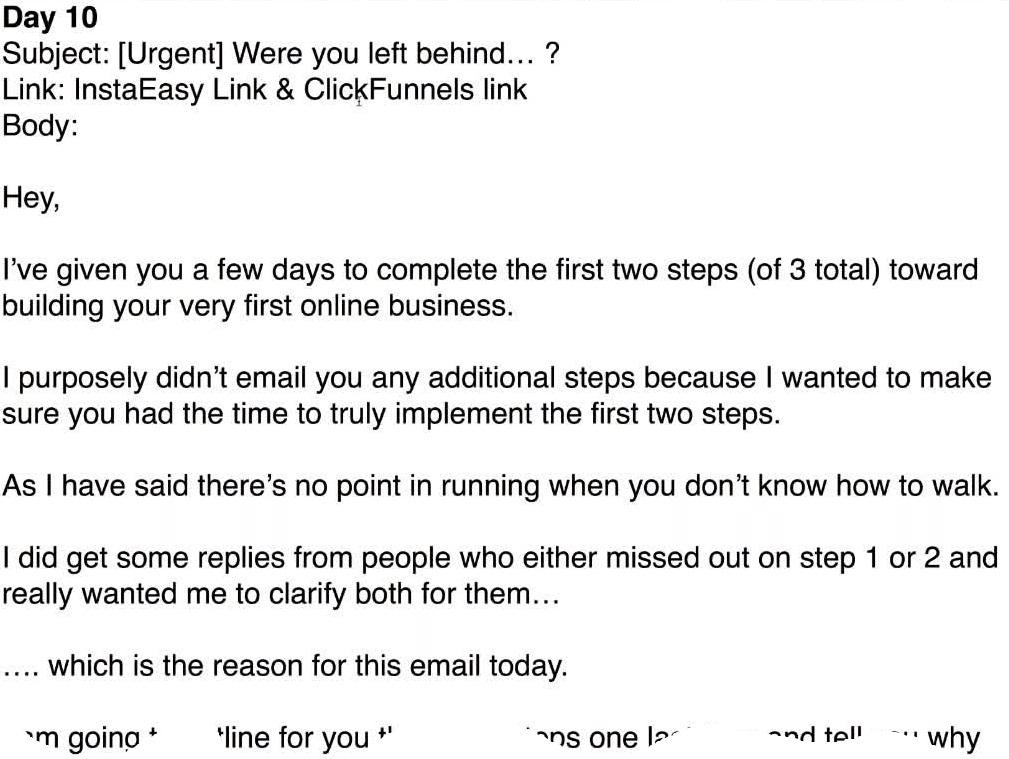 In this email we take a step back because not everyone takes action when they should or they miss an email and start falling behind. Review the first two steps explaining what each tool is and why they should get them before moving on to step 3.
You've got to anticipate the objections that people will have for not taking action.
Put people on the spot and ask if they really want to build their successful online business. Let them know they should take action RIGHT NOW because we are moving on to the final step in the process.
Auto Responder Series Day 12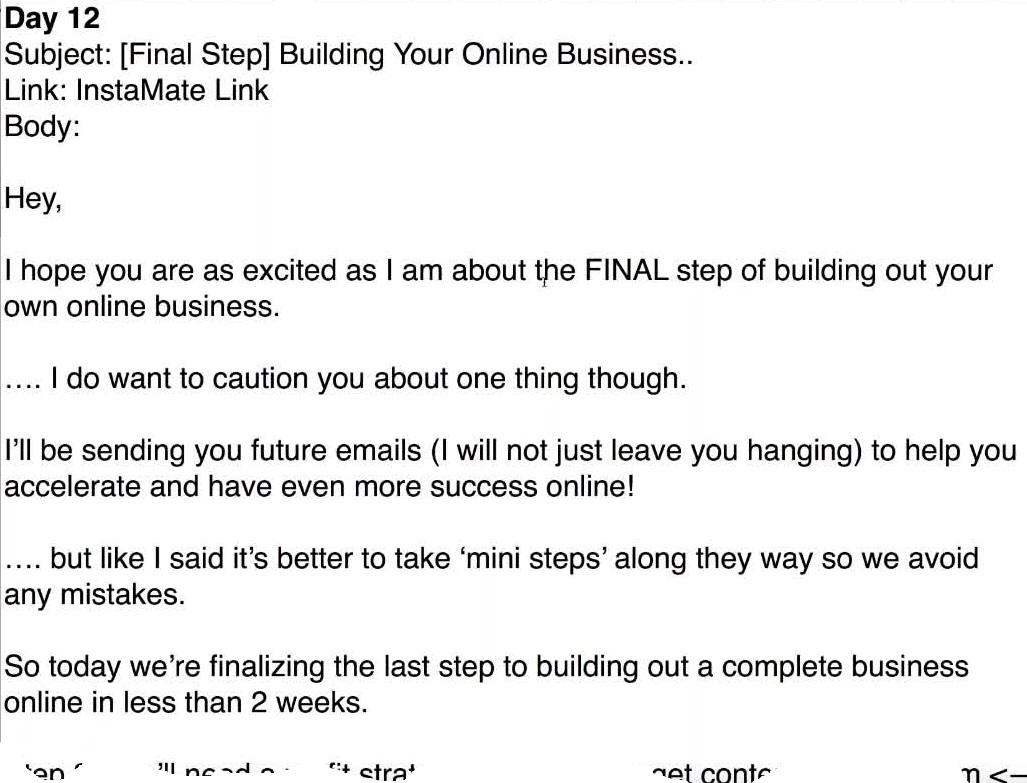 People often do programs with no end in sight so this email is showing step 3, the light at the end of the tunnel. You're also preparing them for additional emails from you.
Step 3 is about a tool that automates posting content on Instagram from your computer without having to do it from your phone. It also gives you the profit centres.
Once again you do not need results of your own to recommend this software because you're leveraging the success of your mentor.
Auto Responder Series Day 14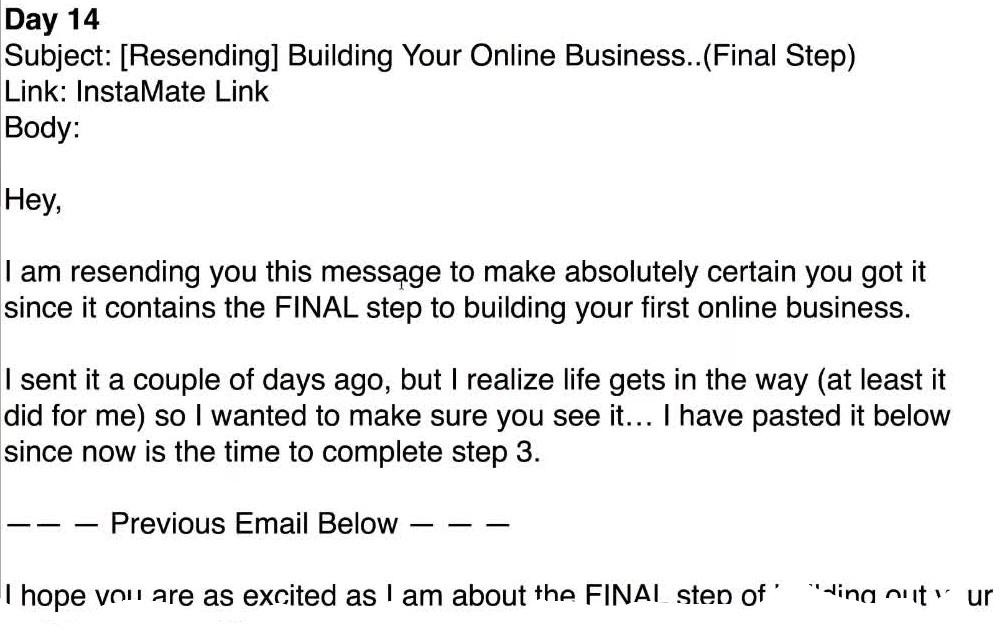 This is simply resending the previous email.
Having read these emails do you think a new subscriber would feel this information is:
genuinely trying to be helpful or
trying to sell stuff.
Now when your subscribers read your emails they'll feel that you're genuinely trying to help them.

Even though you should take building your business seriously life is too short not to have some fun, to take time for yourself to do things you enjoy. If you're feeling a bit overwhelmed with all the information or feeling frustrated just take a deep breath, calm down and take mini steps.
The goal is to learn things that you can use that will help you experience some success so you can start to enjoy life a bit more. Realise you're part of a group of people helping each other and anyone that isn't helping others by posting negativity will get banned.
If you read this far or jumped to the bottom here is the link to the email series. You will need the password which can be found in the replay but the link will be taken down very soon if not already.
Summary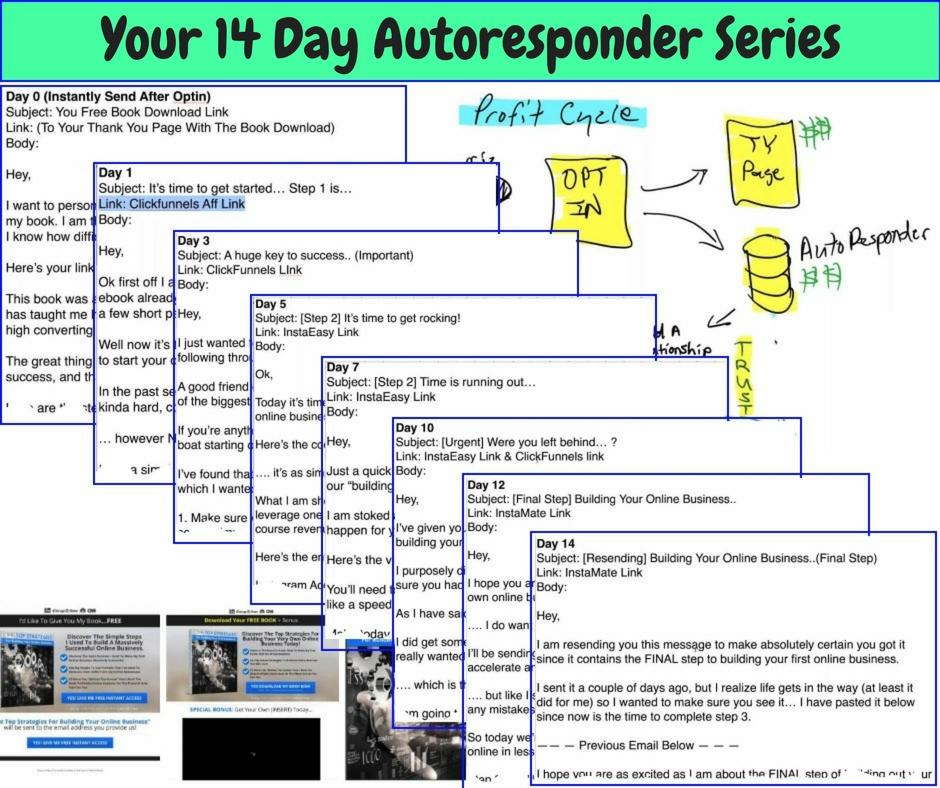 Article Name
Your 14 Day Autoresponder Series
Description
It's the teacher's responsibility to make each training a little bit better each time with more value like a 14 day autoresponder series followed with direction on how to apply the techniques to grow your knowledge and your business.
Author
Michael Mcdonald
Publisher Name
Morrison Publishing
Publisher Logo

Get A Copy Of Our "your email profits" Book For Free!
The 3 Simple Steps To Building Your Profitable Email Marketing Business
Recent Posts
Categories